By Annie Williams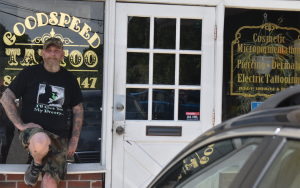 During the statewide shutdown in Connecticut, Tattoo artists were itching to get back to work and their clients are itching for ink.
But in an industry where social distancing is nearly impossible and exposure to bodily fluids comes with the territory. Tattoo shop owners and artists worried if they may ever go back to work in the wake of a pervasive virus with no vaccine.
Nearly three months ago when tattoo businesses were told to close their doors, they feared they may never reopen again. Foodservice businesses moved to take out, office professionals moved home to work remotely, and grocery stores soon limited their customer capacity.
"I didn't know what was happening everything happened super quick and I knew tattoo shops were going to get shut down because other things were getting shut down before us," said Kelly Green, a tattoo artist who owns a shop called stable studio in Bolton Connecticut said she wanted to leave the country and when the pandemic hit.
During the shutdown, Green had contact with other tattoo artists wondering how to file for unemployment, questions about when and how they will reopen, and what the guidelines will be when the day to reopen comes.
"Nobody was really helping us we have been so self-sufficient because we are self-employed and we do everything to make sure we have enough money to put food on the table and when someone whose bigger than you is telling you, you can't do those things and we were trying to figure out how we were going to support ourselves, said Green"
A tattoo artist who goes by Peewee who owns Hand of Fate tattoo studio in West Hartford, Conn., says that during the state shutdown she decided to sell one of her cars to help support herself and her child during the pandemic.
Connecticut made it so independent contractors like tattoo artists, estheticians, and gig workers could receive unemployment benefits during the pandemic if they filed. Peewee did not do that but received a stimulus check and found additional ways to make ends meet.
"I'm pretty community based and oriented I tend to go against the grain and not rely too much on government and capitalism to a degree," she said, adding… during the time I was able to sell my art for support."
Even during a state-shutdown tattoo-artists are doing what they can to create new opportunities for themselves for financial security.
"I think the real push to go off and start my own business was because my old boss didn't know if he was going to be able to open back up again because his landlord was making him pay rent throughout this which I thought was very unfair so I figured why not start looking, see what's out there and see what I can make happen with the money I've saved," said Vicky Kochiss, a tattoo professional who owns Valkyrie Studio in Milford, Conn. Kochiss left the studio where she was finishing up her apprenticeship when she learned it was closing down.
From the beginning, it was understood that tattoo shops were to be included in phase 3 or 4 of the state opening phases. Until the Connecticut Association for Professional Tattooists got involved as of now, they have been able to reopen in Phase 2 which was June 15.
Green is the founder of the Connecticut Association for Professional Tattooists or CAPT. They are a nonprofit organization made up of professional tattooists who represent the Connecticut tattoo community as a whole in regards to state lawmakers.
CAPT had previously laid out safety guidelines documents from previous litigation discussions with lawmakers. CAPT members got together this past April to make additions to those guidelines by including a COVID-19 safety protocol. Some of the changes they added were to no longer accept walk-ins, set aside extra time to routinely clean bathrooms throughout the day and sanitize other areas of use, 1-1 client to technician at a time with the exception of a legal guardian/parent there if required, and no food or drink allowed inside the shop.
"It was very time consuming, we set up a very fancy professional letter to the governor and the commissioner of the health department and we literally sent it to everywhere we could," says Green.
The letter to the governor was written in conjunction with the Connecticut Coalition of Esthetics whose services include microblading, waxing, and facials. Piercing and permanent makeup services were also asked to be included. The letter originally asked the governor to consider them in the opening for phase 1 which was May 20 along with hair salons. Hair salons ended up getting their reopen date pushed back to June 1 because of some industry people expressing their concerns about reopening to the governor's office.
Tattoo customers wanted to air on the side of caution as well. Some couldn't wait to be back in the chair. Kochiss has been booked for three months out since before the pandemic and business has been nothing short of consistent.
The one issue that has actually come up for tattoo artists is the cost of Personal Protection Equipment and the impact it has on their businesses.
"I've been able to get some stuff over time but some things almost impossible to find which has been really hard. I've been searching online going to stores and just the price of everything and how expensive it's gotten has affected my business I wish there was something to help small businesses when it comes to PPE," said Kochiss.
Green gets a lot of her tattoo supplies from a local shop in Connecticut and was told that the cost of tubes that hold the ink might double in price as well as other supplies like gloves that might be getting more expensive.
Green said that unemployment for gig workers in Conn. and federal loans from the Paycheck Protection Program, or PPP, intended to help small business owners who may struggle to reopen, but some have yet to receive them or have received it so close to the opening date.
"There have been governmental things we've been able to apply for, some people have gotten it and other people have gotten denied but from an industry level I don't think we're getting any help," says Green.
Since June 16 Green has reported that boxes of 100 nitrile gloves have gone from $7 to $10 to now $7 to $17. And 300 nitrile glove boxes have gone from $18 to $20 to $23 to $40. Due to this and the cost of ink tubes and needles going up, Green says she worries that she may have to adjust her hourly rate to make up the difference.
"I've seen people boosting up their hourly rates to make up the difference and in return that could hurt us because now tattoos are more expensive," said Green.
Jay Kelly, the owner of Pulse Tattoo says that the cost of shipping for ink tubes and needles is at exorbitant costs right now because they come from China. Other supplies are being doled out to big investment companies who buy them in bulk and for that, they receive them at a more affordable cost.
"So, because of this something I pay maybe 10 bucks for cost them 6 cause' they bought two thousand instead of 100," says Kelly.
Since the coronavirus pandemic according to a recent study by Coresight Research, a research database focusing on changes in retail and technology is half of U.S. consumers agreed that retailers should cut back outsourcing from China out of concerns of safety and overdependence.
While some tattoo artists are worried about the cost of PPE Peewee says she's willing to work with customers and settle for something that works for both of them.
"I'm not going to raise my prices, if anything I'm going to be more accommodating to people and my clients respect that and if they can they'll tip me well if they can't then we work together, I'm here to help people, not make a million dollars," says Peewee.