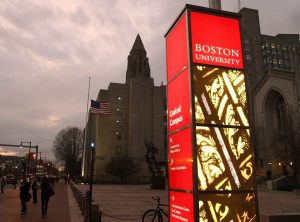 By Maxwell Carter
Journalism students and professors seize an opportunity to address structural racism in their classrooms as Black journalists are forcing a reckoning in the industry that has been a long time coming.
The massive wave of anti-racist organizing sweeping across the country presents journalism schools with a unique opportunity to address the lack of diversity in their staffing and reshape their curriculums to help young reporters address modern-day issues like systemic racism.
"There hasn't been enough discussion about if and how to change," said Michelle Johnson, a 20-year veteran of The Boston Globe who has been teaching journalism at Boston University for the past decade. She said change is urgent in this moment of growing pains in the industry.
"Sometimes the core values have to shift," Johnson said. "And that's why I'm looking at this and listening. Because I'm trying to figure out okay, if some pillar had to come down, you know, what would that be?"
Objectivity and diversity have been the central pillars at question over the past few months of public debate in newsrooms. Wesley Lowry, a Black two-time Pulitzer prize-winning journalist, wrote an opinion piece for The New York Times in which he stated a "paradigm shift" was needed in the news media.
"The failure of the mainstream press to accurately cover Black communities is intrinsically linked with its failure to employ, retain and listen to Black people," Lowry wrote, Boston being his prime example. "Since American journalism's pivot many decades ago from an openly partisan press to a model of professed objectivity, the mainstream has allowed what it considers objective truth to be decided almost exclusively by white reporters and their mostly white bosses."
For journalism schools, this presents something of an indictment. They operate as a sort of feeder system for major media outlets, according to Johnson, and as a mentor to so many she said she often hears from many of her former students who have landed jobs. What should be stories of success are marred with microaggressions or, all too often, outright racism, Johnson said.
"I've heard certainly from, you know, primarily younger journalists of color who work in these rooms across the country, reached out to me and told me how traumatized they been, how disappointed in the way that they've been treated in their newsrooms," Johnson said. "They're trying to figure out if they can expect some change now, know how far they can go."
She will be joined at Boston University this year by Ibram X. Kendi, the founder of the Center for Antiracist Research, at the school earlier this year. Kendi aims to bring a shift to Boston's approach to racism by presenting everyone with a question: are you racist or anti-racist?
"My colleagues and I are choosing to use the blocks of thoughtful and exhaustive public scholarship to build an antiracist future for America, for humanity," Kendi said of the Center he's founding. "There is no better base of operations to found our research center than Boston University," he added.
Johnson said she and her colleagues are excited to work with Kendi on bringing anti-racism into their curriculums, but as of now, these are still aspirations. Her experience of BU's efforts to address racism seems to clash with his optimistic framing. She and the few other professors of color have been struggling for years to push the school to address institutional racism at home with little success, she noted.
"There are a bunch of journalists of color and educators of color who were standing here looking at this, looking at the work we have done for literally decades, and wondering where the heck everybody else was all this time," she said. "It took someone of Dr. Kendi's stature coming in for all of a sudden people to flip their perspective on this."
But despite any frustration, Johnson said she recognizes an opening here that is not going to last. There is a new generation of diverse journalists entering newsrooms that can't be expected to conform entirely to old standards. She's trying to figure out how to instill important ethics of fact-driven journalism in her students while also adapting to what she sees as important criticism of journalists' training.
"What we tell our students directly affects them when they get into the newsroom and face internal policy," Johnson said.
But the prospects were unfortunately limited for journalists of color even before the pandemic furloughed thousands and froze most hiring. Media companies are far from reaching goals for racial parity in staffing diversity set in the 1968 Kerner report, according to a 2018 study by the American Society of News Editors. The Boston Globe is on the progressive side, compared with other newspapers in Massachusetts, with 7 percent of their newsroom staff being Black in a city with a population that's 25 percent Black, according to U.S. Census Bureau data.
Journalism schools are severely lacking in diversity as well, said Enjoyiana Nururdin, the student representative on the board of the National Association of Black Journalists, the largest coalition of journalists of color in the United States. She is one of only three, out of her class of more than 100, Black journalism students at University of Washington, Madison. She said Black journalism students like herself are feeling the same desire for change as their professional counterparts and the way the news media has conducted itself in the last few months have confirmed some of her concerns about her future in the field.
"You have to look in terms of making sure you understand why diversity is important, realizing that what journalists of color can do for you is huge, is monumental to, you know, your organization, but also with the press and just journalism in general," Nururdin said.
She said she already feels jaded about working in mainstream corporate media outlets and is considering getting an advanced degree in critical race theory after graduating next year.  NABJ continues to restore her faith in the possibility of change, she said. The solidarity among Black journalists in the organization has reinforced her drive to be a part of that change, she added.
"It's not fun to call anyone out for not having any Black journalists," said Nururdin. But her advocacy and that of the NABJ aims to dig at the question of why. "What are your efforts to diversify your newsroom? Or what have you done? Have you looked into this before? Why is it just now coming up?"