By Naiwen Cui
8/3/2018
When someone says "Korean Fashion," what comes to mind? You may think about Hanbok, the traditional Korean clothes. However, Korean fashion does not focus on  traditional culture but pop culture. After K-pop and K-beauty spread throughout the United States, K-fashion became the next type of the Korean wave .
K-fashion is a part of Korean pop culture and highly inspired by western culture. Now, it is more and more popular in East Asia and has erupted just recently in the U.S. If the word of K-fashion is a little bit strange, maybe you heard SOKO Style or what North American designers and fashionistas created to call South Korean styles. But, for the Korean wave fans, they still prefer to call it K-fashion.
Korean fashion relies on K-pop and K-drama. A K-fashion trend which becomes a big hit is always from a K-drama or a K-pop idol's look. Although K-fashion is not a big hit in the United States now, with the rise of K-pop and K-drama, it may become more popular. For example, Korea Creative Content Agency reports K-pop stars, CL and G-Dragon are icons standing for South Korean fashion in the U.S. now.
Every two years, a fashion show called Concept Korea will showcase at New York Fashion Week. This event started in 2010, supported by South Korea's Ministry of Culture, Sports and Tourism and hosted by the Korea Creative Content Agency. Through this stage, more and more Korean designers showcase their collections and have their stores in the United States, like LIE.
The fans ofK-pop and K-drama also push Korean fashion because many fans want to look like their idols. So, they want to dress like their idols  in music videos, interviews or K-dramas.
Many fans like K-fashion but it is difficult for them to buy the Korean clothing brands and those clothes may not come in their sizes.
Sherri Ter Molen, an adjunct instructor at the College of Communication at DePaul University in Chicago, explained she wanted to buy a sheer "ajumma" blouse that featured the Rose of Sharon, Korea's national flower, at a Korean American-owned clothing store in a suburb of Chicago. But, she said, she did not try it on, because it was very expensive and  she felt it probably would not fit her frame.
"Even clothing made for middle-aged Korean women tend not to fit our larger frames," Molen said. "Young American Hallyu fans might mimic K-pop styles, but unless they are naturally petite and slender, it might be difficult to find sizes that fit."  Korean clothing brands are also not widely available in U.S. clothing stores.
While K-fashion is a part of Korean pop culture, sometimes American people may be influenced by it  without knowing this trend is from South Korea.
"If you look at Korean fashion this year, it will probably be popular in the United States next year. Even though, individuals do not recognize, the influence is still there," said Tamar Herman, the co-founder of KultScence. KultScence is a website posting articles about Korean entertainment from fans' perspectives.
Molen has seen the things like plush winter animal hats with attached plush mittens, which entered the United States from South Korea. She saw them in some Korean videos before she found some people wearing them in Chicago.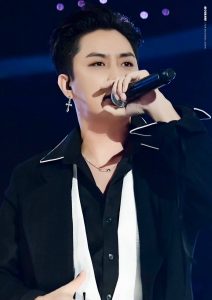 Except for this kind of items, actually, K-fashion styles have their own characteristics and it is still welcomed because of its diversity. A survey by Korea Creative Content Agency of 1,000 American  K-fashion fans, found 20 percent loved K-fashion because of the diversity of its styles.
Layering and mixing are the integral characteristics of K-fashion. A shirt-and-sweater outfit is the most classical style of K-fashion as well as T-shirts and suits, hoodies and coats. K-fashion styles can mix formal and informal. The different shapes of collars show the detail and sense of design. Because of the temperate climate of Korea, layering  is very important for K-fashion.
Oversized T-shirts are the new trend of Korean fashion. It is very common to see oversized T-shirts all over the streets of South Korea, even in East Asia. The oversized t-shirts paired with shorts will show a more feminine look.
Miniskirts with knee-high boots, which is the most common styles in KCON, because of K-pop stars, especially girl groups, also influence style. K-pop girl groups, especially the rookie groups, will dress this way to show the're young and fresh.
"Which look do you pick?" Caro Molis, a  lecturer on 2018 KCON NY, asked fans recently who responded:
"BTS!"
"Girls Generation!"
"Red Velvet!" the fans picked the groups their like.
Nowadays, K-fashion is just a spark in the United States. However, with the growth of K-pop and the Korean wave, more and more American people can be expected to know K-fashion. With the support of the South Korean government and the effort of K-fashion companies, it can become more and more popular on U.S. streets