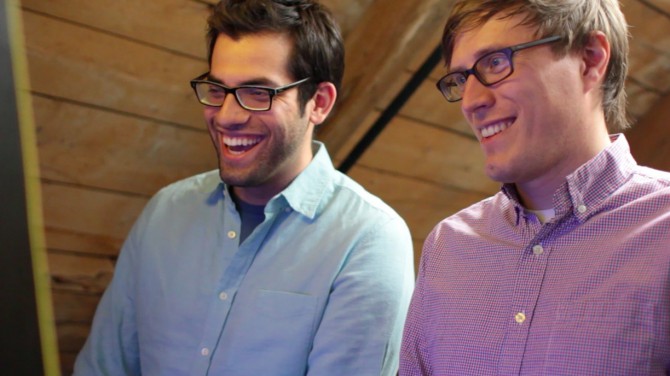 By Katie Finnell
12/11/12
While players of Tap City create their own city based on real-life locations, many will be oblivious to the decisions that lead to the mobile game being developed in Cambridge.
Dave Bisceglia, co-founder of The Tap Lab, said it was the support he and his co-founders received from entrepreneurs in Boston's industry that turned Tap City from a side project into a reality.
"The great thing about Boston is there's no ceiling in terms of getting touch with someone," he said.  "Nobody's untouchable."
A difference, he said, from the West Coast, where there are so many start-ups that the industry people on top are bombarded with requests to meet people who want to break into the industry.
Bisceglia said that The Tap Lab's move into the Cambridge Innovation Center in Kendall Square  "was a huge catalyst" for them.
Most people working in the center were recent MIT graduates who built and sold companies.
"They had ton of relevant and recent experience," he said.
For Jonathon Myers, it was the supportive community that helped him to establish himself as a narrative designer for games.
Myers said he originally moved to Los Angeles to be a playwright, but was unhappy working in the city.
He moved back to Boston and discovered work as a writer in the video game industry.
"The community is very welcoming," he said.
Through networking at various industry events, Myers found work on games like Zynga's "Adventure World" and the mobile game "Jack Lumber," which was picked up by SEGA.
Now, he is working with Boston-based Disruptor Beam on the Facebook game "Game of Thrones: Ascent."
He manages six writers and works as lead writer and in narrative design – working on things other than writing.
"So much of this is luck," Myers said.  "You work really hard, live the industry, live the job."
Chris Parsons, product manager for Muzzy Lane, said many people in the industry develop relationships that cross studio boundaries.
He said many people in the industry work together in college, find work at different studios after graduating, but continue a professional relationship.
"It's much less of beat the other people and more try to help other people out" he said.
Parsons said because of Boston's history as a technology hub, the city is poised to be a leading innovation center.
"There is a lot of leading edge thought," he said.
He said Newburyport-based Muzzy Lane has doubled in size in the last year, growing from a staff of 12 people to 25 and still hiring.
But, Parsons said tax incentives could help grow the industry, especially for studios that are in its early stages.
He said most studios rely on investors, but tax incentives would be "very helpful" in helping them get off the ground.
Jeff Goodsill, vice president and general manager of Concord-based Stomp Games, said the lack of tax incentives and the state's high cost of living make it hard for studios to compete and recruit.
"It's not as easy to operate in Massachusetts," he said.
He said the studio is recruiting more at the intern level, but "there is a lot of investment in taking someone out of college and putting them onto a team."
Tax incentives would allow the state to compete with states and countries, like Canada, that offer incentives, Goodsill said.
"It would push us over the edge," he said.
But when Goodsill, who has run several studios in the past 10 years, was offered the opportunity to create a new studio for a Chinese company, he chose to stay in Massachusetts.
"I could have gone to California or places with tax incentives, but I had a base here," he said.  "I always have the opportunity here to run a studio."
Goodsill has seen the industry grow over the past 10 years, with a rise in the number of smaller start-ups.
"The potential for the future is great," he said.
As for the future of The Tap Lab, Bisceglia said Massachusetts is a great place to build.
"We have no intention of relocating," Bisceglia.  "We're looking forward to building a mobile company in Cambridge."