Asian Americans learn martial arts in response to the rise in hate crimes
By Wenjing Ding
Anti-Asian hate crimes have increased sharply since the start of the pandemic. Asian American communities have been gripped by anger and fear, they began to self-defense themselves and protect their families by learning martial arts.
As crimes against Asian Americans increase, many look to defend themselves with martial arts.
Across the U.S., the rise in attacks against Asian-Americans and hates crimes against Asian-Americans in major US cities is served by nearly 180%. The U.S. police departments indicate a double-digit spike in hate crimes last year and a continued rise into 2022. This means an aggravated assault occurs every 43 seconds in the United States.
"What I see through the report is that horrible things are being said that are racist and sexist that I can't even repeat to you now," Fan said. "There's always a fear that that type of verbal harassment, that type of racial profiling and targeting will escalate to violence. So, I just want to learn some self-defense skills and become stronger to protect my family." Fan said. Some incidents of violence against Asian Americans include:
One year ago, on March 16, in Atlanta, a 21-year-old man entered three spas, shot and killed eight people—including six Asian American women.
In San Francisco, one of the largest Asian communities in the United States, several Asian Americans were violently attacked last year, including an 84-year-old man who died in January after being shoved to the ground.
In New York, Michelle Go, 40, was killed after being pushed in front of a MBTA, and in February, Christina Yuna Lee, 35, was killed after being followed into her Chinatown apartment. Their deaths represent a frightening reality for Asian Americans.
The Atlanta, San Francisco, and New York killings built on a backdrop of increased violence and hate incidents targeting Asian Americans, with findings from the survey data last year indicating that about one in six Asian American adults had experienced hate incidents since the start of the pandemic.
New data on the anniversary of the Atlanta spa killings reveal that hate crimes against Asian Americans remain a serious issue.
No one would want to mess with Asian man Fan Y, a deceptively elegant 29-year-old gentleman to protect himself and his family with newly acquired martial arts moves in the face of rising hate crimes against Asian-Americans in the U.S.
Fan is a tall young key account manager who wears his shirt tucked in and his hair combed neatly back from his forehead. Fan immigrated to America in 2012 and worked at wayfair – one of the world's largest destinations for home companies in the U.S. In 2021 Fan moved to Boston with his wife.
Even as he approached his university years, Fan never imagined he would be a martial arts phenomenon. He was going to do something in the science field. Or so he thought. 10 years later, he saw many incidents of racial crime in the daily news and was instantly enamored with martial arts.
"When I walk down the street I no longer feel safe," said Fan. "I can't step outside without the fear of being attacked whether verbally or physically. I must to be strong and protect myself and my family."
Fan first got into martial arts when he was 6-years-old watched the movie "Police Story" by Chinese Kung Fu superstar Jack Chan. Then, he said he was deeply attracted to martial arts. He felt like learning Chinese Kung Fu was super cool, it not only can help to do exercise but also can protect the family in the case of frequent racial crimes.
Today, there are more than 15 martial arts schools in the Boston area. Wing Chun Kung Fu Academy, located in Chinatown at 70 Beach Street, 4th floor, Boston, MA is the first Martial arts school in Boston.
Fan said the most popular and awesome martial arts school he has ever been is called "New England Championship Wushu Academy (or NECWA)", the school is located in the bustling city of Burlington. They offer a variety of youth and adult classes in Basic Wushu, Wushu weapons, self-defense, and more.
NECWA teaches weekly self-defense classes for the Asian-American community, due to the rise in pandemic-era anti-Asian hate crimes.
"Martial arts can prepare practitioners to defend themselves in life-threatening and dangerous situations. " NECWA head coach Calvin Wang said.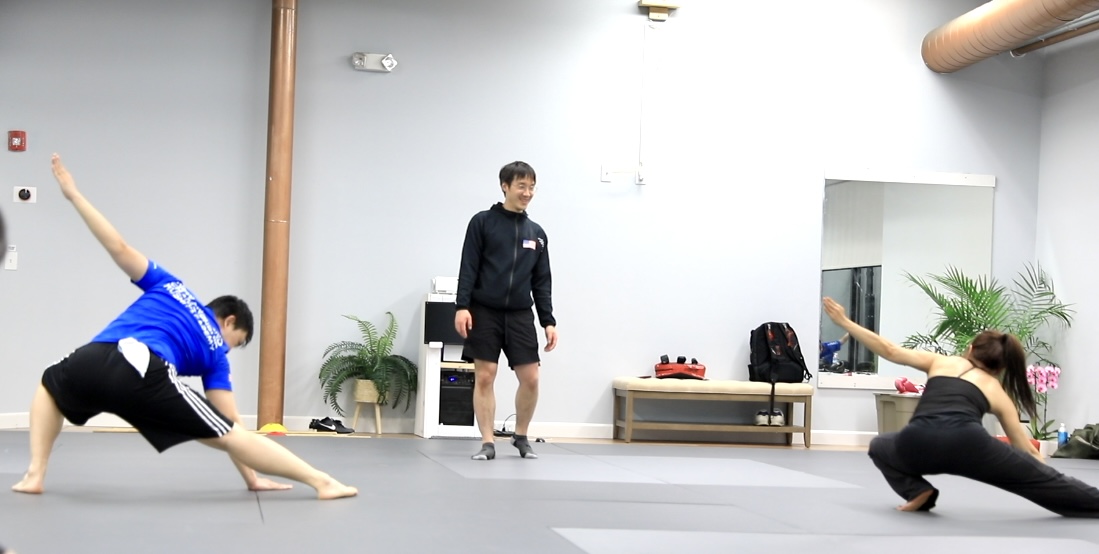 Instructors taught foundational martial arts techniques and self-defense skills. Many who took the class said they wanted to learn these safety skills to have more confidence in their ability to fight back if a violent situation were to happen.
Martial arts classes like this recent one in Boston have sprung up across the country, from New York and Philadelphia to Los Angeles and San Francisco, and the motivations of the students are the same. Fan mentioned that the rise in anti-Asian hate crimes has prompted a need for these classes.
"The reality is racism has gone on even before our generation," said Calvin. "It's just been more heightened now because I think more people are actually paying attention."
"Opening a Martial arts school is ​my American dream", Wang said. He loves Kung Fu and enjoys bringing people together, so it was very important for him to create a martial arts environment that expresses the culture of China in a friendly, authentic way.
"I'm not fooling myself that I can go out and if there's this big attacker I can, you know, I can use my Chinese Kung Fu to kick his butt," Michael Chang, who is a 70-year-old business owner, told us, "but I do want to learn how to keep safe in situations."
A longtime anti-racism activist, Michael was learning tornado drop, backflip, run and Tai Chi skills over the summer.
Jay Liu, who is a software engineer working at Google, said he was frustrated when the attacks against Asians and Asian Americans began increasing last year and he did not know how to help. But he had studied martial arts at NECWA. It has been rewarding to watch his confidence grow, Jay said.
"A lot of the participants at first were shy or timid, thinking they couldn't do these moves or this wouldn't help them or they were scared of what they see on the news," Fan said.
In China, certain martial arts are known as Healing Arts and have been used for centuries to improve physical and emotional health and enhance the quality of life.
In fact, instructors often say that fighting is a last resort. At the same time, kicking and sanda let people work out frustration or anger while practicing self-control. Martial arts also can enhance health, boost self-confidence, and equip people with self-defense skills, among others.
A Stop Asian American and Pacific Islander(AAPI)Hate National Report released on Sept. 30 found that verbal harassment continued to make up most of the incidents reported to the group at 63% of the total. Especially for women were most often the targets accounting for 62% of the reports.
Fan asks that people to stop harassing Asians.
After three months of practice, under the guidance of Calvin, Fan has gained 12 pounds and his body looks really healthier. "Next time, if I see being verbally harassed, coughed and spat on, physically assaulted, and refused entry onto urban transit trains. I will use my martial arts skills to protect them." Fan said.