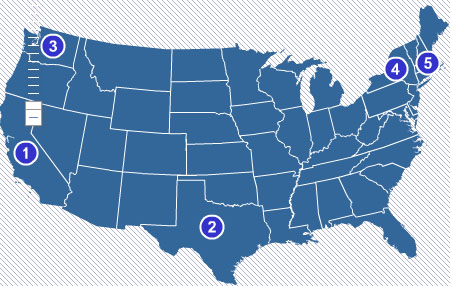 By Katie Finnell
12/11/12
The Entertainment Software Association is reporting that Massachusetts is fifth in the nation in game development.
It's not just more studios starting up in the state that has lead to a growing industry, however.
"It's not just an industry here, it really is an ecosystem way more than it is a cluster," said Helena Fruscio, the Massachusetts creative economy industry director.  "We have a support system behind it."
Fuscio said having the Penny Arcade Expo East (PAX East) commit to holding the convention in Boston for the next 10 years has also cemented the validity of the industry, as well as strengthen it.
"It's delivering ready-to-use clientele," she said.
A combination of quality higher education, industry led initiatives like Boston Post Mortem and organizations like Mass DiGI has brought about a steadily growing industry, Fuscio said.
"It's naturally forming," she said.  "These are dream groups – it shows they value what they're doing."
How does Massachusetts compare to the top four states?

Interactive Map by iMapBuilder
Samuel Roberts, the assistant director of the Interactive Media Division of the University of Southern California's School of Cinematic Arts, said high profile studios and higher education institutions draw students from the West Coast.
He said Massachusetts is "a real opportunity for students to go and make a name for themselves."
He said students collaborate with composers at Berklee College of Music.  Students will send the composers their games and the composers will write music for them.
"There are a ton of smart, exciting cool people in Boston," Roberts said.  "Our opinion of Massachusetts is pretty positive."
For gamers who live out of state, Massachusetts is becoming a blip on the radar as a game design hub.  But internationally, the studios are more important than their location.
Andrew Ball, a resident of Ontario, Canada, said when he thinks of game producers and developers, he thinks of big name brands like Ubisoft and Nintendo.
But Massachusetts has recognizable brands, like Harmonix Music Systems and Rock Star New England, he said.
For Utah resident Josh Campbell, location was never something that crossed his mind.
"I never really thought about where gaming companies were based out of, but now that I know that they are from Massachusetts, I would say that it is a gaming hub," said Campbell.  "There are a lot of quality studios there that have been around for awhile."
Campbell said he has played games from Massachusetts-based developers like Harmonix, Irrational Games and Turbine Games.
Nevada resident Jimmy Alger is a big fan of Harmonix products.
"I've spent well over $1,000 on the Rock Band franchise alone, between software, peripherals, and downloadable content," he said.
He said few cities house multiple brand names, but Boston is one of them.
"It may not be the first place someone thinks of when game development is brought up, but there certainly does seem to be a sizable rooting of companies that have begun there," he said.