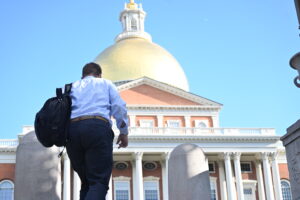 By Skyler Stark-Ragsdale
Massachusetts needs to build 200,000 more housing units by 2030 to stabilize home prices and rents, said a housing expert at a recent state meeting. 
Up for discussion among local and federal officials was housing production and affordability on a national level as part of the State of the Nation's Housing 2023 meeting, organized in June by the Joint Center for Housing Studies of Harvard University.
"Stabilizing prices that are high for too many people means that we really need to focus on and resource affordability," added Rachel Heller, CEO of the Citizens' Housing and Planning Association, referring to the housing environment in Massachusetts.
The Massachusetts nonprofit helps create affordable housing options for low-income families and residents. With the national labor shortage of construction workers and the price of housing materials rising, Heller said building enough units to stabilize housing in Boston and Massachusetts may be difficult.
The Boston city government, the Massachusetts legislature and the federal government all work to create income-restricted and subsidized units — a difficult feat as the average price of a one-bedroom apartment in Boston ranks fifth most expensive in the country according to a June national rent report by Zumper, a national rental platform.
Chris Herbert, managing director for the Harvard research center, acknowledged the complexity of solving the housing crisis.
"There's not one solution to the housing crisis. People often say 'What's the silver bullet?'" said Herbert. "In housing, we need silver buckshot."
At the city level, Boston Mayor Wu said she plans to create and preserve 802 new income-restricted housing units to tame the housing crisis.  
The $67 million plan will consist of 17 projects in Mattapan, Mission Hill, Roxbury, Allston, Chinatown, Dorchester, Jamaica Plain, and South Boston. Of the new units, 161 will be reserved for seniors and all of the income-restricted units will be reserved for tenants below a certain income level.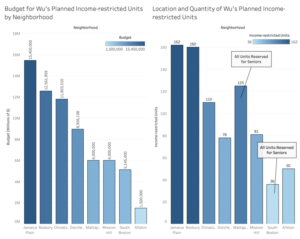 Wu said she will prioritize developers that employ leadership groups represented by at least 25% people of color, who are more affected by the lack of housing in Boston.
More recently, Wu's amendment to the Inclusionary Development Policy, which would require developers to make a higher percentage of rental units affordable units, was approved by the Boston Planning and Development Agency in July, 2023.
These developments follow Wu's success in allocating $205 million of American Rescue Plan Act (ARPA) funding toward specific income-restricted housing initiatives in July 2022. Wu was also successful in advancing her rent stabilization plan to the Massachusetts legislature in March and now works to save what she calls "expiring use" housing, or privately owned housing subsidized by the government, set to return to market price. 
But the mayor's office said these successes will only be a drop in the bucket if the Massachusetts state government does not take strong steps in housing themselves. Managing the housing crisis has to come from a regional approach, it said, starting from the federal level and trickling down to the state and municipal levels.
Suburbs must cooperate with affordable housing initiatives, something they have historically refused to do, to allow rental prices to drop and people to move more freely in and out of the city, said the office.
The state legislature, however, passed a landmark zoning law this spring. The law requires a minimum of 15 multi-family housing units per acre within half a mile of an MBTA commuter rail station, subway station, bus station or ferry terminal, in at least one zoning district per MBTA community, a step to create more housing with access to public transportation.
Communities like Lexington have already adhered strictly to the regulations put forth by the law, taking steps to institute the required number of multi-family homes near MBTA stops in their area, said Luke O'Roark, spokesman for Massachusetts Rep. James Arciero.
But communities react differently to new laws.
"That's where the rubber hits the road," said O'Roark, referring to the challenging process of enforcing new laws in communities across the state.
Arciero, a Democrat and the chair of the Joint Committee on Housing, said the state is reviewing 150 housing related bills addressing topics including housing production, public housing accessory dwelling units, manufacturing housing, affordability, rental assistance, zoning reforms, and funding for voucher programs, or programs that help low-income residents meet their rent.
Arciero said that the Massachusetts House passed a provision in next year's state budget that would protect residents applying for state rental assistance. They await the conference committee's final report regarding the budget and the added provision.
"If in the final state budget, this extension would be a permanent continuation of a pandemic-era policy that protects some of the state's most vulnerable populations who may be facing unfair evictions," said Arciero.
Despite this progress, the mayor's office said the state legislature could take other steps to help housing. Wu's rent stabilization plan would be the first return to rent control since it was banned in 1994, limiting annual rental increase to 10%. The office said they don't know if the bill will pass in the house, though, which could be because some legislators are landlords themselves.
The Joint Committee on Housing will likely not get around to reviewing the plan until the fall, said O'Roark
Like the city and state, federal agencies in Boston are doing what they can to create more housing opportunities for residents.
Brian Jordan, a spokesman for the Boston Housing Authority (BHA), a public agency funded by the federal government, said Wu's goals for affordable housing align with the goals of the agency. 
"She has been a tremendous partner for the Boston Housing Authority. And she gets the mission. She really understands what's important here," said Jordan, whose agency oversees public housing, or housing that is owned, operated and subsidized by both the federal and state government, for Boston residents. 
In general terms, Jordan said tenants of public housing pay 30% of their income toward rent, while the federal or state government pays for the remaining cost. They also oversee the Section 8 voucher program, where they provide recipients with a subsidy to pay part of their rent to private homeowners, said Jordan.
The agency recently held a ribbon-cutting for a redevelopment project of 331 public housing units owned by the state in Orient Heights, East Boston, said Jordan, a step forward in the challenge to bring more housing to Boston.
But there are 10,000 units of public housing in Boston and 30,000 applicants, Jordan said, making Wu's plan to create more income-restricted housing ever more important.
The federal government recently chose, though, to revamp public housing on a national level, said Jordan, a decision coming years in the wake of the cap they set on public housing units available per municipality in 1999. Since then, public housing deteriorated, leaving a gap between the cap and the current number, which the program seeks to fill with an increase in units.
This could bring an additional 6,000 units to Massachusetts as the gap widened over the years, according to an estimate by the U.S. Department of Housing and Urban Development.
"It's an opportunity for sure. It's creative problem-solving," said Jordan, referring to the potential of the federal program to create public housing in Boston. "It's definitely one of many tools in the toolbox that we should be exploring in order to address the housing crisis here in Boston."