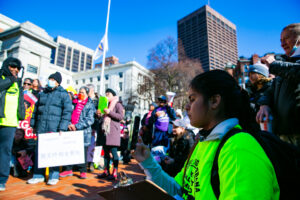 By Skyler Stark-Ragsdale
Boston Mayor Michelle Wu chalks up a win getting an important zoning amendment approved to deepen affordability, but advocates worry she must do more to curb displacement by corporate real estate development.
The Boston Planning and Development Agency, an agency regulating Boston zoning policies, voted in July to proceed with the mayor's zoning amendment, which would provide more affordable housing units to Boston neighborhoods.
Wu's zoning amendment to the Inclusionary Development Policy requires Boston developers to reserve 15% to 17% of rental units for residents who make an average of 50% or 60% of the Area Median Income (AMI), which is $103,900, and to not rent these units to those who make more than 70% AMI, in market-rate complexes of seven or more units. The amendment would also reserve more units for lower-income residents to purchase. It would be the first change to the policy since 2015.
Although the project advances Wu's priorities, affordable housing advocates say they don't think the amendment does enough to help Boston's most vulnerable while keeping corporate real estate companies at bay.
Skyrocketing house and rental prices are still driving long-time Boston residents out of the city. Julian Miller, who grew up in Roxbury but now lives outside of Boston, said he can't believe how much prices jumped in Roxbury in the last couple decades. "Now they've got condos that are worth $700,000 or $800,000 — it's unbelievable," he said. 
Today, the average rental price of a one-bedroom apartment in Roxbury is $2,500 per month, a 7% increase from last year, according to RentHop, a website that estimates real estate prices.
The Boston Planning and Development Agency already voted to proceed with the changes, but Wu's amendment will still need to come before the Boston City Council and the Boston Zoning Commission. 
Hoping to increase the inclusivity of the amendment, housing advocates­­—including the Coalition for a Truly Affordable Boston and members of the Boston City Council­­—wrote and signed a letter to the mayor, arguing that the proposed changes would still exclude those who have an income less than 60% of the Area Media Income. 
"What we know is that that leaves whole populations out," said Markeisha Moore, member of Dorchester Not for Sale, a resident-led community alliance that is part of the coalition. 
Black, Latinx and Asian renters are especially vulnerable, the coalition said, because on average they make under $31,000 to $37,000 annually per household, which is only 30% to 36% of the Area Media Income, according to a BPDA 2022 report.
The coalition urged Wu in the letter to also reserve rental units for people making an average of 40% AMI and to reserve homeownership units for those making an average of 50% to 100% AMI, which would allow more residents of lower income to apply.
As it stands, Wu's amendment allots an additional 3%, or at least two units, in market-rate complexes to those who hold housing vouchers, or government subsidies that cover the cost of rent exceeding 30% of a resident's monthly income.
But the state government distributes at least 75% of its Section 8 rental assistance vouchers to households making 30% AMI or less, and Wu's changes would reserve units for those who make  50% or 60% AMI.
The changes exclude much of Boston's working class, who qualify for neither a government subsidy nor affordable housing, said Gabriela Cartagena, spokeswoman for City Life Vida Urbana, a non-profit fighting for housing justice across Boston and a member of the coalition. "They don't make enough to qualify," said Cartagena.
"We're seeing like a clear out now, these neighborhoods that were once redlined that were once undesirable, and cheap because of it," said Cartagena. "Because they were undervalued, or now speculated, have been speculated on, thanks to corporate real estate, corporate development."
In neighborhoods that were historically redlined, or zoned based on racist principles to force people of color to specific areas of the city, real estate values are increasing faster than people's wages, she said, forcing people to move.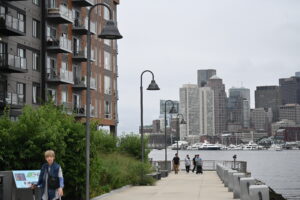 "I'm a millennial, and I grew up in East Boston. And millennials who grew up in East Boston now can't afford to buy a home in their lifelong home neighborhood," said Cartagena. "And the same goes for the current and future generations of Roxbury and Mattapan."
Many members of the coalition have witnessed the corporate buyout in these neighborhoods firsthand.
Kwesi Matthew of the Morton Village Tenant Association fought, and won, a battle against Avanath Capital Management, to keep his rent from rising at a rate he and many other tenants could not afford after the company recently bought his complex.
After protesting the company's proposed rent increase with the tenant's association, Matthew said they agreed upon a five-year lease where the company could only increase their rent by 3% for the first three years, and 3.25% for the following two years for most tenants.
"Gentrification is still a thing, because most of the other properties that they own are predominantly white," said Matthew, adding that the original rent increase by Avanath would have displaced mostly Black and Brown tenants at the Morton complex.
Avanath declined to comment on the battle with the Morton Village Tenants Association.
Betty Lewis, tenant leader for the Fairlawn Tenants Association, works with City Life to fight against The DSF Group real estate company, who bought the apartment complex where she lives in Mattapan in 2019. Lewis had lived at the Fair Lawn apartment complex 30 years when DSF purchased the property.
Within three months, they raised the rent by $300, she said. She couldn't afford the increase, adding that she believes they wanted to force the current tenants to move elsewhere so they could charge more for new tenants moving to the area.
"And what about the people that are here in the neighborhoods? Don't [they] care about them?" said Lewis.
Lewis consulted City Life, who helped her write an official notice to the company stating she couldn't afford the increase. They equipped her with legal knowledge of the situation and continue to help her fight the real estate group today.
"I learned a lot. I learned my rights. I learned that only a judge can throw me out of my apartment. I learned how to speak up for myself. I learned how to not be timid, and work with other people," she said. "The City Life people are really nice. They show you nothing but love."
Lewis remains in her apartment paying the same rent she did in 2019, but the fight is ongoing. The DSF Group told her she owes them a cumulative $15,000 for refusing to sign the updated lease since 2019. 
"People need a place to stay. Housing is a human right. And no matter where we live, we need a place to stay. And they have to see that. I wish they would just open their eyes," said Lewis.