By Samantha Johns
Miami is a tourist capital of America, and now it's a coronavirus epicenter. The same visitors who make the city a vacation destination are now a source of super spread. 
Florida earned the title "epicenter of the pandemic" after shattering records on July 4 with 11,458 new cases, according to the Florida Department of Health. 
With all eyes on the state worldwide as cases continue to surge, it's become more evident that government officials are not coming together to discuss policies being implemented to protect residents. 
"We have been working siloed—mayor working it his team, me with mine," said Miami Mayor Francis Suarez. After publicly speaking out he was unaware of Miami-Dade mayor Carlos Gimenez's decision to shut down restaurants again, Suarez brought forward the lack of communication between city and county officials. 
Gimenez was able to compromise only a day later after his shocking announcement, allowing restaurants to reopen with only outside dining, but it was evident both sides weren't working together. "You can't make a decision of the magnitude that was made without communication," said Suarez. "We're going to need each other going forward." 
One decision that couldn't be compromised on was short-term rentals for Miami Beach. Packed streets on Ocean Drive consisting of out-of-state tourists taking advantage of low airfares implemented the ban, which prohibits all short-term rentals from accepting new reservations. It also requires owners of rental properties not to accept any guests who had previously booked, forcing cancellations for many planned trips. 
But Miami hotels are still open for business. "There are some amazing deals to be had for those that are risk-tolerant," said Rolando Aedo, chief operating officer with the Greater Miami Convention and Visitors Bureau. 
Tourists have been flocking to Miami with full intentions of still enjoying their summer vacations despite the surging number of coronavirus cases. The fear of catching the virus hasn't been enough to keep visitors away. "Hotels are bending over backwards to attract business," Aedo said.
Miami residents have been confused for months after re-openings began as policies differ greatly between Miami-Dade, Broward, and Palm-Beach Counties. "It seems as though whatever Miami-Dade decides to implement the other counties follow suit either a day or two later," said Miami-Lakes resident Iris Gonzalez. 
"It's hard to keep up to date on what is and isn't permitted because things keep changing from one day to the next," said Gonzalez. Although she resides in Miami-Dade County she also owns a property in Broward County that she sometimes rents out to help pay the mortgage. 
"I can drive to Fort Lauderdale, which is only 30 minutes from my house, and dine indoors, but if I go back to my neighborhood in Miami Lakes it isn't allowed," said Gonzalez. "Same conflicting policies when it comes to me deciding to rent out my beach property making it extremely frustrating in an already stressful time." 
Jurisdiction between officials at the federal, state, and local levels has left some finger-pointing at certain leaders, specifically in Miami-Dade county which currently has the highest number of cases throughout the state, for not doing enough to flatten the curve. 
 "Different areas have handled this differently based on their facts and circumstances, and even today you see obviously discrepancies throughout the state," said Florida Gov. Ron DeSantis in a statement. DeSantis, who has continued to advocate for local leaders to make decisions on how to combat the virus, has received much criticism, including having a protestor yell at him to resign for causing the death of so many Floridians during a news conference.
As more constituents urge DeSantis to follow other states' examples by implementing a mandatory mask mandate, he's proven while encouraging the use of them he won't be issuing a statewide requirement. Despite this, some cities and counties have implemented the mandate with consequences like fines to ensure that residents and tourists visiting the area follow the rules. 
"It's more powerful when we are on the same message," said Suarez. After the public upheaval with Gimenez, he called for all government officials to come together to make decisions even if they all don't agree. "That includes state and federal as well," he said.
The Florida Department of Health said 33.6% of individuals testing positive for COVID-19 in Florida have been infected by a family member living in the same household. Although this has made contact tracing much easier, that doesn't eliminate the need for faster testing especially for those who decide to test while vacationing. 
Tourism has been one of the biggest concerns for residents since re-openings began in Miami as many out-of-state visitors are coming from high-transmission areas, such as New York or California.
Not only are these tourists risking infection boarding packed flights on airlines, such as American Airlines, but they're also not implementing social distancing throughout South Beach. "It's concerning to see how unconcerned people are here in Miami," said resident Isis Perez. "You walk around South Beach, Brickell, and Downtown Miami, no one is wearing their mask."
Crowded areas with little to no mask-wearing have many blaming tourists for bringing higher case numbers to the area. "We love getting to share our city with tourists, but if they're not going to respect the health and safety of our residents why should we keep allowing them to come to visit," said Perez. 
While residents are frustrated with the new guidelines being enforced, they're more upset seeing tourists contributing to the surge. "Everyone is making fun of Florida saying we're not being responsible, but a lot of the people I see out there aren't even from here," said Perez. "They're making us look bad to the rest of the world, bringing us harder restrictions, and then going back to wherever they came from with only the consequence of potentially catching the virus, but, hey, at least they got their fun in the sun."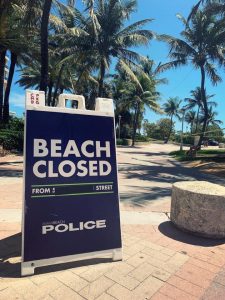 In addition to spreading the coronavirus, tourists are also being blamed for an uptick in violence as partygoers who have been quarantined for months stay out late in search of a fun night. Incidents such as shootings, stabbings, sexual assaults, and fistfights in the entertainment district led to Miami implementing an 8 p.m. curfew. Miami Beach Police have increased the number of staffing for officers in this area to ensure those will oblige with the new restrictions. 
"The new staffing plan will have more officers out on the road at any given time," said Officer Ernesto Rodriguez, Miami Beach Police spokesman. "More visibility will in turn curb criminal activity and also allow the officers to continue to seek compliance with the emergency order."
Curfews have been a source of major frustration for residents and those looking to plan a trip. "I do think we should put it to the people of Miami-Dade that once an emergency order is issued, by the mayor of Miami-Dade County, that is the individual who should be in charge of the emergency that is being confronted by the people," said Gimenez.
Local leaders have emphasized their dedication to protecting their constituents but lack a mention of how tourism has affected the case numbers in Miami-Dade County. As the end of summer fast approaches, residents are hoping fewer visitors will continue to visit in the hopes of allowing schools to reopen safely.
"I'm extremely concerned for the safety of my kids as we prepare for them to return back to school," said Priscilla Suarez, a parent of two elementary school children. "It's shocking to see what's happening in other states, especially Georgia right now. You're seeing a prime example there why we shouldn't be returning to in-person learning and yet local leaders are still forcing kids back into the classroom. I'm hoping we can learn from other school districts to make the best decision for our kids even if that means staying online."