By Annie Williams
For sex workers and adult entertainment workers working in an underground industry comes with its own set of challenges on the best of days. And in a pandemic its more stress with no end.
Working under the table, lots of traveling, and protecting yourself are core components for some in this profession. Some sex workers must rely on community support specifically catered to them.
"When we first came out, we brought condoms and like little toiletries and then we got syringes and we were also able to get a small amount of money for temporary housing," says Beatrice Codianni, founder of Sex Workers Alliance Network (SWAN) based out of New Haven, Conn.
"So, we were able to put a couple of women up in a kind of sober house situation for a month, up to six months."
Codianni and her volunteers go twice, sometimes three times a week to the city of New Haven, Conn. to pass out supplies to sex workers that are homeless. Their work is mainly rooted in harm reduction and prison abolition.
Before the COVID-19 pandemic hit, SWAN was able to offer other services to sex workers who experience homelessness. Self-defense classes, guided meditation, and volunteer psychiatry professionals would facilitate trauma groups.
"We stopped groups because we couldn't have more than five people", says Codianni. Who mentions that the groups are critical for these women, it gives them a space to talk about sensitive and traumatic events that have taken place in their life, she says.
Another group that was provided and is vital to the survival of some sex workers who may experience homelessness is one where they can share information about bad dates.
Since the Stop Enabling Sex Traffickers Act and Fight Online Sex Trafficking Act, an online internet policing bill to combat online sex trafficking, sex workers used online platforms to screen clients before service now has to share information by word of mouth to warn against dangerous clients.
Because of the importance of this information being circulated Codianni and her clients need to be able to meet however before the pandemic they have faced many issues with each place they have held groups in. From clients not being allowed to use the bathroom (which is essential for people experiencing homelessness), not being granted the courtesy of having the door closed for groups, and being treated with a lack of dignity by the head of these buildings.
"When we moved to New Haven library that was great because we had a private room in the downstairs area and we were able to shut the door but then they got a new security guard who came down and told us we had to keep the door open so we went to the head librarian and she said that was the rule which was bullshit because we had the door shut all the time before," says Codianni.
Problems like these as well as other social issues that impact sex workers of this caliber put's them at risk health-wise.
Maddalena, a 22-year-old client of Codianni's says she has little access to information about the Coronavirus and wonders if it's that serious of something or something the media is hyping up. She also applied for healthcare back in January but has received no notice of her eligibility.
According to the Global Network of Sex Worker Projects, a non-profit committed to providing advocacy and resources for sex workers, undocumented sex workers face further exclusion as they are ineligible for emergency funding and cannot access free health care.
SWAN and other networks of support are essential to providing sex workers who work on the street care and access to resources that are not available by the government and they work only off of individual donations.
For other sex workers and adult entertainers who have an online platform or work in adult dance clubs being self-sufficient comes with the territory.
"Sex workers were the first people to take a hit because were not essential workers and around the time the bars and restaurants started closing down was when a lot of people stopped seeing clients," says Eva Rivera, a sex worker based out of West Philadelphia who specializes in porn and some escorting.
Since the start of the pandemic, many states such as Massachusetts and Connecticut made it possible for gig workers and independent contractors to obtain unemployment benefits. However, some who work in the adult industry have experienced issues with receiving it and some have found to be ineligible.
Bry is a 26-year-old dancer from Mynx Cabaret in Groton, Conn. Who filed for unemployment benefits around May 28 and has yet to hear from anyone. In addition to having a child and a partner whose unemployment was cut off temporarily, she says she wishes there was more security for people in her profession.
"I think we should at least get hourly so we can be on the books somehow, that way we can do taxes and not be afraid to explain what we do," Bry says. "I hope they consider this if we don't come back because we don't feel protected in situations like this. We pay every night we work, we pay the DJ, the club, plus pay a fee for every dance and room we do, we should be protected just as much as bouncers and bartenders because if it wasn't for us dancers the club wouldn't be the club it is," says Bry.
Clubs like Mynx Cabaret in Groton have opened as of July 20. Following all CDC guidelines with masks required upon entry.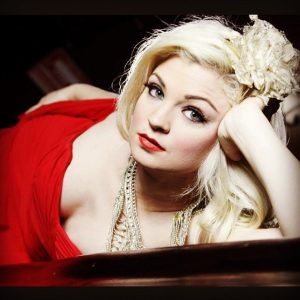 Christy Monroe is an exotic dancer who works in Florida who at the beginning of June because of the clubs being closed was left with the decision to take a job as a camp counselor with an extremely low pay cut in comparison to what she was making while dancing. Monroe also has an online presence but has decided to not pursue online business through sites like OnlyFans because of how saturated the market is.
"I decided to not do an OnlyFans maybe about a year ago I tried this thing called MyFreeCams because for me I prefer to be in the strip club over the online thing because it's unbelievable competitive and while some girls are making a lot of money some aren't even making 10 cents," says Monroe.
Since the rise of the digital age, some adult entertainment workers have been able to reap the benefits of adult content making. Many of them also take advantage of collaborating with homegrown actors and comedians. But many agree it takes a lot of time and cultivation to build a following.
"I went through a lot trying to figure out how to find my footing and how to be safe and just like marketing, branding all kinds of stuff that took me years to figure out all while I was in the closet about it and no community with no one to walk to about it," says Rivera.
Despite the alluring and mysterious nature of being a sex worker, it can be very therapeutic for people who have access to it. And in a time of social isolation its almost necessary for people to be able to have that connection.
"There's a strong component to my job where I'm basically a therapist in a thong and people have disclosed all kinds of things to me like their suicidal thoughts to me and all the problems in their marriage and it's a balance for me to maintain because I need these customers to keep paying me, but I also want them to know I care about them," says Monroe.