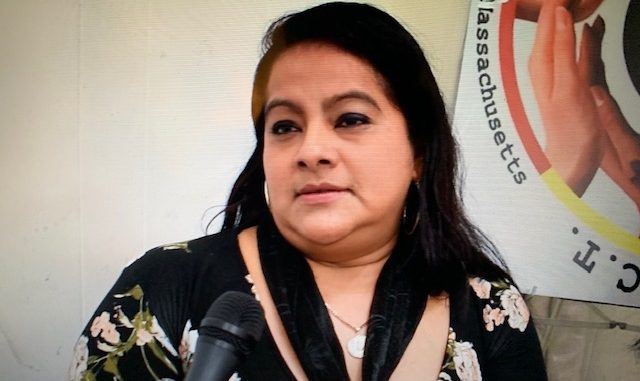 By Nioves Mejia
Women who suffered abuse, are finding strength through the #MeToo Movement and local organizations in the New England region. By getting access to a wide range of services to survivors of  gender-based and women crimes.
"What hurt me the most is that when I got pregnant that person continued harassing me, disregarding that I was expecting a child. I can't get it out of my mind," said Paula De Leon, a Guatemalan immigrant who was a victim of sexual harassment at her workplace. Day by day she was victim of sexual harassment at her workplace.
Suffering silently thinking that because of her immigration status will not be able to get the help she needed. Until these days, she keeps dealing with the trauma of the consistent abuse while she was pregnant.
De Leon remembers being harassed since the first day she started working. She was employed by the company for five years, dealing with the irreverent misconduct of a supervisor. And the verbal abuse for three years.
In 2015, again the same person was physically inappropriate with De Leon. "It was too much, I couldn't handle it. I run to the bathroom to cry out loud," she said. While being pregnant, the verbal abuse continued. "He said obscene words each and every time we came across," said the Guatemalan-native.
Later De Leon attended to a conference about workers right; and was when she realized that she has rights and heard about sexual misconduct at work for the first time. "I went and the first time I was shy, but the  second time I went with my husband. I got up and said that I was being victim of sexual harassment," she said.
De Leon is an undocumented immigrant. She was afraid of speaking out loud about her issues at work. "I was afraid until that day," she said energetically. In the Community Center for Wokers (CCT) she found support and got connected with other state agencies to receive support.
In these days, the Me Too Movement had expanded beyond Hollywood. Gina Scaramella, LICSW, the Executive Director of Boston Area Rape Crisis Center BARCC an organization that provides comprehensive support to survivors of sexual assault said that because of the Me Too Movement more women have risen their voices against sexual crimes. However, the organization is advocating for more investing in prevention. "We need to build a culture that prevent sexual assault."
The expert said that people will have to be able to identify what is sexual misconduct, where to speak up and find support. The state of Massachusetts has several organizations that work with domestic violence and sexual crime survivors. "It is a sensitive topic, however people are willing to talk, "she said.
Scaramella remarked the important role of social media creating awareness and how comfortable has become  for young women to talk about a the topic. Sometimes other person was the target and a friend contact the agency on her/his behalf. "Young people increased their comfort about the issue", said Scarmella.
Among immigrant communities it is not uncommon to find that violence against women are often unreported. Community organizations provide the tools for women to overcome abusive obstacles in their lives. "I was able to educate myself and to know my rights. I learned to not remain silent any longer. That is why I can speak to other women that works in other companies to not allow harassment or any other misconduct," said De Leon.
Organizations like New Horizons Domestic Violence Services. An institution based in Middletown, Connecticut that offers services to Middlesex County residents, supporting immigrant women during difficult times. The institution provides a wide range of services for survivors of gender-based violence or violence against women.  "In our organization, we found out that particular immigrant women who are experiencing domestic violence [or any kind of abuse] are fearful of not only their abusers but of their status becoming a barrier for themselves or their children," said Denetra McBride the program director. Some of these barriers include not being able to secure employment or benefits.
According to the expert, being in a troublesome situation could leads to an increase of stress and possibly other mental health issues such as depression. "These women are often miles away from their family and friends as well which makes the situation even worse," said McBride.
Also, the children of these women are also impacted by carrying the burden of not letting anyone know about their parents' status. New Horizons is proud to serve all women regardless of status.
However, the organization has seen an increase in the women that we serve who are impacted by the current political climate surrounding immigration. "Our focus is to help whoever we serve regardless of their immigration status. Our staff works hard to connect all women to services to help them live a better life for themselves and their children," she said.
Some of these services include: finding benefits, securing pro-bono attorneys to assist in the legal process of obtaining immigration paperwork and divorces and securing housing. If these women are not legal citizens, New Horizons work to have attorneys assist them with this process and link them to local organizations and networks that can assist them as well.
The most important to the women the organization serves is the emotional support. That is provided through advocacy, support groups and individual counseling. "We encourage these women to take the steps to take control of their lives," said McBride.
According to the program director, it is important to find supporting local services that empower women in this troublesome political environment. "In our experience, all women are still struggling to find their voice to be able to speak up," she said.  And recommend partnering with local domestic violence and/or sexual assault agencies to spread the word about awareness, red flags and advocacy will help to create a culture that supports all women having the courage to speak.
The Guatemalan-native said she gained so much confident that she was not afraid of speaking to officials. "When I went to the police to file a complaint I told the investigator that I was not afraid anymore. I did not care if I got deported because I came to US looking for a better future through hard work. I was ready to go back home, because I left three children in my country," she said.
According to De Leon she was threaten by the supervisor, telling her she was going to ended being deported. The person was physically inappropriate and utilized obscene vocabulary consistently. Causing psychological and emotional trauma  that up to this days still goes with her everywhere she goes. "I came to this country with lots of dreams. When I think about the abuse I went through, makes me feel bad."