By Alecea Rush
04/28/2015
Like many addicts, Ryan Medeiros began his battle with addiction before his 18th birthday. Then Percocet was his drug of choice. Every day nearly 2,500 American youths abuse a prescription pain reliever for the first time. Ryan was among the 13 percent of opioid users that get their pills legitimately with a prescription from a doctor. Ryan's mother Carrie Medeiros said he began making frequent trips to the dentist to have his prescription filled.
Experts say many opioid abusers believe that pain pills are safer than street drugs because doctors prescribe them. Ryan's addiction to Percocet took over his life and shortly after that, "the prescription pills quickly escalated to heroin," his mother said.
Heroin is the drug that killed Ryan six years after he took his first opioid pill. Ryan had seven brushes with death in the form of overdoses before the final one that took his life on September 11, 2013.
Stories like this are very common with today's heroin users. The American Society of Addiction Medicine estimated that around 23 percent of heroin users started as chronic opioid addicts. Another study stated one in 15 people who take non-medical prescriptions opioids will try heroin within 10 years.
Jamie Zimmerman works at the Needle Exchange Program in Cambridge, Mass.. She works with intravenous drug addicts on a daily basis. Over the last 10 years the program has seen an increase in heroin users specifically. Zimmerman along with her team provide addicts with a stigma-free "harm reduction" program.
Zimmermann's hands-on work has made her disdainful of doctors who over-prescribe  opioids she has characterized as "common drug deals that stand in the alley." Opioids are so readily available Zimmerman said some users  "doctor shop." Doctor shopping refers to patients who travel from doctor to doctor in hopes of scoring a prescription for a drug they do not need.
American Society of Addiction Medicine
"A vast majority of clients that we see, especially new clients, start off on prescription pills, sometimes their legitimate prescriptions. When those legitimate prescriptions run out then they start buying those pill on the street, said Zimmerman.
"Street pills" are an expensive habit to maintain, averaging a dollar per milligram. A 60-80 milligram pill of Percocet, OxyContin, Xanax or Valium will cost an addict $60 to $80. The same addict can buy a bag of heroin for as low as $10.
The state of Massachusetts recently put into affect a mandatory Prescription Monitoring Program in an attempt to crack down on doctors abusing their power and addicts who "doctor shop." The program was initially optional.
"Doctors and providers are very busy, they're not going to do something that they don't absolutely have to do because they have a million other things that they are required to do. The state should have taken a bigger role in monitoring doctors. The program should have been mandatory in this state along time ago," said Zimmerman.
Carrie Madeiros recently participated in the FED UP rally in Washington D.C. to demand a federal response to the over-prescribing of opioid painkillers. "Big Pharma" is the term the FED UP organization uses when referring to the pharmaceutical companies. "It was really emotional to see over 2,000 people who have mostly lost children travel from all over the country, come together and rally against Big Pharma.  They should be held accountable for what their doing to an entire generation," Medeiros said.
A recent study by the National Survey of Drug Use and Health states that opioid pain pill addiction declined significantly after local and national law regulators began to monitor doctors and close down "pill mills" from 5,093,000 in 2010 to 4,471,000 in 2011. While heroin deaths increased 45 percent from 2010 to 2011.
Despite these facts some groups are advocating for prescription opioids to be more readily available. The 100 million-plus Americans who suffer from chronic pain maintain they are finding it harder to receive treatment.
American Academy of Pain Medicine
 The heightened media attention directed on opioid pain pill addiction has created a stigma with legitimate doctors and true chronic pain suffers. Advocacy groups to support individuals dealing with chronic pain have emerged, such as Physicians for Responsible Opioid Prescribing. It strenuously argued that opioids work incredibly well for short-term chronic pain management, but the group does warn against long-term use. Studies show that after 90 days of continuous opioid treatment the patient is more like to become a lifetime user.
The organization educates people on the true meaning of chronic pain. It also helps educate doctors identify "high risk" users: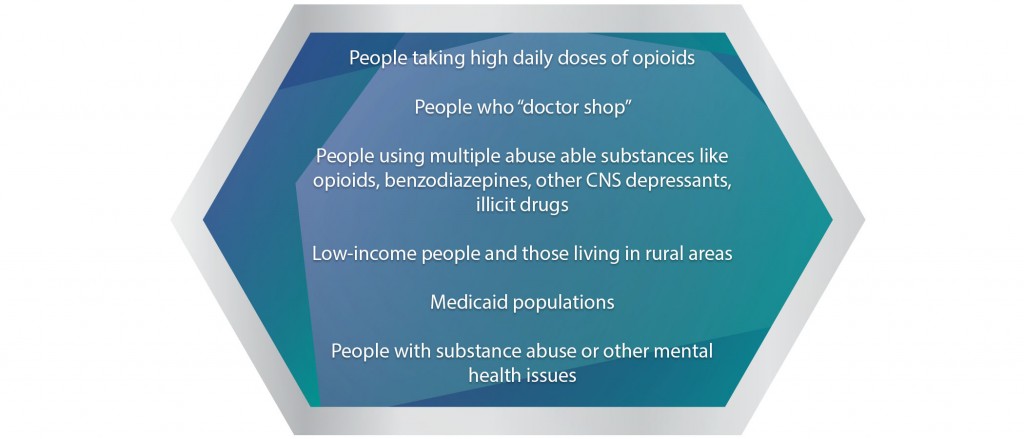 At  Boston's  Marino Center for Integrative Health doctors  have created a regiment of holistic pain treatments plus opioid pain pills to better supervise a patient's pill intake. Dr. Guy Pugh works for the center and said that opioid pain pills were a huge advancement for the health care community and have the ability to help people who are truly suffering.
"As a primary doctor like myself you reach for pill generally, that's the easiest thing to do. If there's a pill that matches the defect in the body, great," Pugh said. "But we often find there is something wrong with that match. For temporary short-term post-operative pain, pills are really fantastic. It was a huge breakthrough to be able to give someone something that took them out of pain. But when pills are the only modality used, patients become dependent and in some cases the pills aren't even effect after a while," he said.
Pugh said he sees three types of pain patients in his office. The first comes in after an injury; he or she may have thrown out their back over the weekend and can barely walk. He said this is a short-term situation. "I would tell this patient, 'Okay, take these pills for a limited time and then we will get you on to some sort of recovery regiment and most people get good results," Pugh said.
The second type of patient, he said, is someone who has pulled his or her back out for the third or fourth time and tells him they need opioids on a semi-regular basis because the pain frequently becomes unbearable. The third type, Pugh said, are patients who have been dealing with chronic pain for years and have to take up to 60 to 80 pills a month.
"That's the most challenging thing because you can't just stop giving the pills to them, you can't just say no. I have to basically work with them where they are and hopefully move them in the direction of a viable alternative," said Pugh.
Pugh confessed that for many primary care doctors it is hard to monitor their patients' opioid pain pill usage. For that reason he has recently started sending patients to pain specialists. "They have more experience with pain and they are trained on the ins and outs of monitoring patients, watching for abuse and other things," said Pugh. He also doesn't believe that being so cut and dry about opioids is a good solution. His bottom line: every patient should be dealt with on an individual basis.