By Alberto Gilman
Somerville final two reopening phases are currently on hold due to rising case numbers across the state, not currently affecting the first and second phases already in place. The end of July would mark phase three going into effect.
According to a list of cities and towns in the state of Massachusetts provided by World Population Review, an independent data collection provider, the 2020 population numbers show Somerville as the 12th most populated city in Massachusetts. The population is over 82,000 people. The concern now going forward with the postponed reopening is still keeping residents safe at home despite venturing out to outdoor areas and businesses with phases one and two still in affect.
Shop owners miss their customers and being able to sell their products without the worry of catching a deadly disease. Reopening is hopefully for the people of Somerville. The ever so slow return makes business owners glad to reopen and hope customers come back and feel safe.
A cultural gem in Somerville, Bow Market offers a variety of gift shops, local restaurants, cafes, a brewery, etc. Bow Market is a place where owners thrive off customer appreciation. Support and purchase from the Safe Supply market continue to help businesses with selling goods and collecting revenue, but the new norm of today is one still being adjusted to. Customer service and the actual customers that enter into the restaurants all play a role in keeping the business going.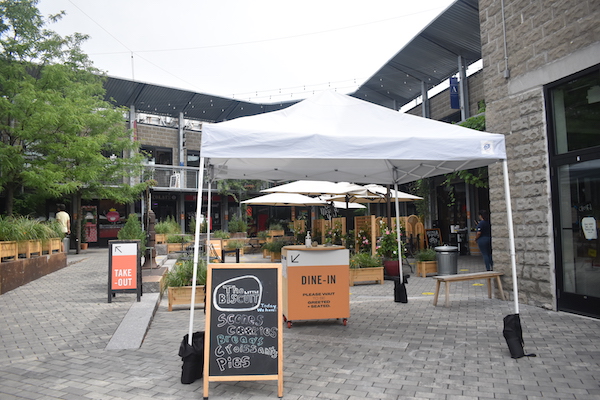 It has been over a month since the first trip to Bow Market to collect media and other content. On Wednesday, July 15, another tip was made to Bow Market:
Waking up just after 9 a.m., prep work needed to be made before making the trip.
Both camera batteries were charged and packed into the camera case pouches. Two extra SD cards were available for the camera to make sure there was enough storage space to capture. Current health restrictions called for extra masks and gloves. Some small snacks and extra cash would help in getting safely across the city. 
Checking the Maps app, the trip would take about an hour on public transit. The first step was walking to the Jackson Square station on the Orange Line and catching the next inbound subway train. Riding the subway for the next half hour, the stop to get off at would be Sullivan Square. After that, according to the Maps app, the next option would be to take the bus or walk to Bow Market. Mid-afternoon and over 80 degrees, the half hour walk to Bow Market began.
Arriving at Bow Market, Safe Supply was up and running in the courtyard. A hand washing stand, several potted plants, signs and flyers were set up at the entrance for visitors of Bow Market. 
Hooked Fish Shop's stand stood off to the right of the entrance. Several workers and other members of Bow Market stood behind the table. Diego Franco, Jay Sturm and Erik Sarno casually went about their day and discussions. 
Approaching them and sparking up friendly conversation, they gladly offered their insights on the local restaurant scene and their impact on Somerville. 
"Local Somerville restaurants I love it, I love the food scene, the people, the whole thing. I think it's so important," Sturm said. "I think it's what like the city is kind of built upon. You know that's your community, those are your people."
Local restaurants have their impact on all those who come and buy food from them. Whether they've been a long time resident or have spent some time and then moved on, their impact sticks with customers. 
"Local restaurants are, mean everything I guess to Somerville," Sarno said. "At least for me, I lived there for four years, I ate all around, that was kind of the best part about living here. 
Graciously thanking them for their time, it was time to head into the Safe Supply market. In order to get to a stand in the market, you would need to follow the yellow arrows placed on the ground. They would guide you in and back around the stands, allowing people to move in and out safely. 
Remnant Brewing, known for its craft beer and coffee, was lit with lowlights and the sun coming in from windows. Ordering from the wood countertop, an iced coffee with sugar and oat milk seemed like a refreshing option to have on a hot day. Caley Mahoney, one of the workers behind the counter, prepared the coffee. 
While preparing the coffee, she was asked if she would be ok with sharing her  insights on the local scene. After she made the coffee, she graciously agreed to talk on the subject. 
"Super important. Union Square is definitely a tight-knit neighborhood. Everyone knows each other, everyone comes here," Mahoney said. "Bow Market opened and it was a little hesitant at first to be a part of Union Square but they have definitely worked really hard to show that they are here to support small businesses and to provide good products to the community."
After wrapping up at Remnant, a trip upstairs to the other stores did not lead to much because most of them were closed. After taking some photographs, it was time for a meal, so Saus seemed like a good option. 
Walking into Saus, chairs were stacked towards the back and the restaurant had a decent amount of open space. Behind the counter were Chin Kuo and Nick Twombly. Kuo was manning the register and Twombly manned the fryers, ovens and other prep areas in the back. 
Ordering a burger and fries, the two of them were kind enough to answer questions. They both said they definitely want their customers back safe and hopefully soon. 
"We miss our customers," Kuo said. "We want them back. 
Their impact on the customers makes the work worth it and regulars help the business stay in business. 
"We do have like, a lot of loyal regulars," Twombly said. "We'd love to have the customers back."
During the interview, Sarah Almeida accidentally walked in, realized her intrusion and quickly apologized, which was no problem whatsoever. After getting the burger and fries at the conclusion of the interview, it was time to eat.
Sitting down on a ledge, the meal hit the spot. Off to the right while eating, another customer, Daniel Lopez, was also sitting, waiting for an order.
After striking up a conversation and telling him about the project, he briefly spoke about the Somerville restaurants. 
"They are important to me because, especially because we have so many types of food," Lopez said. "We have food from Mexico, from Salvador and different parts of the world. 
After wrapping up his interview, a worker from Biscuit brought him his sandwich order and he went on his way, wishing luck on the project.  
About 15 minutes later, after making her order, Almeida stepped back outside waiting on her order. 
Previously asking back inside Saus if she would be interviewed, this was the perfect opportunity to ask her questions again. 
"During the pandemic I was keeping a list of restaurants that I wanted to go to or get takeout from as soon as things got better," Almeida said. "Restaurants give me ideas cause i like to cook and it's nice having someone serve you."
After several more minutes looking around and taking photographs, it was time to make the trip home. Bow Market concludes the Open Supply Market at 1 p.m and so walking back to the Sullivan Square stop and paying the fare, the subway ride concluded getting off at Jackson Square. Thus was the end of the trip to Bow Market.