By Meaghan Kaiser
The Adirondacks increasing popularity as an outdoor mecca plays a negative impact on the environment.
Outdoor recreational activities such as hiking and boating in the Adirondacks is gaining more popularity. This is causing both environment and safety concerns.
Caitlin Quinn grew up hiking in the Adirondacks her entire life. She said that last summer, the trails were the most crowded she's seen.
"I think Covid drew people to the Adirondacks because they could be outside and have less chance of spreading the virus," Quinn said. "The trails are super crowded, especially last summer. You can see as you're hiking how eroded the trails are now. "They're double or triple as wide as they used to be because people just like walk everywhere."
There are a variety of conservation organizations and efforts working to protect the Adirondacks. Some organizations include the Department of Environmental Conservation, the Adirondack Council, and the Regional Office of Sustainable Tourism, or ROOST.
ROOST event coordinator Bethany Valenze said that outdoor recreation, specifically hiking is the biggest summer activity. That is why many people come to Lake Placid or the Adirondacks. ROOST's 2020 study shows that 91% of travelers to Essex County participated in hiking.
Infographic created by Meaghan Kaiser
Source: The Regional Office of Sustainable Tourism
State officials urge hikers to avoid the Adirondack High Peaks and instead hike less popular trails. With hiking gaining popularity, there is growing concern about the overuse of the hiking trails and protecting the Adirondack land.
According to the Adirondack Council, "Overuse is when the volume of and wear from use causes a location a sustain natural resource damage, and/or negatively impact the user's experience or management objectives for that area." These popular trails were not designed the same way as national park trails were.
"Controlling the number of people on the trails has definitely been talked about. It's complicated and tough because we're not a national park or state park. It's all public lands," Valenze said.
This summer a parking reservation system started for the more popular hikes in the area such as Indian Head to help control how many people hike the trails.
"The really popular hikes do have a reservation system in place. So far it's been just this summer and it's been a success," Valenze said. "It's all online and you can reserve 48 hours in advance."
Quinn, an Adirondack 46er (someone who has summited all 46 Adirondack High Peaks), explained her struggle with the parking issue.
"It's even harder to get parking spots, and they closed off a bunch of the parking on the side of the road," Quinn said. "I would suggest getting dropped off at the trailhead and having a planned pickup time. It's the easiest way."
A Conversation with Caitlin Quinn, an Adirondack 46er.
According to the Adirondack Council, the number of hikers on the High Peaks have gained more popularity over the years, even Pre-Covid.
The New York Department of Environmental Conservation states that 56% of trails are steep and began eroding. This negatively impacts wildlife and lakes.
Along with hiking becoming more popular in the Adirondacks, so is water activities such as canoeing/kayaking, fishing, and boating. With the higher number of boats on the water, there is a growing concern regarding invasive species.
Sophie Morelli is a watershed steward for the Adirondack Watershed Institute. She checks boats coming in and out of the water to check for invasive species.
"These invasive species are so risky. Once they get in the water, they just spread like crazy. They have no natural predators if they get in there and they can populate like crazy," Morelli said.
According to the Invasive Species Management of the Adirondacks invasive species are, "a species that is non-native to the ecosystem under consideration whose introduction causes or is likely top cause economic or environmental harm or harm to human health."
Watershed stewards check boats entering and exiting the water at lakes around the Tri-Lakes region such as Lake Placid and Mirror lake. Although invasive can be found on any type of boat, they typically are found in motorboats.
"It's more likely to find something on a motorboat just because there's so many crevices and places that something could get up in there. With a paddle board, it's straightforward. But we have these little zebra mussels that they can latch on to literally any surface," Morelli said.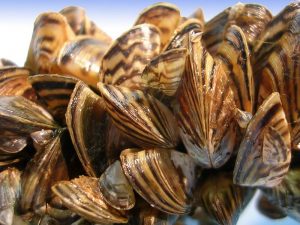 It's important to check for invasive species to protect the Adirondack lakes. People are encouraged to wash their boats often, especially when bringing their boat from a different region.
"If we ever find any kind of invasive, we have a boat wash station at the state launch, as a decontamination station, we send boats there. Our job is to check boats, but it's also an educational job," Morelli said. "It's a lot about educating the public about how to keep their watercraft clean, so that we don't get these invasive species in our bodies of water."
ROOST partnered with Stewart's Shops in the area this summer and fall to create a program to educate hikers on how to help protect the Adirondack land. This Love Your ADK campaign helps inform hikers on how they can help protect the land. The program is a partnership between the Adirondack Mountain Club, Adirondack Council, New York Department of Environmental Conservation, and ROOST. This campaign focuses on seven leave no trace principles.
"People can go to LoveYourADK.org and sign the pledge saying I pledge to help educate others abide by the seven leave no trace principles," Valenze said. "We have these campaigns to help alleviate the growing stress that the trails are absorbing."