By Peter Gordon
Protests are planned for this summer over the removal of one of Boston's more controversial pieces of public art, the Christopher Columbus statue at the waterfront in the North End, despite mixed feelings from the community. The statue was removed last summer after it was beheaded during protests over the murder of George Floyd.
The plan from the city is to relocate the original statue to the Knights of Columbus building at 41 North Margin Street and place a new statue in the park that honors Italian immigrants, although specifically what the statue will be of is currently unknown.
"They're taking away a symbol of our pride," said Tom Damigella, a director with the Italian American Alliance, a national group that plans on protesting the city's decision. Damigella said he believes that Columbus is a victim of cancel culture and that anger toward him as a symbol of white supremacy is misdirected. He said he thinks the majority of the atrocities committed towards Native Americans were committed after Columbus and by different actors.
"They don't realize it, but they're perpetuating a false narrative," he said. "We worked hard to become Americans. We've been there. [Indigenous people's] beef should be with the United States government not with us."
Longtime North End resident Pam Donnaruma said she believes that the statue should have never been removed and should be restored to its place in the Christopher Columbus Waterfront Park.
"You can't kill history. You can't burn books," she said.
Donnarumma is in her office at the Post-Gazette -formerly La Gazzetta del Massachusetts – the North End newspaper that has long called itself the Italian American voice of Massachusetts. The paper, which has been in the Donnarumma family for 110 years, still puts  out a print edition each week. If the saying "you can't kill history" is true, then it would be nowhere better exemplified than in Donnarumma's office where the walls are crowded with pictures of North End politicians and prominent figures, famous Italians, and even presidents of the United States.
"People love it in here," she said.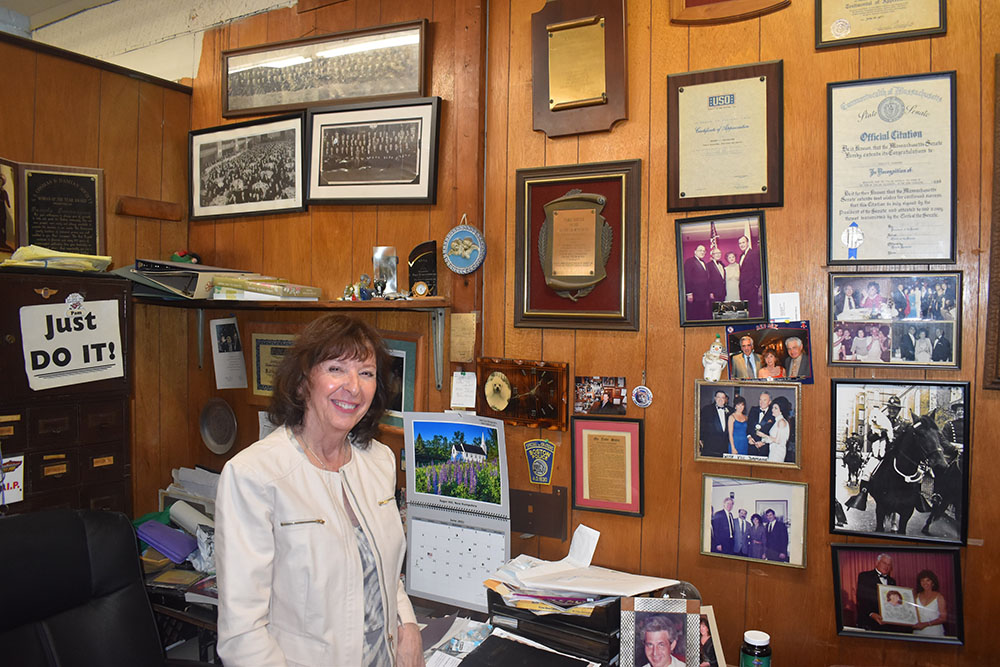 For Donnarumma, history is intricately tied in with the waterfront statue of Christopher Columbus. "That statue means a lot to the people of the North End," she said.
She compares the North End to Boston's West End, where land was gobbled up by real estate developers. "They were trying to do that here," she said. "We stopped it from happening."
By "we" she is referring to a community effort involving prominent locals such as Boston City Council member Fred Langone and political activist Arthur Stivaletta, which led to renaming of the park as Christopher Columbus Waterfront Park and the placement of the statue there. The measure was eventually supported by then-Boston Mayor Kevin White, courting the Italian-American vote for reelection.
For Donnarumma, the statue is a symbol of successfully thwarting off the Boston Redevelopment Authority, and she wouldn't have any other statue in the park.
"We want him back," she said. "Who else would we put there?"
The question of who else should go there continues to divide the community. Following the initial removal of the statue last summer, Boston.com polled its readers to try and find out their thoughts on what should be put in its place. Eight hundred people responded with a variety of answers from historical figures like Crispus Attucks, the first American killed during the Boston massacre and a man of African and Native American descent, to political figures like Boston's longest serving mayor Thomas Menino and the only Italian American mayor of Boston. Other favorites include local sports heroes like Tom Brady, David Ortiz, and Bill Russell.
The figure that garnered the most votes, however, was Christopher Columbus. The majority of voters wanted to see the statue returned.
But the statue isn't coming back. In early October 2020, the city announced that it would be placed at North End chapter of the Knights of Columbus building on North Margin Street, where it would be publicly displayed. In its old place would be a statue honoring Italian immigrants.
"The new statue will highlight the contributions of the North End Italian immigrant community," then-Mayor Marty Walsh said. "That was the original intent of the statue when it was put up over 40 years ago."
There are others who think that a person of color should replace Columbus. In that same month, the People's Memorial Project projected the images of Black, Latino and Indigenous figures on top of the empty pedestal on the evening of Oct.11.
The eight chosen candidates from more than 100 nominated were politician Mel King, arts educator Elma Lewis, rapper Keith "Guru" Elam, State Rep. Sonia Chang-Diaz, community leader Frieda Garcia, Chief Massasoit, Crispus Attucks, and Jessie "Little Doe" Baird.
"I don't know that there is one singular reaction. I think there's a lot of differences of opinion among the residents," said Joel Faller, a member of the North End/Waterfront Neighborhood Council. "I think there certainly is some interest in having some kind of Italian American Heritage marker replace the Columbus statue. And there are certainly plenty of people who wanted to see the statue back."
According to the neighborhood council, many residents disliked the circumstances surrounding the removal of the statue.
"A lot of people neighborhood were disappointed about how it was taken down and what happened to it," said Brett Roman, another council member. "But you have a lot of reasonable people here in the North End that are more open to something else going there. I think that this is a chance to have a fresh start. I mean, because the whole point is they want to have a statue that goes there, and they don't have to worry about it getting knocked down every two or three years."
The statue has a history of being vandalized. In 2015, it was covered with red paint and spray painted with the words "Black Lives Matter" as part of that summer's protests against police brutality across the country.
According to Roman, one idea that is popular with the residents, is to have a statue of an Italian immigrant family to symbolize the neighborhood's emphasis on familial connections.
"In general, everyone here in the North End is family. I mean, everyone is everyone's cousin, you know what I mean?" he said. "We all look out for each other, take care of each other, make sure everyone's good. And anyone that comes in is always welcomed as family."
Despite this, Roman said there is a contingent of people in the North End who view Columbus's role as a navigator as an essentially connection specifically to this neighborhood's Italian community.
"You have to keep in mind this is a neighborhood that is based on mariners. When it was first founded, this was a big maritime area," he said. "And [the statue] was a way to connect with the Italian immigrants in the North End and show their immigrant story. That's why Columbus is more important to the North End then it would be for a Columbus statue in Dorchester or something like that."
For many Indigenous people, such as members of Wampanoag Tribal nation who call Massachusetts home, the idea of any Columbus statue going back up is offensive.
"To me, I think Christopher Columbus is sort of a direct reminder of the assaults and the dispossession of land, rape, murder; all of these things. He represents that for Indigenous people," said Melissa Ferretti, a member of the Herring Pond Wampanoag Tribe. "I don't think [Columbus statues] have a place."
Others question whether the statue should have been there in the first place. Open Systems, a non-profit research group, wrote a letter to then-Mayor Marty Walsh last summer, demanding that the statue be removed permanently. According to them, the statue was put in place as part of a deal between prominent members of the North End community and then-Mayor Kevin White to secure his reelection. A deal which circumvented public process. Pierre Bélanger, a member of the group, summarized this at last summer' Confronting Colonial Myths in Boston's Public Space panel.
According to the Mayor's Office of Arts and Culture, the call to artists who would work on a potential replacement has not gone out yet, therefore there is no timetable for the completion of the project.
There is as of now no set date from organizations like the Italian American Alliance and their allies within the city for a protest of the city's decision regarding the statue.
"I think the loudest voices in favor of keeping it as Columbus, a lot of those people are not actually residents," Faller said. "There have been rallies, marches and things of that nature, protesting the removal. But a lot of those were led by outside groups."
"I think everyone here in the North End that's caught in the middle wants the chance to do something else. Or at least have a community process with the city, to all come together and decide what it is, whether it be another Columbus statue," Roman said. "If everyone in the neighborhood wants that, then that's what we want to do. But we want to have the opportunity to have a discussion with the residents in the North End and decide what's best."