By Alberto Gilman
The current pandemic is proving to be a challenge for the few Black-owned restaurants in Somerville, but the Black Lives Matter movement has created a new sense of direction. 
Across the country, the outpouring of support for the African American community through the Black Lives Matter has brought about social reform and change to the social landscape. Cities and towns all over, including Somerville, have taken part in supporting one another through this difficult time.  
According to U.S. Census data, seven percent of Somerville residents are African American. Most residents are mainly white. The chart below represents the other races in the census data for Somerville: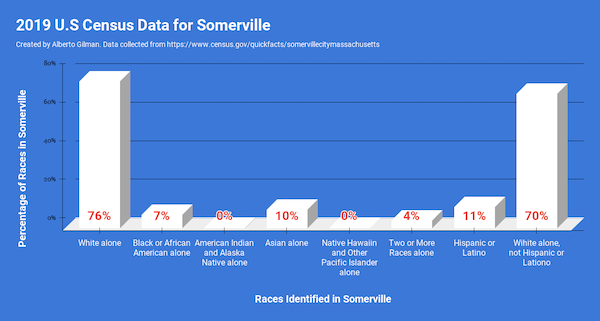 Discovering a Reddit thread titled "Black owned Somerville restaurants and businesses", nine restaurant businesses listed in the direct Somerville community are Black owned. The Black Lives Matter movement has had a unique impact on Black-owned businesses, however lack of Black and people of color owned businesses can be concerning. 
Speaking to these restaurant owners about the current pandemic and the social climate surrounding the community, they offered their own inputs and thoughts about how the pandemic has changed their businesses and how the new social landscape has them going about running their businesses. 
Here are some of the owners responses: 
Tipping Cow: Serving good quality ice cream in Somerville
Over on Medford Street in Somerville is Tipping Cow Ice Cream, co-owned by David Lindsey and his wife, Gerly Adrien. Tipping Cow, known for serving high-quality ice cream to the community of Somerville, offers a variety of flavors, completely nut free. The reason for this model is that Lindsey said it allows people to enjoy quality products without the worry of allergies. 
Before the pandemic, Tipping Cow would normally be open six days a week. Now, Tipping Cow is operating with limited hours and days as the reopening phases continue in Somerville.
Yet even in the early days of the pandemic, the future of Tipping Cow seemed unknown, said Lindsey. 
"We actually probably closed two weeks before they mandated that people close," said Lindsey."We didn't know the severity of what would take place."
With reopening phases one and two bringing customers back to Tipping Cow, Lindsey is appreciative and grateful to the community for the continued support pre and post closure.
"We're thankfully to be a part of this Somerville community," said Lindsey. 
As the continued calls for social justice continue into the summer, the support that Somerville has for its diverse communities, in a variety of areas, such as small minority owned restaurants makes Lindsey proud to be a part of the community.  
"We really appreciate people knowing and acknowledging that we're a Black-owned business. I can't even put into words how wonderful the community and the people have been even without people knowing we were a black owned business," said Lindsey. "Even as a Black-owned business, they don't see us as black owned business, they see us as a good quality business."
Click below to hear Lindsey's continued thoughts on the Black Lives Matter movement:
David Lindsey: 
Tanám: A New Take on Community Dining 
In January 2019, Tanám, known for its Filipinix American cuisine, opened in Union Square at Bow Market. Tanám is co-owned by Sāsha Coleman, Kyisha Davenport and Ellie Tiglao. 
Tanám is mainly known for the story-telling dinners. These dinners bring together a variety of people entering the restaurant. While this may not seem like the conventional business model or style for eating, the impact of the story-telling dinners on the customers make it stand out, says Tiglao. 
"Tanám is also named the way that it is, because it was really important to not focus it on a particular food but really focus it on the storytelling power of food," Tiglao said. 
The situation now becomes more complex for the business. Tanám's dedicated staff and owners now have to navigate through the current social distancing procedures and health precautions. 
"As a place that is really focused on bringing strangers together into a space, we really focus on bringing together people around a communal table," said Tiglao. "That was just not going to be possible anymore." 
In order to help business and revenue come in, Tanám is reinventing their business with tables for casual focused dining, serving food and drinks at designated areas and narrative dining parties are still available with varying set prices. More importantly, the support of grants that Tanám has applied may yield a better source of stability in the long run. 
Each of these women co-owners take on a variety of roles and responsibilities in going about the running of the restaurant. Cooperative ownership is important now more than ever, said Davenport. 
"What was really core to me coming on to the collective to open  Tanám as a business is that it's a cooperatively owned business," Davenport said.  "I don't want to get ahead and not see my community get ahead with me."
However Davenport spoke on what the industry tolls can have on one's self. As a worker and co-owner, while many may see this pandemic as a struggle, Tanám owners say they see this as a relief. 
"Having run this business, having run Tanám over the past year, Black and brown people are exhausted," said Davenport. "We have been conditioned to do a lot with a little all the time."
Tanám offers variety and inclusion amongst all of the guests that come through their doors. However, the difficulty with their model is that many do not find this style of dining ideal or attractive. Furthermore, Somerville is predominantly white/Caucasian resident based. For Davenport, she recognizes this difficulty. 
"We've had many a table where we were essentially just serving white folks," Davenport said. "Your people are your people."
Tanám as a black and brown business, hopes to see growth and change in their business and in their industry following the pandemic. Joining the Tanám group helps bring more inclusion and more community together. With a new hopeful sense of reevaluating for the business, Tanám can succeed further on. 
The idea or sense of diversity now could be better with the current times, says Coleman. "It's an interesting time, it's a pivotal time," Coleman said "Redefining what it means to own a business in a predominately white city."
According to the all three of the owners, Tanám has remained closed for the duration of the pandemic. Now with cases rising rapidly across the country, the increasing apprehension of safety makes reopening even more uncertain. 
"I don't have a strong sense to open, like obviously we need to pay bills we need to operate as a business," Coleman said."I don't feel safe, I don't feel for any one of us to go into a space where nothing's really sure." 
Yet the idea of reopening is hopeful when the pandemic ends and people can return back to work and Tanám can serve people once more. "I miss cooking," Coleman said. "I miss the people who actually took in our stories." 
Being together again will make it worthwhile to reopen, says Tiglao. "I miss this group being together," Tiglao said.
Each of the owners wants to get back to doing what they love because customers make the experience and work worthwhile for Tanám.  "I don't think any of us opened a restaurant just to sling plates," Davenport said. "We opened a restaurant to support our community, to house our community."
---
In their own words
Tanám owners Coleman, Davenport and Tiglao understand the importance of being a Black and person of color owned cooperative in a time that seems unknown. As the Black Lives Matter continues on, to better understand where they are coming, we must here from them in their own words. To hear about thoughts on the Black Lives Matter movement and the current business state, click below:
Sāsha Coleman
Kyisha Davenport
Ellie Tiglao