By Alexandra Venancio
08/13/2017
Many believe that technology is dominating society and having a detrimental impact on social skills and interpersonal communication.
"Yes, I do believe that technology is useful and we are so lucky to have immediate access to the web, but parents are putting them in the hands of their children at just too young of an age," said Liz Copola, a retired elementary school teacher, "The developmental years are extremely important and the art of conversation and communication is really at risk."
Throughout the 21st century, alone, tremendous advancements have been made in portable and handheld technologies.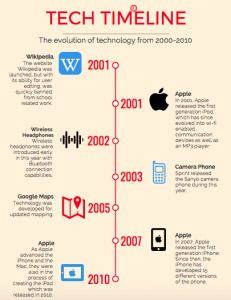 As of 2017, Apple has released 15 different iPhones, putting technology in the palms of millions worldwide. During the second fiscal quarter of 2017, Apple Investor Relations reported Apple has reportedly already sold 50.76 million iPhones.
Sherry Turkle, a professor at MIT, published a book in 2015 entitled reclaiming conversation, in which she addresses the detrimental impact of social media on conversations and the negative effect of instant gratification. "If you put a cell phone into a social interaction, it does two things: First it decreases the quality of what you talk about, because you talk about things where you wouldn't mind being interrupted, which makes sense, and secondly, it decreases the empathetic connection that people feel toward each other," Turtle wrote. She then goes on to say that society is less likely, or willing, to interact with each other and rather, asks machines to serve as a placeholder for people.
However, many teachers have begun integrating social media and technology into classrooms. The benefits, they say, outweigh the negatives due to the inevitable shift towards technological dependency with the upcoming generations.
To bridge the generational gap, teachers believe that transitioning to a more technologically friendly environment will facilitate learning and prevent discrepancies among students.
"Now kids have the technology right at their finger tips and its becoming how they communicate, and instead of making that a negative, using social media apps and phones as a learning tool in the classroom would put a positive spin on things," said one school administrator.
Christine Bonas, a guidance counselor in Warwick, RI., said, "I like using technology and apps to contact my students. I remind them to look for scholarships and I use a lot of different math apps for tutoring. I think it helps to enhance the overall learning experience."
The development of classroom specific apps and technologies have proven to form a stronger connection between students, teachers and parents.However, due to the fact that adolescents are heavily influenced by emotional and situational changes/factors, the technology is getting push back from some parents.
"I like that technology is being worked into the lesson plan, but I know I have spoken to some parents who are completely against it. There really is a split opinion," said one parent of a third grader whose school has implemented social media apps into its classrooms.
Social media sites and media platforms undoubtedly play an integral role in adolescent lives and can tend to contribute a significant amount to developing anxiety and depression, due largely in part to comparing personal situations to public posts of followers or friends.
Class Dojo is one of the more popular educational social media applications that can be downloaded onto any smartphone, tablet or computer, and used as a learning tool within the classroom and as a communication tool to parents outside the classroom.
Kerry Blum an elementary school teacher is one of five teachers in her school that use the app and believes that the students are really benefitting from the technology. "The app is really great from a teacher's standpoint. I can give instant feedback to parents on how their child is performing throughout the day which personalizes the experience. It makes them feel involved," Blum said.
Teachers can manage their classrooms from a handheld device and provide instant feedback to parents and students. The app also allows teachers to encourage students for any skill. Students can receive points for skills "working hard" or "teamwork", which will add to their positivity feedback at the end of each school day or week.
But despite the benefits, the debate about whether or not to let students access their phones throughout the school day is still on-going.
Many schools have implemented a "No Phone" policy since the rise of the smartphone. One Rhode Island school recently sent out a "Back to School" Newsletter, regarding their cell phone policy.
"They're here to learn. If it is an emergency and they need to use a phone, we have landlines here that they can use," Tenriero said, president of Mount St. Charles Academy in Woonsocket, RI.
"There is no reason they should have their phones in the classroom, you can't control what exactly each student is using it for and that will absolutely take away from the learning experience," said Cheryl Nichols, school administrator,  "We have the three strike rule in place right now: You get caught once, we take it for 5 days, you get caught a second time its 10 days and you get caught the third time its 30 days."
However, some parents do not agree with the policy, saying it violates students' rights. The issue of smartphones being used within the classroom as a learning tool, is controversial. The inability to control how each student is using his/her phone, could be detrimental to the overall classroom experience, as well as the teacher's ability to teach.
 (Data Source: WordStream, 40 Essential Social Media Marketing Statistics for 2017)
Gail Ranone said her daughter's classrooms have transitioned to a gadget-friendly space, but she does not necessarily agree with the change. "Middle schoolers and high schoolers have enough issues with social media apps as it is, so bringing them into the classroom? It just isn't a good idea."
 Data Source: Smart Insights, Global Social Media Research Summary 2017