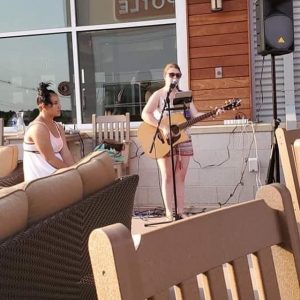 By David Cifarelli
Sharing music is a powerful coping mechanism for young people with disabilities, anxieties and other traumatic life experiences, especially during a pandemic. People actively share music with one another to provide this relief. 
"I feel like everyone I know kind of does something similar to be honest," says Jenn Gordon. The recent college graduate says music has been the one consistent outlet that has helped with her anxiety. Gordon typically relies on specifically curated playlists to help her self-soothe when feeling anxious. "You can find a lot of songs on Spotify that aren't like typical pop music or anything like that," she says, "It'll just be focused on like the BPM and meditation music which helps a lot." 
One of these playlists is "Weightless" by Marconi Union:" a compilation album with three parts that are easy to skip between. Gordon listens to the playlist almost every night for about 30 minutes. "I feel like when I'm right about to go to bed I'm always just having some anxiety just because I'm so focused on the next day," she says. "So I'll just stay up for hours and obviously that means I can't sleep." 
The track list for the "Weightless" album 
The playlist clears Gordon's head enough to the point where she can fall asleep easily. This has specifically helped her during the pandemic. "When it started to get to April, I was starting to go crazy," she says, "just because there was no human interaction." Gordon turned to music as a coping mechanism and has thus started to build her own playlists that also help her through these difficult situations. Her friends and family do the same. 
"I feel like it's very hard to find someone that says 'no, I don't like music,'" Gordon says, "I literally have not met a single person that's like, 'Oh, I hate music," she says.
Jenn Gordon explains how music has always been the one consistent factor that has aided her with anxiety
"It's the one thing that's solely mine, that no one can take away from me. I'll always have it and it doesn't matter if the world's completely falling to pieces," says Bryce Thomas. Her connection to music began at the age of 7 when she started singing. Thomas says her connection grew stronger once she started playing instruments at the age of 12. 
"It's my happy place," Thomas says. "Whenever I'm really, really upset or I'm going through a really hard time, it's one of the things that I do to de-stress." Since then the musician has continued to explore her passion in multiple aspects of her life.
Thomas recently earned a degree in English and was on track to becoming a teacher. However, the musician discovered the healing power music from providing music lessons, performing for Alzheimer's patients and working with children with disabilities. "I realized that I could mix helping people and wanting to do that with something that I love," Thomas says. She is now pursuing a career in music therapy.   
"I had a lot of social anxiety growing up and I remember I would bring my ukulele to the first day of high school and that would be a great icebreaker," says Alexia Lekos  who is obtaining her masters in music therapy from Temple University. She says music can help people open up by sparking interests that are not typically brought up in normal conversations. "I think a lot of teens find music that they can [use to] relate to other people," Lekos adds. 
Alexia Lekos explains how the pandemic has impacted her studies and work 
Similar to Thomas, Lekos was involved in music at an early age. "I did band, orchestra, chorus in school and outside of school," she says. Lekos was also a part of a teen leadership program, geared toward drug prevention, in which she used her own connection to music. 
Lekos has worked with children with autism and Down Syndrome in schools and hospitals. She often finds herself practicing careful communication because these children can interpret things differently. "Once I was talking to my client and I was saying something about having insurance in the back for other kids and she just immediately interpreted that I had kids."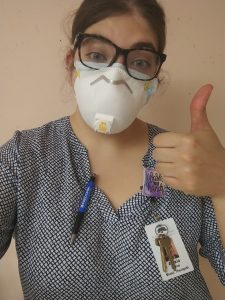 While the pandemic has halted in-person sessions for these children, music therapy can provide many breakthroughs for them. Thomas recalled one incident where playing guitar brought excitement to a group of children with disabilities. "One of the girls would literally jump on her tippy toes when she would hear the guitar and would just start dancing around," she says, "it was so awesome. She was so excited." 
Allison Tozzi is studying speech pathology at Northeastern University. While working as a teaching assistant at an early education center in Albany, New York, she recalled an instance where music helped a young girl with autism and epilepsy. 
Once a week over the summer, a music therapist "would come in with her guitar and little drums and tambourines for kids to use and they would pass it around," Tozzi says. "Her job [was] to kind of facilitate enjoyment and language anywhere she can with these kids." 
The girl with epilepsy spoke very little outside of music therapy but she always smiled and laughed during the sessions. After it was her turn to play the drum, the little girl uttered a complete sentence all on her own. "I love you, Miss Keegan," Tozzi recalled, "and there was not a dry eye in the house." 
Music can help these children work through their verbal, motor and concentration skills. Even Thomas would teach kids different rhythms to help them with these traits before the pandemic. "Usually kids with autism don't have that or it's a weakness of theirs," Tozzi says, "so hearing that come from her independently, not being prompted at all, was a big win in the kindergarten classroom."
"Music just reaches these kinds of populations in ways that language can't because they have a different perspective," Lekos says, "their brains are wired differently." 
Allison Tozzi talks more about the correlation between speech pathology and music therapy
Jackie Harten has Sensory Processing Disorder –a neurological disorder where the brain has difficulties receiving and responding to information gathered through the senses. The 23-year-old says the condition inhibited her from verbally expressing herself as a child. "I would just go crazy," she says. "I didn't know how to process all that stimulation at once." 
Harten participated in physical and occupational therapy to help with the disorder. Her therapists would often play children's music during sessions to help with her memory and speech.  
"They used the music a lot when I was like three to four," Harten says, "because that's when the sensory was at its peak." Harten did not formulate a full sentence until she was 4, but she credits music to helping her get through those early learning stages. "I think that kind of helped me more so because I was already struggling," she says. Harten has also reverted back to using music to help her cope through the stresses associated with the pandemic. 
Watch Harten describe her sensory condition more in depth and how she still uses music as a coping mechanism
Music can serve as a direct form of communication to the brain in lieu of words. "If you for some reason can't access that in the traditional way of speaking," Lekos says, "there's still multiple other areas in the brain that help with language and music can maybe create some reaction in those other areas." She says rhythm is often received in multiple parts of the brain and can carry out multiple functions. 
Leo Son is a founder and member of the Boston-based band known as the Q-Tip Bandits. The singer says music has always given him a purpose in life. A majority of his songwriting revolves around "self-discovery through really redefining oneself and perspective of that." He recalled how music served as a therapeutic factor in his recovery from drugs and alcohol.  
"I had dropped out of college," Son says, "I had just tried to recreate fear and loathing in Las Vegas with some friends in Los Angeles." On arriving back home, the singer felt he did not have a direction and even struggled to verbally communicate. It got to the point where he was unable to play music. "I hear in the recovery community a lot that when we're about to lose something that we can't live without is when we're going to do something to change," Son says. 
Son tried making music again and eventually created the band's first single. Afterwards he ended up in a rehab facility and has since "been writing and practicing and chasing after the high of playing music." 
"Willow" is the first single released by the Q-Tip Bandits. Leo Son says the song was born out of his desire to want a better life for himself as he struggled with his addiction
Harten also used music as a recovery method when she obtained a concussion during her sophomore year of college. "I couldn't really do anything," she recalls, "I couldn't read, I couldn't do work. I just had to lay in my room." 
Doctors told Harten that she could listen to calm, jazz-type music while she recovered. This also also happens to be her favorite genre. She says the music helped keep her mind active while she was stagnant. "The music kind of helped me go through that two, three week period," Harten says.  
Thomas says she is most excited to learn about the effects of music on the brain as she pursues her master's degree. She also thinks her musical background will assist her greatly in the clinical setting. 
"I think that having that music basis is really going to help me because I already have a passion for it and it makes me want to do better and expand my music and figure out different ways to expand that passion," she says. "One of the biggest things about music is sharing that excitement." 
Thomas has relied on music to help her through traumatic times in her life. Watch how her mom's battle with cancer has impacted her connection to music playing