By Shazia Yousuf
5/1/2013
Note: Two women quoted in this story have asked that their last names be withheld to protect their safety,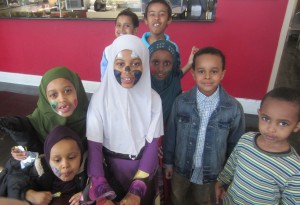 Maryam escaped civil war in Somalia and came to United States with her husband and one-year-old daughter in her arms. It was 17 years ago, Maryam was 20 then and the civil war had already left many of her relatives and neighbors dead.
"When I came, I was scared. I felt like nowhere. I didn't know language. I didn't know what was going on. People talked to me and I couldn't talk back."
Some neighbors in the community helped the couple to settle. As the civil war reached its peak in Somalia, they thanked Allah for their new lease of life.
"There was no threat to our lives here at least. If it was not great, it was far better than where we had come from," said Maryam.
The couple received public housing and food stamps. Maryam gave birth to another daughter. Her husband began earning money from menial jobs. Life finally seemed on track for this family.
But then the September 11 attacks happened.
Maryam, as usual, was taking her daughter to school. While walking towards the bus stop, a group of men began running towards her, calling her Osama's daughter and asking her to go back to her country.
"I couldn't understand anything. I didn't know who Osama was. Luckily the bus came and I got into the bus with my daughter."
The men came running towards the bus,saying they had guns and would kill her and her child.
"Then one of my American neighbors who was in the bus asked them to leave and told them that I was not the one they thought I am. I still didn't know why was this happening to me and who this Osama was."
When her neighbor told Maryam about the terrorist attacks, she cried. She thought that the violence and threats that she had escaped from have found her again.
Maryam's daughter, who covered her head in school, would come home crying every day. Her classmates distanced themselves from her, called her "Towelhead" and asked her to leave their country. Every other day Maryam said she went to her school and registered complaints with the principal but no action was taken.
"Today in America, it is extremely difficult for a child to be a Muslim," said Sufia Hassan, principal of the Mecca Islamic School in Roxbury. The school, which runs in the Mosque For Praising of Allah in Roxbury, offers weekend Islamic classes for the Muslim children of the neighborhood and surrounding areas. Most of the children who attend the Islamic school are refugees from Somalia, West Africa and Cape Verde. They read about Islam, memorize Quran and learn Arabic language and socialize with other Muslim children.
"These are at a very vulnerable state because they have come from war-torn countries," Hassan said. "When they come here they are very young and at a state where they need to be accepted by their peers who don't accept them because of what is said in media."
Because most of the Muslim refugee families are poor, Hassan said, they cannot afford to send their children to Islamic schools nor are there enough Islamic schools in Boston. The majority of the Muslim children in Boston, thus, attend public schools where they say they feel lonely and out of place. "Muslim children need to have self-identity and self-image,"  Hassan said. "They need to be able to meet people make friends and feel good about who they are not as a single individual but as a collective but in public schools they are dispersed throughout."
Like Maryam, Abdur Rashid Faruk also fled from war-ravaged Somalia in 1993 and came to United States. After setting up a small business, Faruk married an Indonesian woman and settled in Roxbury. The couple has two children, Bukhari Faruk and Aliya Faruk. His children asked their father to enroll them in Weekend Islamic School at ISBCC (Islamic Society of Boston Cultural Center) Roxbury.
" I came here to learn Arabic so that I can talk to more and more Muslim girls and make lots of friends," said Aliya Faruk, a 5th grader. Aliya said she likes her teachers and the public school she attends during weekdays but then there are instances when they point their finger at her identity and religion. "Sometimes they comment on my religion, I just tell them to not to; and would you like that somebody said that to your religion."
Unlike Aliya, her brother Bukhari Faruk doesn't indulge in arguments instead he says he laughs at the jokes that his friends make about his appearance. "When I enter, they say, 'Look pirates are coming.' I laugh too… because I know they are joking."
However, what hurts Bukhari is the bias, he observes,s by his  teacher. "Our teacher asks questions and if your answer was positive you take step forward and if your answer was negative you take a step back.It is then there are almost five kids; they are just always on front. Five white kids. I don't know, I just think white people have some kind of thing. I just don't know."
The most important component of the all-weekend Islamic schools is to conduct open discussions for different age groups. Students attend to have their questions answered; confusions cleared and learn to defend themselves and their religion when required. "Public schools do not reinforce Islam at all and because of the present climate in United States, these children get ridiculed in schools by their peers and the way the media portrays Muslims, sometimes teachers too are biased towards Muslim children and allow things to go on they shouldn't," Hassan said.
Citing examples of bullying of children in schools, Hassan insists on the need of cultural sensitivity training for public school teachers and administrators. Because of the large refugee population, Hassan said, there are thousands of Muslim children enrolled in public schools in Boston and Cambridge who live in a very vulnerable state of mind. "When we carry out discussions, these children open up and tell us how their classmates make fun of their hijab and how their teachers allow their getting bullied," she said. "Some children required psychological treatment because in their effort of being accepted and loved by their peers, they behaved foolishly and told incredible lies."
Somalia is considered a hard-core religious country where memorizing the whole Quran is a part of culture. The biggest concern of Somalian immigrants living in Boston  involves providing their children an Islamic environment where their religion becomes part of them and overwhelms the social and academic education they receive in their public schools. "This is a tough job and we want to make it fun for them," Hassan said.
Aisha, a clinical researcher in psychiatry at Boston University. tried to makes it fun too. Every time there is Eid-the Muslim festivals celebrated after Ramadhan and in commemoration of the sacrifice of Prophet Abraham-she gives extra money to her nephews who promise her that they will not cry when their families do not celebrate Christmas. "It is hard for kids. I feel sorry for them sometimes," she said. "When Christmas comes they think it is their holiday and when we tell them it is not, they think their Christian friends will hate them."
Aisha witnessed the changes in people's behavior after 9/11 and worries about the young Muslim children in Boston who she believes are growing up with lot of insecurity and self-consciousness. "Just to hurt me more and more, people would come to interrupt my prayer at my job place," she said. "They would say, 'excuse me, excuse me,' although they knew I am in the middle of the prayer and I cannot talk."
Aisha said it is hard and stressful to live in a country where people are suspicious about who you are. "Although this country gives you freedom of religion, you cannot enjoy it. Sometimes when I am praying people give me strange looks, as if saying, 'what is she doing here?'" Aisha prays every Friday at the Roxbury mosque for her nephews who she thinks are going through identity crisis, "Sometimes they come to me and say, "'Oh! Auntie it is hard.' I tell them no it isn't but I know it is," she said.
Thirteen years have passed since the attacks. Maryam now has five children and is divorced. Food stamps alone cannot feed her five children. She wants to work and make some money. Refugee Immigrant Assistance Center (RIAC) is one of the few programs available for women like Maryam. Formerly known as Somali Women and Children's Association, the center provides cultural integration and resettlement services to refugees and immigrants experiencing distress and poverty.
"The issues of Muslim refugees in Boston are diverse," said Sara King, Health Coordinator at ISBCC Health Initiative. The health initiative at ISBCC mosque provides mental health counseling to Boston Muslims. "We provide them mental health counseling but if they need more than that then we refer them to RIAC."