By Annie Williams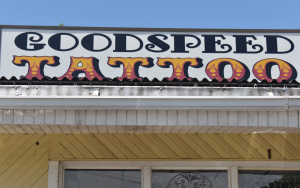 The coronavirus threw people into a whirlwind of uncertainties and unanswered questions across the globe. Business owners and independent contractors closed their doors unsure if they will ever reopen again.
The business that was deemed "nonessential," which included beauty salons, tattoo shops, clothing stores who make up 36% of the United States labor force, according to a recent Gallup study, have been left to navigate this challenging time alone for a period.
"[My biggest concern when the pandemic hit was] if I was going to be able to open again. Period" says George Smith, tattoo artist and shop owner of "Goodspeed" tattoo in Hamden, Conn. "It was stressful because when we anticipated opening back up, it didn't happen," he says. "And you hope that customers still have that need to get tattoos because in this industry it's a lot of people who want tattoos want them now. If they don't get it now, they either put their money somewhere else or they find a way to get it now, and then you lose that customer."
It's no secret that gig workers and business people alike had mixed feelings about being closed and remaining closed for nearly three months. Kelly Green is a tattoo artist, shop owner of Stable Studio Tattoo and founder of the Connecticut Association for Professional Tattooers.
Green's shop is now open for business. She says she had few concerns about going back to work, adding that the only changes for tattooing professionals to limit exposure is that they can put a sign on their door saying they are not accepting walk-ins at this time.
"Nothing different is going to change for us because we already do what they are asking of us now, " she says. "We wash our hands, we use hand sanitizer, we are using disinfectant products to clean our surfaces, we are knowledgeable on how to wear our personal protective equipment so I'm not concerned about going back to work."
Connecticut Gov. Ned Lamont ordered a complete shutdown of nonessential businesses on March 24. As time went on, people became restless and weary of the shutdown. They began to show their impatience with the guidelines, saying that they were infringing on people's rights to due process.
"If you can go somewhere where there is a bunch of people [like Walmart or the package store] why did they even bother closing down our business," says George Smith.
Data shows that New Haven County was third in the state for confirmed coronavirus cases. Smith's shop is located in Hamden county which is right in the center of New Haven county. Despite that Smith says that the calls keep coming in and he has pushed back 2 months of appointments.
Artists like Green and Smith believe that gig workers and business owners should have been granted the autonomy to decide if they want to continue working under safety guidelines. They aren't the only ones who feel this way so much so that the governor is facing critical backlash for how his guidelines have affected small business owners.
Rob Sampson is a state senator for the 16th district of Connecticut. Sampson has recently filed a lawsuit against the governor, stating his executive order to close nonessential businesses was based on opinion and not implemented through a legislative process.
"It is the right of the free citizens to make their determinations about what they want to do," Sampson says.
Sampson wants people to know that he's not criticizing the fact that the governor made safety guidelines. He's just being critical of how they were implemented.
"I don't object to the government passing more restrictions especially in a case like COVID, but that's not what happened [because] the governor made simple arbitrary decisions based on his own opinions, rather than science and medicine and he did not go through the process," Sampson says.
Sampson and his attorney Deb Stevenson are seeking summary judgment, hoping the judges make a decision quickly about whether the governor exerted his power and how they can make sure it doesn't happen again if a second wave of coronavirus hits in the fall.
Sampson's lawsuit states that while the governor modified some laws, he also created brand-new ones based on his judgment, which Sampson said he believed was incorrect.
"The main part of our lawsuit is about "essential" versus "nonessential" because there is no existing law that determines what businesses what businesses are essential or nonessential so for him to do an executive order like that, he's essentially creating a whole new policy," Sampson says.
Stores like Walmart, Target and liquor stores have been able to remain open during the pandemic some under modified hours of operation. Sampson questions the decision behind asking small businesses that carry the same products to close their doors. Stores that are much smaller in size where chances of the virus being spread around would be less.
Sampson says he takes calls on almost a daily basis from people who have had to shut their business doors because of the pandemic. Restaurant owners who have called in a panic were completely lost on what to do following the news of a statewide shutdown.
In Connecticut, gig workers and independent contractors were able to receive unemployment benefits during the shutdown. Tattoo artist Vicki Kochiss, who owns a shop in Milford, Conn., called Valkyrie Studio said before opening she was not aware she could have received for financial help from the government.
Exotic Dancer Bry C. works in Groton says she was aware her dancer friend from Massachusetts was eligible for unemployment benefits but had no idea they offered them in Connecticut. After Bry learned about this, she filed for benefits on May 28 and still hasn't heard back. And with clubs in Connecticut still closed, she says it's hard to know when she might feel financially secure again.
Rob Sampson says that this lawsuit is important because small business owners and employees could have received better funding to help revitalize lost revenue and help people get back on their feet. "The management from the Department of Labor by the governor's administration is the best example of bad management or the worst example of how it should be done," Sampson says.
Connecticut Department of Labor has been an exhausted resource with the highest influx of calls and unemployment filings coming in all at once. Sampson states the lawsuit will hopefully ensure that people won't have to take financial blows if possible.
Full contact jobs such as adult entertainment, tattoo parlors, and aesthetician services have limited data recorded by the state of Connecticut. These businesses might have not been deemed essential by government bodies but the consumers will tell you otherwise.
Smith of Goodspeed tattoos says what he missed most about working is the smiles. "There are so many [people that we help]–you're helping people heal and get that closure that they need," he says. "And were happy to be a part of that."