By Anastasia Yefremova
4/27/2014
Although consumers are told to always read the fine print, few may do so regularly. The nutrition labels on every package at the grocery store or the neighborhood bodega are the food industry's fine print.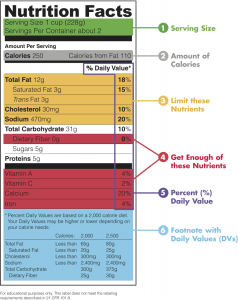 Companies are obligated by law to provide a complete list of ingredients and their quantity. And they do so. In detail. So much detail, in fact, that informed consumers may feel overwhelmed by the polysyllabic terms. So they may feel they are left with two options: 1) Stand in the middle of the store staring blankly at a can of genetically modified corn, trying to match sodium levels to serving sizes or 2) Give up, trust the "no salt added" emblazoned across the front of the can, and toss it in with the rest of our groceries.
Behind the incomprehensible ingredient jargon and mind-boggling number of ways something can be labeled "sugar-free," there are decades' worth of give-and-take between government, industry and consumers. Earlier this year, the results of some of that friction came into the spotlight with the Food and Drug Administration's (FDA) newly proposed changes to nutrition labels. The changes were meant to "reflect new public health and scientific information, including evidence on nutrition, obesity and chronic disease."
What does this mean in simple terms? Experts in this area indicate consumer voices have more weight in the food industry-government conversation than they may realize. They purchase products and have the right to know what goes into them. What most consumers lack is the nutrition literacy needed to articulate their demands. Change has happened in the past, is happening now and needs to happen in the future, nutrition experts agree.
The FDA got into the nutritional label battle nearly 25 years ago with the Nutrition Labeling and Education Act (NLEA). Three years later, on Jan. 6, 1993, the FDA issued final regulations for the Nutrition Facts label. The rules went in effect in 1994. Since then, the only significant change to the white rectangles on our foodstuff packages was the addition of singling out trans fats amounts effective 2006.
"That had a huge impact," said Walter Willett, professor of epidemiology and nutrition at the Harvard School of Public Health. "Once there was information about trans fats on the food labels, manufacturers took it out of their product. And that profoundly changed the U.S. food supply. Trans fat's gone down somewhere around 70-80 percent."
The trans fat decision has set the stage for further discussions that affect industry and consumers alike. The most recent proposed changes focus on the following: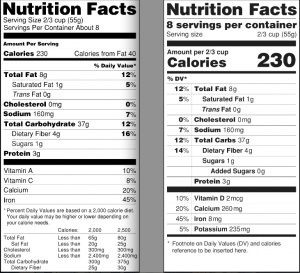 Declaring "added sugars" will be required.
Declaring "calories from fat" will no longer be required.
Revising the nutrients of public health significance (nutrients associated with the risk of chronic disease) that must be declared.
Revising the Daily Values (used to calculate the percent daily value (%DV) on the label) for nutrients like calcium, sodium, dietary fiber and vitamin D.
Updating the reference values used by manufacturers to set serving sizes to make them more realistic, reflecting what people really eat and drink.
Experts agreed the proposed changes are a step in the right direction, but that there is also a ways to go.
Walter Willett on the food label changes

proposed by the U.S. Food and Drug Administration (FDA).
"We are still making a comparison of nutrients to caloric intake," said Felicia Stoler, nutritionist, exercise physiologist and author. "It's based off a 2,000-calorie diet, and not everyone adheres to that so it's confusing to people."
The updated nutrition facts are still too complicated. The U.S. Department of Agriculture (USDA) is thinking about putting a simplified summary label on the front of the package in addition to the nutrition facts, Willett said. Elizabeth Avery, a clinical dietitian at Emerson College, said she'd like to see the calories listed for not only the serving size, but the entire container. She also wants to see both grams and teaspoons of an ingredient. She noted that it can be difficult for the average consumer to comprehend how much a gram of something is.
"It would be great if there was some indication of good or bad next to certain nutrients," Avery added. "There could be a thumbs up sign if something is a good source of fiber, or a thumbs down if it's very high in saturated fat. Just something to help people understand."
The actual list of ingredients needs quite a bit of work as well, said nutrition experts. It's meant to tell what's actually in a product and "the trouble is a lot of manufacturers are very slippery," Willett said.
"The food industry has a vested interest in consumers not always knowing what they buy," said Stoler.
Another favorite tactic food companies employ is taking different forms of an ingredient and describing it in five or six different ways,  Willett said. Ingredients are listed in the order of their presence in a product. The more there is of something, the higher up on the list it goes. If the quantities of what is essentially, say, sugar were put together, chances are that ingredient would wind up at the very top of the list.
"They also allow fiber, even if it's not the natural fiber in the food that you'd normally expect," Willett said. "Some baked products have cellulose fiber. That's basically like eating cardboard."
Translating the list of ingredients is possibly the most confusing part when it comes to nutrition labeling. The American Heart Association has a whole list of frequently asked questions about food labels. Most of them are about deciphering ingredient names.
But Jaime Kubik, a nurse anesthesiologist, said she believes that if people demand less preservatives and sugar, the food industry would be open to the request.
"They're doing their job, trying to push sales, sell products and manage cost," Kubik said. "Going with preservatives definitely helps lengthen shelf life. But if people start demanding better choices, they'll go there. It's business."
Experts note that consumer power rests in how they spend their money. After all, they decide what products end up in their grocery bags. Nutrition experts note that if people start making better-educated choices, the food businesses will follow. Labels are a key part of that literacy.