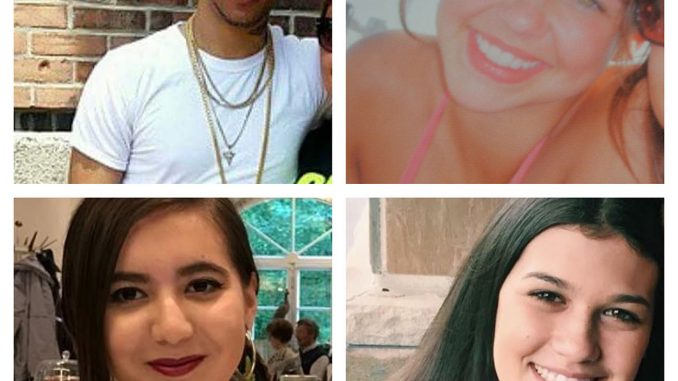 By Nathalie Sczublewski
Michael Alexander Miranda, 28
Michael Miranda empowered those around him. He knew how to lift spirits when people were down. He saw the best in others. 
He loved basketball and enjoyed playing the sport. His sister, Massachusetts State Rep. Liz Miranda joked that his skills were subpar. "He also loved sports, even though it was questionable, like how good he was at them," Miranda laughed. "When he was younger, he was much better at sports." 
Michael loved performing. From a young age, he sang and danced constantly. Whether at family gatherings or at the club with friends, he liked dancing. As a teenager, he won multiple awards for rapping. He was the life of the party.
Born to Cape Verdean parents, Michael was one out of 11 siblings and half-siblings. At age 20, Miranda met her 10-year-old little brother for the first time. 
Like his big sister, Michael consumed himself with community work. He volunteered for her annual basketball tournament, Save R Streets, which combats violence in the city.
Michael is the father of two boys, Kayson and Bentley. Miranda says her nephew Bentley, is the spitting image of his dad. 
"He loves to dance, sing and perform," Miranda said of her nephew. "I just feel like he's living through that."
People loved and respected Michael for his kindness, his compassion and dedication. He was popular, well-dressed, a "ladies man," handsome and comedic. 
Miranda added that Michael was a good little brother.
Michael idolized his big sister. He admired her for her courage, work ethic, service to community and humility. He wanted to emulate her. Michael often sought for her advice. 
"He used to call me, 'Ms. Mayor,'" Miranda said. "He thought I could solve any problem."
After much contemplation, Michael decided to enter the trades. He reached out to his sister for guidance. Overjoyed, the two planned on meeting for pointers on the industry. 
Michael never met with his sister to discuss his new career path. He never made it to the trades. 
On Aug. 20, 2017, Michael and his friends left Cure Lounge in Boston's Theater District as bars and clubs closed up for the night. A man approached the young men and demanded their gold chains. They refused and a fight ensued. The man pulled out a gun and fired five rounds. One of the bullets fatally struck Michael in the head. He was 28. His sons were 3 and 7 at the time. 
The Miranda family continued giving back to the community after his death. 
"When he passed away, some of the things I remember the most is we donated his organs. We were able to help eight families," said Miranda. "That was really phenomenal. We never did organ donation before in our family, and just stepping into that role knowing he was going to live on in other people was really important for us."
The family hopes to one day meet the individuals Michael saved. 
Recently, Bentley's mother approached Miranda with exciting news. She made it into the trades. "That's going to change her life and her son's life forever," Miranda said.
Olivia Mary Marchand, 17
What made Olivia Marchand stand out, was her thick, wavy hair, which she sometimes straightened before school. "It would take forever for this kid to get ready for school," said her mother Jody Marchand. "Because I'd have to take a half-hour straightening her hair!" 
Olivia had a zest for the outdoors. 
The beauty of the stars captivated her. She hopped on her family's boat and went fishing, she enjoyed gardening and making trips to the beach with her friends and her mother. She hiked up trails and mountains. Every summer, Olivia looked forward to seeing her friends and spending time with her family at their New Hampshire lake house.
Olivia was the only child to Jody Marchand. Marchand knew Olivia would be her "one and only."
"This was my child. My baby," Marchand smiled. "And I literally held on and carried her all the time."
She grew up in Westford, Mass. and spent vacations at her family's Lake Winnisquam home. She attended Westford Academy. Olivia played soccer for her town's league, played for her high school's volleyball team and cheerlead for Pop Warner-Youth Cheer. During her cheer days, she traveled to Orlando, Fla. and competed in a final championship at Disney World. 
Olivia loved horses. She took horseback riding lessons as a young girl and owned two horses, Lola and Keni. "I have a picture of her with her helmet on and her first ribbon," Marchand said. "She could have come in 10th. She had a ribbon. That was one happy kid and that's one of the best pictures I have of her."
As Olivia got older, she participated in equestrian competitions. She loved the beach and shopping. She made friends with everyone. Her smile was infectious. 
Marchand wanted to make her daughter's 16th birthday memorable. She organized a trip to York Beach, Maine with three of Olivia's best friends. Marchand called her brother who managed a restaurant in the area. 
Passionate about nature, Olivia decided to major in plant biology or environmental science. She yearned to one day have her own seasonal garden. 
When it was time to apply to colleges, Olivia hoped to stay in New England. She and her mother toured college campuses. They visited the University of Vermont and Olivia knew she belonged there. 
Months later, Olivia was accepted to the school she fell in love with in Vermont. She planned to pursue a degree in environmental science. 
"Olivia was the joy of my life," said Marchand.
Before heading off to college, Olivia and her mother made plans to hike Mt. Washington together and celebrate their new beginnings. 
Olivia never got the chance to trek up the mountain in North Conway. She never got the chance to bond with her mother. 
On Feb. 1, 2010, Olivia's life was cut short when her father killed her with a 9 mm Glock handgun and critically injured her mother. He then turned the gun on himself. 
"I believed I survived to keep my daughter forever remembered," said Marchand. "Forever."
Carmen Marie Schentrup, 16
Carmen Schentrup was a Gryffindor at heart. 
Gryffindor House, one of the four Hogwarts houses in Harry Potter, values courage, bravery and determination.
Carmen did not conform to trends. Underneath her layers of dark brown hair were streaks of teal—her favorite color. She wore black-winged eyeliner and on occasion red lipstick. 
"She would do things that you wouldn't expect from someone that's really shy," said Robert Bonczek, Carmen's former classmate. "She would dye her hair blue and she would make jokes about the teachers. It's hard to explain. You don't really meet people like her that often. It's refreshing. Her personality was refreshing." 
Carmen is the second child to Philip and April Schentrup. She has an older brother, Robert and a younger sister, Evelyn. 
As a child, Carmen took swim and dance lessons. She also played tee-ball. At an early age, her family saw her musical capabilities. 
One day in kindergarten, Carmen rebelled in music class and decided not to play keyboards. Instead, she chose the violin. But only because Robert played keyboard. In typical sibling fashion, the two always competed against each other.  
As Carmen grew older, she took an interest in the piano. She began private piano lessons with her church's organist. In middle school, Carmen picked up the violin again and played in her middle school's orchestra. Carmen sang in her middle school and church's choir. At Marjory Stoneman Douglas High School in Parkland, Fla., she joined an a capella group. 
Carmen enjoyed listening to classic rock with her parents. She sang along to Carrie Underwood and Pentatonix. She danced with her friends to Fall Out Boy and listened to classical music while doing homework. Car rides with her brother meant resorting to their throwback playlist. 
All three Schentrup siblings joined the School of Rock in Coral Springs, Fla. Carmen took guitar lessons for two years. The School of Rock hosted competitions which showcased the students' musical abilities. At one competition, Carmen walked on stage with her mint green guitar and performed Weird Al Yankovich's "Yoda," a parody of The Kinks' "Lola." At another competition, she played a Nirvana song and nailed Kurt Cobain's guitar solo. 
"She was very into—almost what is to be considered, quintessential 'nerd culture,'" said her brother Robert Schentrup. "Harry Potter, Star Wars, a lot of sci-fi. The Marvel universe, DC universe, comic books —things like that." 
The story of an orphaned wizard boy named Harry Potter, was near and dear to Carmen. "She'd wear the shirts or whatever, but she wasn't wearing capes or anything," her mother April Schentrup laughed. "If you say something, she'll get references."
During Robert's Christmas break in 2017, the family drove up to Orlando and visited the Wizarding World of Harry Potter at Universal Studios. It was the first time Carmen experienced the new section of the park. As the family entered the brick barrier separating the muggle world from the wizarding world, Carmen's eyes lit up in amazement over Diagon Alley's detail. 
"Being able to share that experience and seeing her enjoyment of it, is probably the best memory that I have of us, because it happened so recently," said Robert.  "It was one of the few times I saw her free of the stress of school work, and studying and all that. Where she had just enjoyed herself and not have things running in the back of her head."
Carmen was a kid at heart and loved Disney movies. Her favorite TV show was the NBC sitcom, "Parks and Recreation" starring Amy Poehler. Robert and Carmen watched the show together. Her favorite character was Leslie Knope (played by Poehler), the passionate, can-do protagonist. 
"It's a shared experience that I often look back on fondly," Robert said. 
The Schentrups attended church every Sunday. Carmen joined the youth group at Saint Mary Magdalene Episcopal Church in Coral Springs, Florida and later became president. She also participated in youth group at her old church, the Church of Little Flower in Hollywood, Fla.  After 14 years, the family moved from Hollywood to Parkland when Carmen was in middle school. 
Carmen took her studies seriously and earned straight A's. She enrolled in honors and AP courses. She joined the calculus team, science bowl team, honor societies and Health Occupations Students of America (HOSA).  
Carmen was the youngest in her senior class at Marjory Stoneman Douglas High School. Her favorite subjects were science, math, art and English. 
"What she really liked to do was read," said Robert. "She read the most books over the summer. Her library did a youth reading program. I remember one year, she read the most books out of anyone in that program by a very large margin." Carmen's mother says her daughter would read 100 books a year. 
"She was just amazing," said April Schentrup. "Beautiful. Caring. Just one of those people when she put her mind to something, she just accomplished it. Whether it was academics, learning to ride horses, learn German, play piano. Whatever she put her mind to it, she did." 
Eager to graduate high school, Carmen looked forward to college. Her dream was escaping Florida's excruciating hot and humid weather to cooler weather in Washington and attend the University of Washington. 
With her high grades, she was eligible for scholarships at a state school. Several weeks before Valentine's Day, Carmen got into her parents' alma mater—the University of Florida. 
"Carmen had this practical side to her in many ways and then she always had this other kind of dream side to her as well," April smiled. "She applied to UF because she—basically my husband and I went to UF, but also because it's one of the more prestigious medical programs as far as a public university in Florida." 
Excelling in math and science, Carmen wanted to enter the STEM field as a physicist. She joined HOSA her junior year and became enamored with medical science. Carmen's new aspiration was becoming a medical researcher and curing ALS, a nervous system disease that weakens muscles and impacts physical function.
Carmen witnessed first-hand the devastating effects of the disease. Her great-aunt was diagnosed with ALS and the Schentrups cared for her until her passing. The youth choir director at the Church of Little Flower, also succumbed to the disease. 
"Carmen knew two strong, independent women change when they were diagnosed with ALS," said April. "I think personally, she had that connection to what ALS could take away from the people that she knew." 
Carmen applied to dozens of scholarships for colleges. On Feb. 15, 2018, Carmen received a letter in the mail congratulating her on becoming a National Merit Finalist. 
She never read the letter. 
On Feb. 14, 2018, Carmen sat inside her AP Psychology class. It was nearly 20 minutes before school ended when a gunman entered her high school with an AR-15 rifle. He opened fire in the hallway. With seconds to hide, the students scrambled near their teacher's desk—but there wasn't enough room. 
He shot through the classroom door. The window shattered sending glass everywhere. He wounded three students and shot Carmen four times. She died instantly. Carmen and 16 others were killed in the Parkland mass shooting.
She was 16. 
"She was looking forward to graduating high school," said April. "Starting a new chapter with college. Becoming a medical researcher, curing ALS. That was kind of her goal. [She] would talk about one day getting married, having a family. Maybe adopting." 
"She just had these dreams," April said tearfully. "You know, they were big, but she always set her mind to it and I'm sure she would have accomplished them."
Jaime Taylor Guttenberg, 14
From the moment she was born, Jaime Guttenberg screamed fiercely. 
She is the second child to Fred and Jennifer Guttenberg. Within her first hour of life, her parents realized she wasn't like her older brother Jesse. "When my son was born, he was pretty chill," said Fred Guttenberg. "He cried for a few minutes, but then he'd settle down right away and there wasn't a lot of drama in the room." 
"When Jaime was born, she came out screaming and an hour later—she was still screaming. And I turned to my wife and said, 'This one is not like the other one.' And she wasn't."
Jaime lit up a room with her radiant smile. Her family and friends described her as "the energy in the room." She loved the color orange. She was popular and had many friends. Jaime spread joy wherever she went. She could make someone laugh until their sides hurt. 
"My daughter was beautiful. Inside and out," said Guttenberg. "But she was humble and she cared more about others than she did herself."
A trait she inherited from her mother, who is a pediatric occupational therapist, care taking came naturally to Jaime. She gravitated toward children with special needs and played with kids that some of her classmates excluded from the group.  
"If other kids didn't want part of it, my daughter would say, 'That's fine, but, I'm going with them,'" Guttenberg said. "That's who she was." 
Growing up, Jaime was smaller compared to her classmates, but her height did not deter her from anything. 
Jaime detested bullies. She intervened if she saw someone being ridiculed and stopped it. 
In the sixth grade, Jaime told her parents about a boy bullying a classmate. She explained how she stopped him. 
Concerned about his child's safety, Guttenberg told Jaime that she "can't ever do that again" and must inform an adult. 
"Dad, they underestimate me because of my size," Jaime quipped. 
Jaime joined the Best Buddies program at Marjory Stoneman Douglas High School in Parkland, Fla. During the 2018-2019 academic year's open house—the first school year without their daughter—a former classmate of Jaime's from middle school approached the Guttenbergs. 
"She came up to my wife and I and said, 'I just want to tell you something,'" Guttenberg recalled. "'I didn't have a lot of friends in middle school. I got bullied a lot, but your daughter was always my defender. Your daughter would always make the bullies stop. And I just want to tell you, thank you for her.'"
The Guttenberg siblings were always active. They loved skating, playing basketball and soccer. When they were each 4 years old, they knew what they wanted to do. Jesse took skating lessons and played hockey at the local ice rink, Panthers Ice Den in Coral Springs, Fla. 
Jaime chose the path of dance. She started dance lessons at Dance Theatre in Parkland. She was part of community dance teams and began competitive dance at age 9. She practiced at the dance studio at least 13 hours a week. 
In the studio practice room, bright messages scattered the chalkboard wall. The dance team wrote quotes of inspiration, motivating them as they rehearsed. Jaime wrote, "Dreams and dedication are a powerful combination." The studio later placed plexiglass over her quote. 
Jaime found ways to improve herself as a dancer. She studied and learned various types of choreography. During dance competitions, she walked across the stage with her head held high. Every leap, kick and turn, she did with beauty and grace. One year, she won second place for a dance solo. 
Despite hours of dedication to her routines and practices, Jaime balanced her school work and dance. Guttenberg says his daughter sometimes said how exhausted she was. Yet, minutes later, she twirled around the house. 
"She lived to dance and she lived for her dance sisters," he said. "Those were the people she danced with. That was also her family."
"It is amazing to watch how one person at such a young age could fall in love with something so deeply." 
According to the Eagle Eye, Marjory Stoneman Douglas High School's newspaper, Jaime's dance team director Danielle Mednick, asked the team to write an essay on why they dance. 
Jaime wrote: "I dance because it makes me feel possibilities are endless and limits don't exist. Every time I leap, I feel as though I touched the stars."
Dance was her passion. 
Jaime loved cheese. She sprinkled mountains of parmesan cheese on her pasta dishes. She was a Cheez-Its aficionado. She snacked on the cheese crackers at home, after dance practice and during lunch. 
A dedicated student, she received high grades and was involved with Distributive Education Clubs of America (DECA), an international not-for-profit preparing high schoolers for the workforce. 
Jaime wanted to follow in her mother's footsteps. She dreamed of becoming a pediatric physical therapist and her goal was teaching a child how to walk. She wanted to work at the Paley Orthopedic & Spine Institute in West Palm Beach – a center specializing in limb and spinal deformity correction and joint preservation. 
On Feb. 14, 2018, a gunman entered Jaime's high school with an AR-15 rifle near dismissal time. Jaime sprinted down the hallway fleeing the shooter. As she ran toward a nearby stairwell, a bullet fatally struck her back. Jaime and 16 others died that day in a mass shooting in Parkland. 
She was only 14. 
"My daughter died the way she came into the world," said Guttenberg. "Being fierce."