By Xiaoyi Zhang
05/05/2015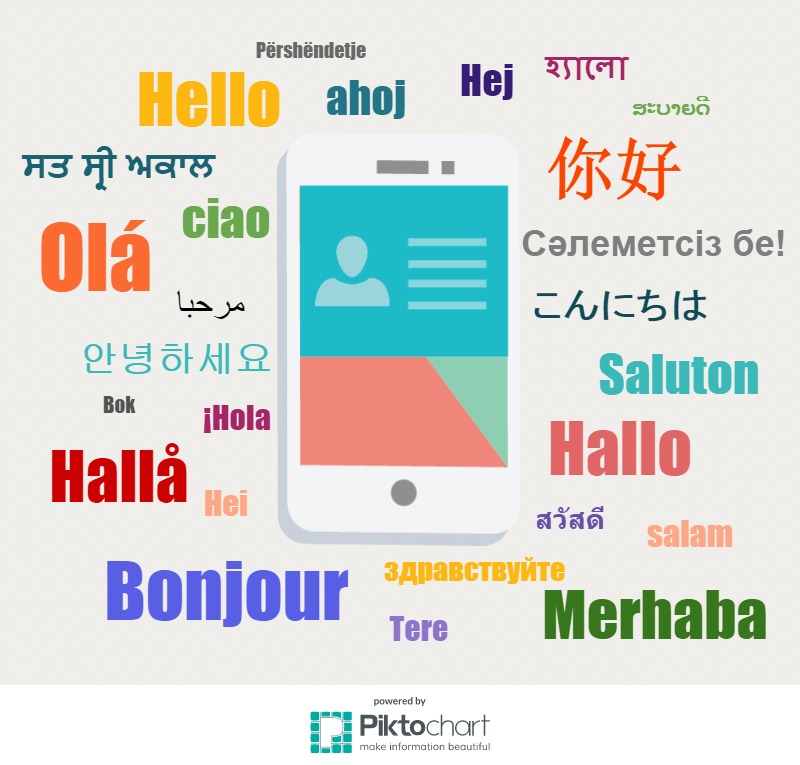 To survive in a world full of intense competition, more and more young people choose to learn a foreign language, hoping that mastering a second language could give them a great advantage over their peers, especially when they need to apply for a job, study abroad or deal with non-nationals in their work. For them, to learn a foreign language in school or to join a language program sometimes doesn't fit their schedule or it takes them a long time to commute to the classes. As a result, some new ways to learn needed to be found.
With the rapid development of digital technology and the increasing popularity of mobile devices, a new kind of learning method – mobile assisted language learning – is spreading all over the world, changing the traditional language teaching and learning mode.
Data from Pew Research Center
Mobile assisted language learning (MALL) refers to an approach to language learning that is supported or enhanced through the use of a mobile device, which is also described as Mobile Learning (M-Learning).
A commonly acknowledged definition of a mobile device tends to fit mobile devices expert Priya Viswanathan's description: "A mobile device, which is also referred to as a handheld, handheld device or handheld computer, is a pint-sized computing device. Mobile devices usually come with a touch or non-touch display screen and sometimes, even a mini keyboard." Therefore, mobile devices are not only smartphones, but include tablets, e-readers, PDAs and some kinds of wireless communication tools.
As an emerging approach to language learning, MALL is still in its developing stage and has brought about more and more discussions due to its new features compared with traditional language learning methods.
According to the research of Jill Kerper Mora, associate professor emerita at San Diego State University, the evolution of modern foreign and second language education in America can date back to the Classical Period (1750-1820). Since then, the most recognized and commonly used traditional approaches and methods include:
Grammar-translation method, which mainly consisted of the use of dictionaries and the explanations of grammatical rules
Cognitive approach, which introduced the four principle language skills of listening, speaking, reading and writing for the first time
The direct method, which put the discussions of the target language to the major priority with more practice on pronunciation and oral expression
Community language learning, also known as the counseling-learning method, which encouraged holistic learning, personal growth and self-development.
The evolution of these methods shows the trend to emphasize expression and communication, as well as personal development, but due to the limitations of time, space and teaching equipment, these goals are hard to be fully realized.
"Traditionally there hasn't been as much active use of the language, particularly around the activities," said Rob Villegas, ESL senior instructor at the Boston Language Institute. "You produce students, and they understand terms of grammar, they can look at an exercise and know what to do, usually they can perform pretty well and answer questions to get a good score, perhaps their writing is good, but production is not as easy for them."
He added, "We find that using some kind of activity which someone could act out a scenario or situation using the vocabulary that you've been targeting, would look a little bit better."
To help language learners find activities and create the opportunities for interaction and communication, mobile assisted language learning can be a good choice due to its advanced learning theories and its features as portability, immediacy, interactivity, individuality, etc.
Ji-Sun Ham, a master's degree candidate at Harvard Graduate School of Education, explained the reason why she likes it. "We have all these mobile devices in our hands," said Ham. "Then when we're not working, when we're waiting for a bus, or waiting for the train, things like that, we could utilize that time for language learning."
Current mobile learning theories rely more on behavior, cognition, context, collaboration, conversation, information, location, and activity, in addition to books, dictionaries and exercises. In the research "The current perspectives, theories and practices of mobile learning" done by Nilgun Ozdamar Keskin from Anadolu University and Daved Metcalf from University of Central Florida, different mobile learning theories were listed and explained in a comparison form.
Here in the timeline we can see how these learning theories changed over the years and the audience they serve.
It is not only the introduction of new technologies, but also the shift in people's mindset and lifestyle that facilitate the development of language learning theories. However, no matter how they change, the basic core of language learning is the same. "The theory is that you have to practice language in a context always, and make it real for your students." said Steven Molinsky, professor in the School of Education at Boston University.