By Christina Zolnierowicz
4/26/2016
She spent many nights staring outside her bedroom window at the fires below, hoping her two children would be able to sleep through the bombs going off in the distance. When missiles began to graze the walls of her house she ran to shield her children's ears from the grinding sounds, knowing that it may be the last time they would ever hear the missiles and helicopters circling their home outside of Damascus. She placed both hands over her little girls' ears and prayed for just one more breath.
Amira Elamri, originally from Syria, now lives and works in Watertown, Mass.  as a teacher. Both of her young children attend school in Boston, and her husband works as a travel agent.  Elamri now lives a safe and comforting life with her family, however, a piece of her heart remains in Syria.
Elamri and her family escaped from Syria and sought refuge in America in 2014. They have lived in America ever since. Elamri did not leave Syria on her own accord. She explained that is was heartbreaking to leave her home, but due to the constant bombings and threats to her family, her children's safety was her priority.  Elamri recalled a time where her family became imprisoned inside their home for nearly five days without contact to the outside world or access to resources. After three years of enduring the war, Elamri's family began receiving personal threats, not only from ISIS, but also Syrian Pres. Bashar al- Assad's government.
Elamri decided to apply for asylum in the United States. It is a difficult process for asylum candidates to be granted  what that State Department calls "asylee" status. First, Elamri explained that she had to acquire a visa. After multiple failed attempts, Elamari was finally granted a visa in 2013, however, she did not want to use it in hopes that things at home would become better.
Elizabeth Goss, an immigration attorney explained that "Syrian refugees have a very difficult time receiving an application for asylum in their camp. Many have to travel to the United Arab Emirates to the Office of the United Nations High Commissioner for Refugees, and even once they make it there the process is grueling." Elamri is still waiting to be granted asylum. This process takes many years, but for now she has been granted a work permit in the United States.
In November of 2015, Elamri, along with other members of her community, formed the Watertown Citizens Refugee Support Group.  They are not in contact with any refugees in the Bay State because there are no Syrian refugees in Watertown. Instead most Syrian refugees live in Worcester. However, Elamri explains that she, with the help of other members, collect donations which they send to refugee support groups in Worcester, Turkey and Lebanon.
Elamri said she likes it here in America but that "leaving home is not something easy. Coming here with just some of your clothes, and having to start a whole new life when you are 30, and my husband is 43, is hard." She said although acclimating was difficult, it was not impossible, when you are left with no other chance to survive.
Elamri did not face significant anti-Muslim sentiment upon arriving in the U.S. She continued to wear her hijab and carry on with her everyday life.  Even so, some of Elamri's friends have been less fortunate. Elamri said, "I know many people who are victims of many bad behaviors from ignorant people in Massachusetts." Elamri recalled a time not long after arriving when she visited a mosque in Brighton. "A woman who was drunk came inside the mosque while we were praying and was very disruptive," Elamri said. "She wanted to mess up our peace and prayer, but no one did anything to her."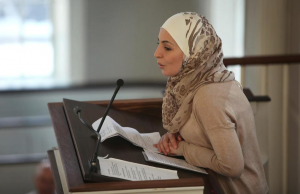 She added, "If all Muslims are attackers, they would have done something to her, but they are not." Elamri also explained people need to understand that "asylees and refugees are fleeing war and they are not coming to America to create it." She also described the difference between ISIS and Islam: "ISIS are people who are totally ignorant of what Islam is, and we as Muslims, are totally against them because Islam is a religion of peace." Elamri said in order to be considered a Muslim, "you should believe in Jesus, Messiah, and Muhammad. If you do not believe in all three religions, you are not a Muslim and this is what all Americans do not understand." She explains that ISIS is made up of terrorists who are not Muslim.  "They are just violent and barbaric people," she said.
Elamri hopes that Americans can learn how to filter and stop stereotyping Muslim refugees. She urges Americans, and others who do not understand Muslims and their religion, to simply go and talk to a Muslim neighbor. "Know your Muslim neighbor! Ask them any kind of question, you might find all your answers in that single person." Elamri hopes that anti-Muslims will learn to ignore the hateful and  demeaning things said about Muslims by politicians in the media. Furthermore, she says, "Try to go to a mosque, talk to the Imam and try to understand what really happens in a mosque.
You will see that there is no anti-American rhetoric or plans of attacks taking place. We go there to pray and to worship just like any Christian goes to a church, just like any Jew goes to temple."
As Elmari dropped her eyes to floor in reflection, she contemplated what she hopes for the future. After a deep closing breath, she raised her eyes and said, "We lost everything in Syria in just one day. We would love to go back home, but I don't think we can."
For more of Elamri's story please listen here: A Story of Refuge