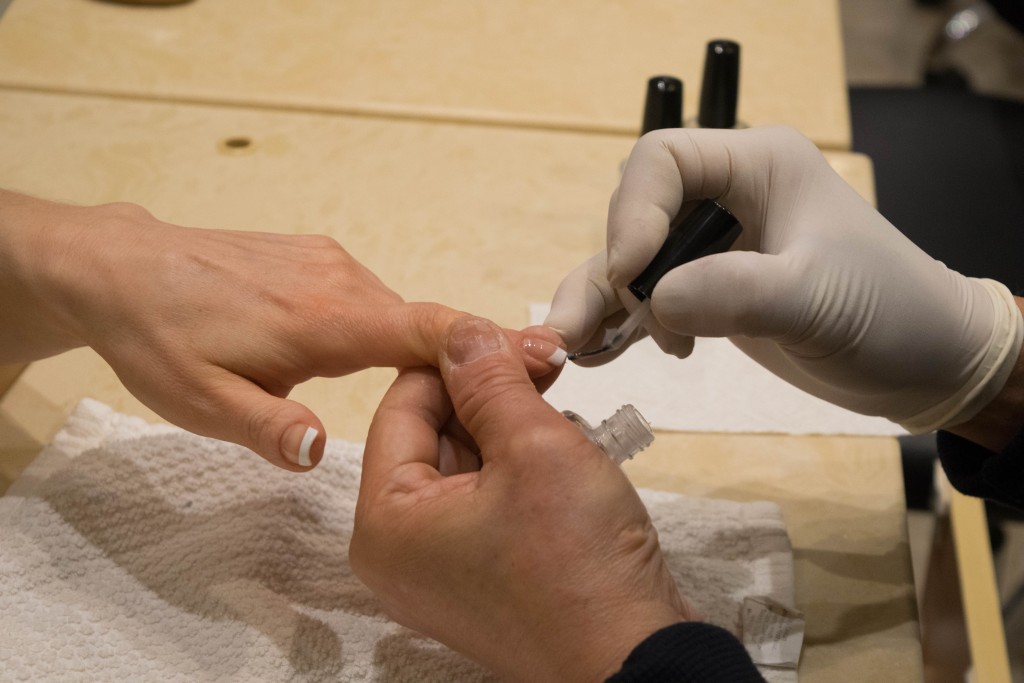 By Rie Kitayama
4/29/2015
Does your nail polish contain toxic chemicals?
"The products have strong odor, but you'll get used to it." Kenny Tran has been working for the nail salon as a nail technician for more than nine years. Tran moved to Boston from Florida, where he grew up and after he received a certification nail school in 2006, completing 100 hours of a nail tech program.
"In the past, chemicals in the liquid were really strong, but now it's not as bad as it used to be. You can't really smell it," Tran said. "I had to wear a mask when I started working at the salon, but now the products are much better. They're trying to make it better."
Several studies found that those nail polishes used in nail salons contain harmful chemicals that may cause health conditions such as headaches, asthma, skin problems and other health problems, including low birth rates.
However, there have been changes in nail products in the last few years. The mainstream cosmetic brands started changing their formulas and labeling themselves as "toxic trio free" or "three-free" after public health advocates began a nationwide protest concerning three compounds: toluene, dibutyl phthalate, formaldehyde.
Duyen Tran, interim outreach and program director at California Healthy Nail Salon Collaborative, talks about how the toxic trio may cause health issues.
Eddie Vo, a worker for Nail Mart Inc., a nail wholesale supply store in Dorchester, said O.P.I, Essie, and China glaze are the three most popular brands used at nail salons.
O.P.I. is known for its large variety of colors of nail polishes. In 2006, O.P.I declared itself to be "three-free" in order to provide a healthier and safer product for their customers. Essie also removed the toxic trio. China Glaze, on the other hand, still contains formaldehyde.
"O.P.I and Essie are the big ones, but a lot of owners and workers we contacted, they use smaller brands, like smaller mom-and-pop companies," said Duyen Tran, interim outreach and program director at California Healthy Nail Salon Collaborative.
"There are a lot of smaller companies that have the toxic trio in their products. We've been really encouraging them consistently to carry products that don't carry the toxic trio," Tran said.
In Boston, nail salons choose their products according to Massachusetts state regulations and BPHC has no control to regulate cosmetic products for Boston nail salons. All products have to be FDA-approved; however, there are still concerns about whether the label on the bottle is telling the truth.
"According to the regulations, we can't ban the use of products that the state allows, and there's also an issue with the industry not exactly being honest about what's in the products," the program coordinator of the Boston Safe Nail Salons project, Holly Simpson said.
These brands provide "three-free" or "four-free" nail polishes.
In addition to the toxic trio, some pricey brands such as Chanel, Dior and L'Oreal started removing two more chemicals: formaldehyde resin and camphor.

Greener and Healthier Nail Salons in Boston
Vanna Vu's Treasures Hands and Beauty Salon offers better quality cosmetic products. In addition to organic nail polish, it also provides its customers vegan nail polishes.
"Those organic products are expensive. They are double the price of regular nail polishes. But they are better quality and we want to provide good service for our customers," Vu said.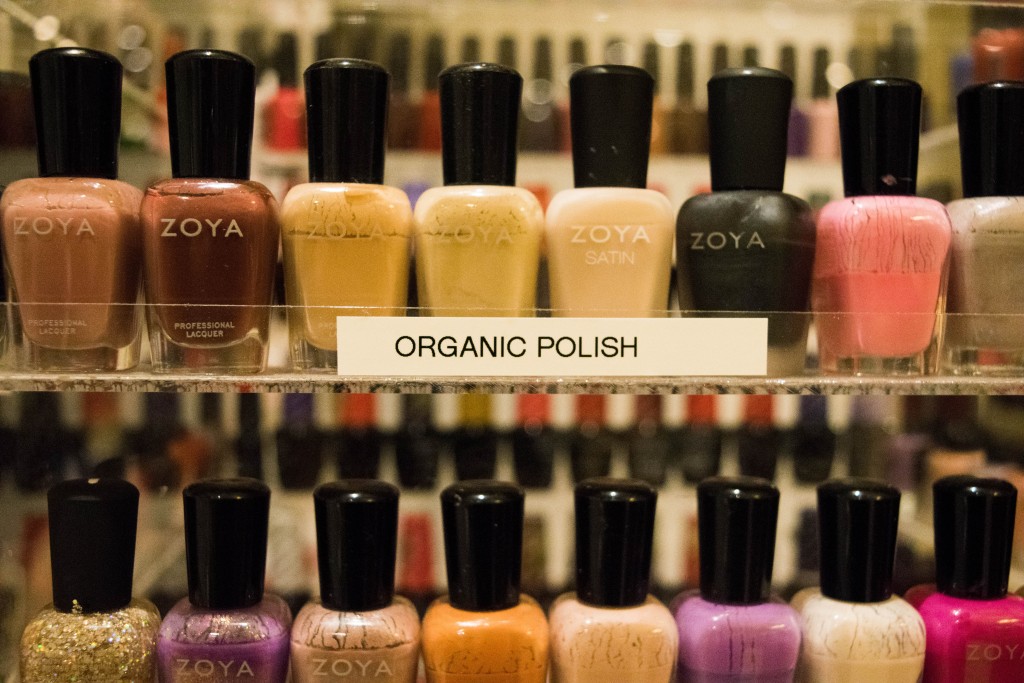 Many of Vu's clients said they come to her nail salon because they care about protecting their health as well that of the salon workers. Karen Karol is one of those customers who choose Vu's salon for the salon's healthy service.
"It's good to have organic polish and good sanitary conditions, both for us and workers," Karol said.
After she got pregnant, Julie O'Correll started selecting her nail polishes more carefully, always checking the list of ingredients. O'Correll said she trusts the service at Treasures Hands and Beauty Salon because of its dedication to offering healthy service.
"When I got pregnant, I stopped coming to this nail salon because I was worrying about my health. Instead, I went to a different nail salon that did nails in a small confined room where the fumes couldn't spread out," O'Correll said. "But they didn't have organics. They had only had regular polishes."
As O'Correll noted about her experience, it is not easy to find nail salons that have organic polishes in the Boston area.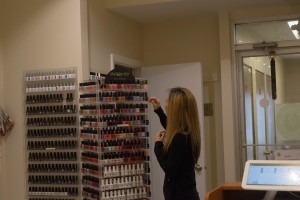 In 2012, San Francisco was the first city in the U.S. to pass the Healthy Nail Salon Recognition ordinance that encourages nail salons not to use cosmetic products that contain the toxic trio. Three years later, it is still uncertain when Boston will join San Francisco in providing healthier beauty for both customers and workers.
The list of "Five-free" nail polish brands.  These products are toxic trio free with no formaldehyde resin and camphor.
Are you looking for organic nail salons in the Boston area?
Here is the list of the nail salons for you.
 Treasured Hands Nail & Beauty Salon…715 Boylston St. Boston, MA 02116
Organic Nail Lounge…1309 Massachusetts Ave. Arlington, MA 02476
Lan Nail Salon…583 Tremont St .Boston, MA 02118
Dove Nails & Spa…258 Blanchard Rd. Belmont, MA 02478
Organic Nail & Spa…1707 Massachusetts Ave. Lexington, MA 02420