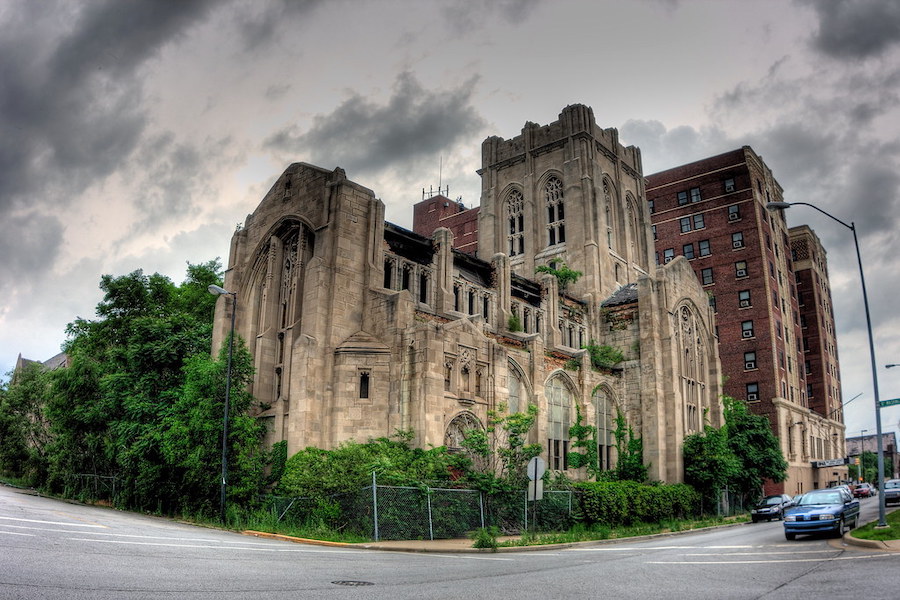 By Jules Struck
America is increasingly home to vacant and abandoned buildings, but they don't have to be a drain on the community.
Through Ohio's rolling farmlands, Indiana's beleaguered industrial towns and Maine's abandoned factories, abandoned buildings are everywhere. It's a trend that has been increasing in some American cities since the 1990s, according to a 2018 Cambridge Lincoln Institute of Land Policy report written by Alan Mallach, senior fellow at the Center for Community Progress in Washington.
But some cities are turning their abandoned buildings into productive centers. In Gary, Indiana, the city plans to turn a crumbling Methodist church into a community garden. In Lansing, Michigan, an abandoned store was turned into a community art chalkboard. McAllen, Texas turned an old Walmart into a new library.
Local governments and community organizations "increasingly view vacant properties as opportunities for productive reuse, reimagining blight and dilapidation as urban farms, community gardens, and health facilities," according to a 2014 report by the Office of Policy Development and Research (PD&R).
The up-front questions a community must face, according to a 2014 report by Michigan's State Historic Preservation Office: "Are these old buildings really worth keeping? Do they have economic value and not just intrinsic value? Will it be cost-prohibitive to rehabilitate them for a new use?"
How big is the problem?
There is some challenge to measuring just how widespread the country's vacancy problem really is, since the definition for abandoned or vacant buildings varies.
"Legacy cities" are the worst-hit areas in the U.S. for vacancies, according to Mallach's report. Those cities are "the once-industrial cities of the American heartland that have lost much of their peak population over the past few decades."
Cities like Gary, Indiana, fall under this umbrella, and have been struggling with "hypervacancy," which is when a city has so many abandoned buildings and lots that those vacancies "define the character of the surrounding area," according to Mallach's report.
Those signs of vacancy can impact a neighborhood's chances of attracting new residents, since "Derelict houses, dormant factories, moribund strip malls, and other types of vacant and abandoned properties are among the most visible outward signs of a community's reversing fortunes," according the PD&R report.
And in many places, neighborhoods with the highest vacancy rates are also those with the highest numbers of Black residents, like in Michigan, according to a report by the state's Center for Community Progress.
Another hard-hit demographic: rural communities. These groups have vacancy rates twice as high as in metropolitan areas, according to Mallach, and are found mostly on the Great Plains, Appalachia and the rural South.
The peak era for vacant housing was during the Great Recession, according to Mallach, when the number of unoccupied houses reached 12 million. The number has declined since then, but is still higher than pre-recession levels. The PD&R adds another half-million "brownfields" to that number — former industrial properties with environmental contamination.
How vacancies affect communities
The longer a building is vacant, the higher the instances of crime in the immediate surrounding area, according to the PD&R report. Vacant buildings can become sites of looting and vandalism, and arson is a particular problem, according to the report.
These buildings can become an economic drain on the community, since they discourage people to buy properties in the same area, according to Mallach, and they also cost local governments money in infrastructure services and police and fire protection, as well as the cost of maintenance or demolition, according to the PD&R report.
Philadelphia, for example, spends about $20 million in maintenance fees every year for upkeep of 40,000 vacant properties. The U.S. Fire Administration puts the cost of fire damage at these properties at $900 million a year, according to the report.
Municipalities can recover some of these expenses in fines and fees if an owner can be found and will pay. But it can be pretty difficult to track down an owner, and the process can take a long time.
What communities are doing
What works best in combatting the negative effects of housing vacancies is information sharing, according to a report by the National Vacant Properties Campaign. Communities around the U.S. have carried out creative projects for rehabilitating abandoned and unused spaces, which can be replicated again and again.
The Philadelphia Horticultural Society's LandCare program is a model for planting wildlife and community gardens in vacant lots. The program has been picked up and replicated in many other cities around the U.S.
Solutions like these are important, writes Mallach, but addressing the systemic issues that lead to abandonment of properties is the most sustainable way to address a widespread issue.
"Rather than narrowly address the problems of vacant properties, we must work to create better cities and neighborhoods," writes Mallach, "focusing on the elements that make neighborhoods good places to live — safe streets, good schools, and access to jobs and services."