By Lauren Yandow
4/30/2015
Fashion-seekers are always looking for a deal on style. Bostonians are no exception.
Boston is home to a unique class of upscale consignment stores and antique boutiques that cater to the college student fashionista, the 30-something woman and the tourist looking to take a one-of-a-kind piece home from a trip to the city.
Upscale Consignment and Vintage Boutiques in Greater Boston
Julianne McGrath remembered what it was like to purchase her first consignment treasure: a pair of Mui Mui flats at The Closet. "I was walking along Newbury (Street) one day and went in and fell in love with seeing high-end at such a good price," she said. At the time, she was a student studying fashion at Fisher College and applied to work at the store she fell in love with. Three years later, she is the assistant manager of The Closet and said she will never shop retail again.
What is upscale consignment?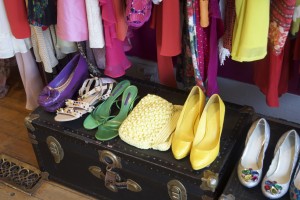 "Upscale consignment is luxurious and fun," said McGrath. "It's all about the hunt of finding a great item that you're looking for or even not looking for. You may come in for one thing and leave with another." Regardless, finding that treasure is memorable, she said.
The Closet's doors have been open for 37 years. McGrath said The Closet's staying power is due to the respect and trust it builds with their consignors and customers.
Much like its competitors, The Closet curates high-end brands that are current and trendy. "With consignment it's not black and white, it's all gray. We go along with the customer base and what we know will sell," she said. Their customers range from college students to business men and women.
McGrath said that although The Closet has proven its vitality, consignment does not come without challenges. "Consignment is pretty competitive," she said.  The fact that people are selling their pieces online, such as eBay, and shopping at discounted department stores like Nordstrom Rack at times makes it difficult to stay consistent. "We weed out labels they have so our items are still relevant and original," she said.
What is vintage?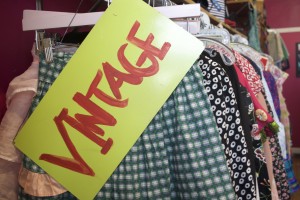 Consignment boutique Raspberry Beret curates pieces that are interesting and funky, said owner Rachael Bankey. "When we consign we look for things that are good quality with a little extra detail to them and things that are vintage," she said.
Raspberry Beret operates three different locations. It not only acquires vintage pieces through consignment but also from estates and auctions.
The foot traffic at Raspberry Beret is transient, said Bankey. "I do my own little thing in this niche corner of Cambridge. Since we opened six years ago, we tend to attract college girls from Lesley and Harvard and neighborhood women."
A look inside: Raspberry Beret – Cambridge
Located in Brookline, ReDress, attracts a slightly different clientele than Cambridge's Raspberry Beret and Newbury Street's The Closet.
ReDress owner, Theree Geary, said many of her customers are full-time working women who are typically doctors and nurses because of the store's location.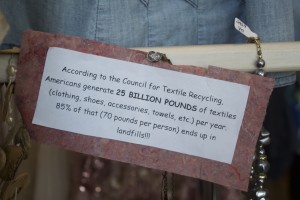 April Sullivan, a ReDress customer, said she loves it here because "It's a cozy little shop with awesome staff who make consigning your clothes with them almost effortless." Sullivan said over the years she has found some of her favorite high-end items while on a hunt through consignment and vintage shops including, a pair of tan Tory Burch flats and a black Free People frock. "I wear that frock every chance I can get," she said.
Geary said the deeper you go into the city the more likely you are to find young fashionistas who are willing to be more daring with their fashion choices and consignment aids to that style freedom. "There's so many artsy students in Boston, young adults feel more free to dress in vintage and high-end at a great bargain. Who wants to go out and spend $5,000 to $8,000 on a designer handbag when you can pay less than half," she said.
The key to ReDress's and consignment success, Geary said, is impeccable customer service. She also takes pride in her store's philanthropic work. "Our unsold clothing gets donated to Family Pantry of Cape Cod in Harwich, Mass.," she said.
"Consignment is a win-win for everyone," Geary said.