By Zimo Zhou  
April 28, 2015
A city's appearance is so important that it provides the first impression most people may have of it. How a city looks mainly depends on the city government's urban planning work. As one of the oldest cities in the United States, Boston may not best match people's traditional image of a world-class city's appearance. But the city does have a unique approach to redevelopment consistent with its own characteristics.
In many people's stereotypes, a typical world-class city is usually a vertical city, which means that there are lots of densely packed skyscrapers and concrete jungles within the city. There is no doubt that high-rise buildings can show a city's economic strength on some level. For a city to grow economically, it is believed by many that the city has to grow vertically because there is no room to grow horizontally. Good examples include New York City, Hong Kong and Singapore.
According to Emporis, a global provider of building information, a high-rise is defined as a structure at least 115 feet or 12 stories tall. The data on Emporis shows that Hong Kong is the city with the most high-rises, and New York City ranks second. Boston has a total of 254 completed high-rise buildings, which ranks behind several U.S. cities including Chicago, Los Angeles, Houston, Washington, D.C., San Francisco, Honolulu, Philadelphia, Miami, and Dallas. But rarely people would use this as a criteria to judge if a city is world-class or developed.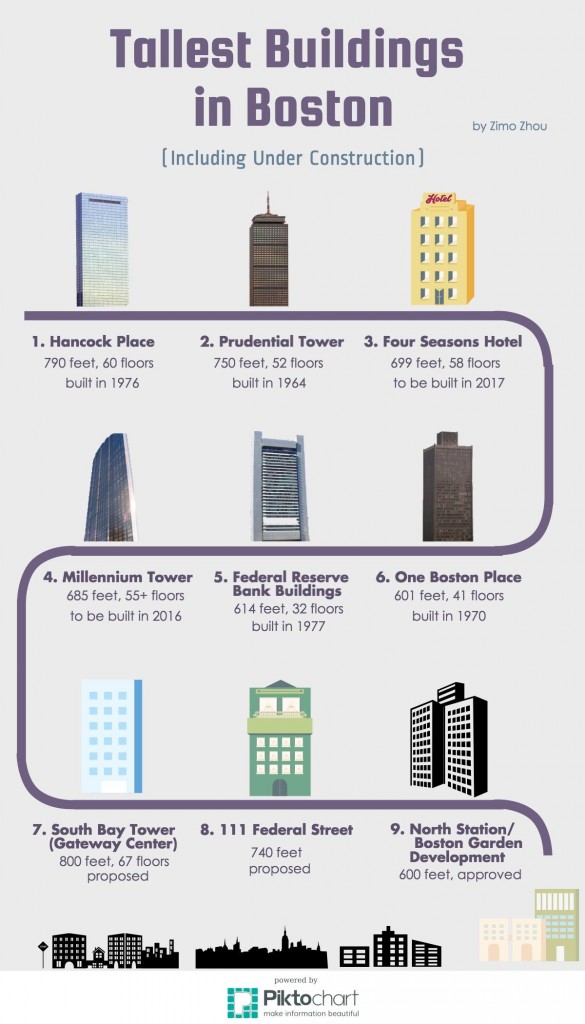 "I think associating verticality with being world-class is maybe a bit of spurious kind of connection," said Michael Hooper, associate professor of urban planning at Harvard University's Graduate School of Design. "I guess whether a city has high-rise buildings or not is not necessarily a function of whether they are world-class, but also a function of topography and land-use controls, though a lot of cities are pushing to mirror cities that are perceived as world-class by adopting the kind of physical forms that those cities have."
Although not all global cities are packed with high-rises, usually most of them develop areas with high density. "If you look at metro Los Angeles and metro New York, they have similar levels of density but very different levels of verticality even though maybe Los Angeles isn't overall a very vertical city, but it seems like a pretty world-class city," said Hooper.
However, though Boston is not vertically dense now, it seems that this city is developing more high-rise buildings for the future. "High-rise has become a necessary part of Boston. I don't see that happening in too many suburbs, but Cambridge and Boston will increasingly become high-rise environments," said John Weis, professor of city planning and urban affairs at Boston University. Weis was also the director of community planning at Boston Redevelopment Authority in the 1970s and 1980s.
As Weis sees it, since the city of Boston only has 46 square miles of land, which is quite limited for a big city, Boston has to grow vertically, but it will only happen in certain neighborhoods.
"There are significant parts of Boston that would never be high-rise: Back Bay, Beacon Hill, and South End. You're not gonna see high-rise in these significant neighborhoods," said Weis. "But we created an image called the Urban Spine that goes along the Boylston Street all the way to the Financial Center, that's where the John Hancock Tower and Prudential Center are. So for these areas, they will keep grow vertically."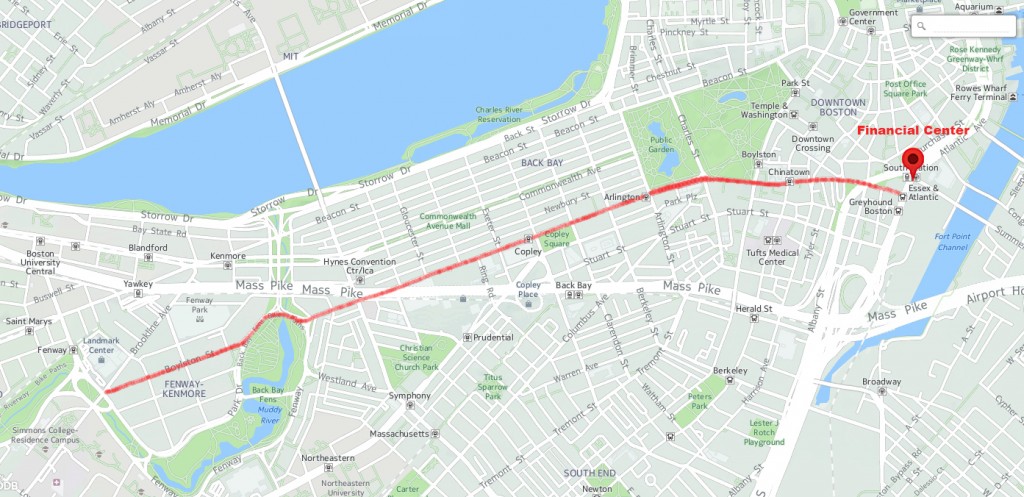 Such a certain type of high-rise growth results from the characteristics of Boston's urban planning, which has a very long history. Boston began land reclamation projects in 1820 until 1900, creating the neighborhoods of South End, Back Bay, and the Fenway area. In the early 19th century, Boston was an urban center with approximately 93,000 residents. Then more immigrants moved from Europe to the city. In the late 1800s, Boston's city government took over the responsibility of city planning from private sectors.
Later in the early 20th century, more architects and engineers came to join the city planning efforts. Influenced by the 1924 Immigration Act, Boston experienced another population increase between 1920 and 1950. But in the next decade, due to a downturn of middle class, many residents moved out of downtown Boston to the suburbs, resulting in a decrease of the city's population.
The timeline below shows big events in the urban planning history of Boston.

However, in 1965, the city of Boston ushered in a new age of urban planning with the release of the 1965/1975 General Plan for the City of Boston and the Regional Core, which is a pretty crucial general statement for long-term redevelopment in Boston.
"The 1965/1975 General Plan was based on redeveloping the significant parts of Boston downtown and its neighborhood," said Weis. "The idea of attracting young people back to the city relying on the strength of universities and hospitals was really pretty much eventual part of the plan that was put together."
The map below shows Boston neighborhoods.
As Weis sees it, today's Boston is developed in the way that city leaders expected decades ago, maybe even more so. Furthermore, two areas are much stronger than they anticipated: the Fenway area surrounded by hospitals and Waterfront, which is Boston's Innovation District.
Although the general plan is 50 years old now, the Boston Redevelopment Authority has not done any new general plan since 1965, which means the 1965/1975 General Plan still plays a leading role in Boston's city planning today, according to Weis.
Despite the absence of a new general plan, Boston Redevelopment Authority has supplemented it was several detailed strategies, such as the continuous reliance on the expanding growth of Boston's universities, as well as to encouraging growth in South Boston, Dorchester, Roxbury, and Jamaica Plain.
In determining Boston's redevelopment success, Hooper indicated people need to first ask for whom is it good or successful. Each city has its own mode of redevelopment to radically increase economic growth, make transportation more efficient, or increase affordable housing units. For Boston, what the city government does is helping Boston grow based on the rich sources of universities and hospitals here.
"It's hard to have an opinion about the urban planning of a whole city because there are planning around transportation, housing, homelessness, environmental issues, cycling, and all of these things," Hooper said. "Those are undertaken by different organizations within the city. On some of these metrics, the city is brilliant," he said. "But on other metrics, obviously things are more challenging."