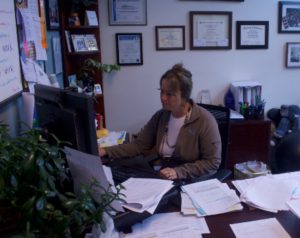 By Gino De Angelis
The opioid epidemic has hit many communities and has left an irreversible mark on huge numbers of individuals around the country.
Jennifer DeWitt has seen the toll the opioid epidemic can take on a city. As the coordinator for Waterbury, Connecticut's Substance Abuse Prevention/Behavioral Health Promotion, Dewitt has worked with overdose response staff, emergency services, third party treatment centers, the University of Connecticut, and the state and federal governments to try and put a stop to the crisis that is ravaging the nation.
"We have a lot more officers who now when they interact with someone who is involved with any kind of criminal activity having to do with narcotics." Dewitt said. "The officer will now say, 'We have a pilot program called Warm Hand-off to Care and we have trained people who are in recovery who can talk to you and maybe connect you to treatment, would you be willing to speak with them?'"
"The first grant thought the Connecticut Department of Public Health was called the Core Connecticut Opioid Response and that was to capture data around the epidemic overall," Dewitt said. "And then the second one came along which is to now out that data into action with appropriate community level action."
Dewitt is in charge of two major programs from the federal and state levels. The federal funder is COOCLI, or Combatting Opioid Overdose with Community Level Intervention, which has given the city money to work with the University of Connecticut to gather data as well as fund a number of support programs. The state level funder is OD2A, or Overdose Data 2 Action, which works to track overdose data overall in order to form response teams.
The funding overall has been a great help, Dewitt says, with the federal program allowing the city to start a warm hand-off program, where a trained responder is on-site at an overdose and tries to talk to the person in order to help them seek treatment.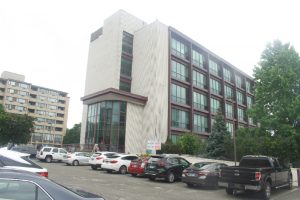 The warm hand-off program has been the most successful over the last number of years, and Dewitt says the officers, EMTs and firefighters in the city have been very open about working with her department's response technicians, as they see it as an augmentation to the fight they do against overdoses.
"The fire department is the Narcan provider in the field," said Adam Rinko, director of the Departments of Emergency Management in Waterbury. He is in charge of coordinating all three Emergency Departments in the city, and the fight against the opioid crisis falls under his duties.
"The health department was the overall entity focusing on greater public health, expanding programs on prevention and treatment, and the police department hosts the Opioid Response Technicians for in the field care programs."
A firefighter, Rinko said that when all of the departments answer an emergency medical call, they each have disparate goals in mind. The police assess the person and see if they can accept long-term treatment, while the fire department is there to answer the immediate medical issue.
"The fire department's concern is generally acute care, where someone has overdosed," Rinko said. "Our major mission is to make sure they live through an overdose."
Dewitt says that having a director of all the emergency departments has made starting new response and prevention programs easier. She said that part of the training of response technicians for the hand-off program had them riding along with the fire and police departments on calls, and that the ORTs work very closely with the police. She said her technicians also work with the two hospitals in the city, making sure that those suffering from overdoses get the immediate care they need.
"St. Mary's may call dispatch and ask 'Is an ORT on today, we have someone who is looking for some support and can you dispatch them to an address?'"
Many of these programs were put into the planning stages before the Covid-19 pandemic, and therefore saw their launches and implementation come up against the problems caused by lockdowns. Despite this, Dewitt says that they were able get the programs started with very little problems sprouting from COVID.
"We didn't realize we were, we actually thought we were still very much behind the ball but we weren't," Dewitt said. "Our program was supposed to launch in February or March, and then COVID hit."
Dewitt said that she was reassigned to coordinate basic needs response for COVID positive individuals, but in May she started talking to the higher ups in the department since funding was coming in for opioid response, and the crisis was still raging alongside the new health threat.
"People were still overdosing," Dewitt said. "It was huge learning curve to have everyone follow these additional safety protocols."
Despite these setbacks, the ORT program was able to begin in August of 2020, when COVID cases were dropping from the highs of the early summer. Rinko, meanwhile, said that almost everyone in the emergency departments that worked on medical response were shifted to COVID because they had training with health crises.
"The one good thing we saw though, was that especially in the first days of the pandemic, was a significant decline in overdoses," Rinko said.
He said that this drop did not last the entire pandemic, however, since stimulus checks and unemployment benefits gave people access to money they can buy drugs with.
"We see a significant amount of overdoses when money comes through," Rinko said. "When tax credits come, when payments are made from unemployment, we see a significant raise in overdoses."
Rinko said that his perception is that the opioid crisis is something that is going to stay with the city and country as a whole, since its grown to such an extent and drugs flow freely throughout the nation.
"This isn't something you're going to solve," Rinko said. "This is something we're going to maintain and try to contain as best as we possibly can."
Despite this, Dewitt said she has hope that those who are struggling with addiction can one day see a light at the end of the tunnel. When a technician responds to an overdose, they stay in contact with them, even if they choose to not seek treatment, for thirty days afterwords, in case they need support and change their minds. On the last day, they stop active check-ins, but leave the person with a message of hope.
"They may feel like, 'I can't do this, I can't change, I'm never going to get better, I can't seem to get it right,'" Dewitt said. "The ORT says, 'Our door is always open, we will always pick up the phone, because we believe that you can recover, and when you're ready we will help you get there.'"