By Sherry Sah
Even during a pandemic, hair distributors have learned to stay resilient to stay in business. May 20, 2020, seemed like a nightmare for Asha Cavelle, owner of Asha Cavelle's Showroom, located in Manchester, Conn. Cavelle's business sells custom hair extensions, wigs, serums, and offers individual client consultations.
"The personal hair consultation is what I enjoy, so a client will book a private meeting where I can have them try on different hairpieces and actually touch the hair before buying it," Cavelle said. "I also educated my clients about their hair and what products they should use." 
According to the Center for Disease Control (CDC),  social distancing plays a big role in containing the disease. People are supposed to stay six feet apart. "I did not want any of my clients getting sick or even getting me sick, so I decided that the best thing that I can do right now is move everything online," she said.  

Cavelle talks about how COVID-19 affects her hair distribution business.
Sales from Asha Cavelle  have dropped dramatically because social distancing has prevented customers from shopping in her showroom. She recently moved her business online, switched her business name to AshPosh Hair Company and expanded her offerings to include other products such as soap and body fragrances. 
Benny Mena, longtime customer of Asha Cavelle's Showroom, said that she is satisfied with the new fragrance online but is sad that Asha Cavelle had a delay on orders. 
"Asha Cavelle has been my only vendor that I have gone to. I do not buy from other hair vendors. It was amazing to actually have that one on one with her as well," said Mena. 
Customers have been satisfied with the new fragrances, but they are upset with the delays from vendors. Like many American hair vendors, Cavelle is suffering losses because of shipping  restrictions. "I started my Asha Cavelle ShowRoom in October 2016, I would have never thought in a million years that we would ever be closing all the clients that I have built." Asha added. 
Because Cavelle's vendors are in China where COVID-19 originated, the U.S. government has halted her shipments from there. 
"At the time, so many people had just ordered from us, and we had to delay our orders,"said Cavelle. "We contacted our vendors from China, and they kept giving us the runaround. It was already difficult enough that we had to move everything online, but now there have been delays with our orders." 
Some businesses are being affected by COVID-19, may have filed bankruptcy, laid off their employees and have closed down their shops. The ecomony has slowed down and put businesses at a disadvantage. This has left millions of people without jobs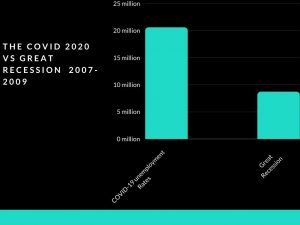 In addition, Cavelle said many customers are scared to buy hair because the hair comes from China.  "I had a customer tell me, if our vendors are from China, she does not want to buy the hair from us." she said. "I can understand where people are coming from without knowing too much about the virus, but for people not to buy anything from China is absurd."
Despite all the new changes, business owners say they are trying their best to keep their clients safe. 
"I do not want any of my clients to become sick," said Mena. "So, this was a very difficult idea because I did not want to lose my relationship with my clients. But, I know in my heart that I have made the right decision of closing my business down."
Even with new changes, customers are understanding of what will need to happen. "I mean I truly understand Asha Posh for their reasons on closing down because they want to run a professional business," said  Mena. "They do not want anything to happen to their clients." 
COVID-19 also has many clients super nervous on the distribution when coming from different countries or states.  "I am not even going to lie, I was a little nervous about ordering my wig from AshaPosh because most hair vendors do receive their hair from China, or if the hair has stopped in a different state with a high COVID case," said Benny.
Despite that all businesses owners have to make a choice whether or not to take a risk and keep going or make a decision to close their shop to practice the social distance rule and move everything online. "All and all AshaPosh  made a wonderful decision in closing down their business for now. I like how they truly care about their customers, like myself. I can not wait until all of this blows over so we can get back to our normal lives," said Mena. 
 Nobody knows when this virus will truly be over and when things can fully get back to normal.  But social distancing has been difficult for business owners, such as Sandra Oppong, the second CEO of AshaPosh.  "I was so sad when our business closed down. We literally made friends around the world," Oppong said. 
"I miss connecting with my customers, but I feel like we made a wonderful decision on closing our showroom," she said. "During this time, we will have more and better ideas for our Showroom once it reopens."
Despite the sadness of people around the world that businesses are being impacted. People are taking the time to think about new ways to make their businesses stronger. "Now we have all the time in the world to go over business ideas and to make AshaPosh more impactful," said Oppong.  "Many things will change for the better. We will not keep a negative attitude at all. When life gives you lemons, we make lemonade," 
COVID-19 is a virus that tests businesses to stay open or to close.  Either decision can impact their business or hurt their business. 
"We are doing everything possible to keep our business running." said Oppong.