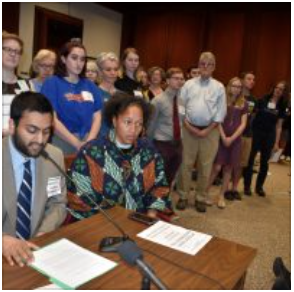 By Kenya Hunter
Climate change is having an impact on Boston, and city officials are ramping up efforts to do something about it.
There are many solutions when it comes to climate change in Boston, and the State Legislature and the Boston City Council are on a mission to begin mitigation. Earlier this year, City Councilor Michelle Wu lead the council in a resolution to support the Green New Deal. 
"I have two kids," she said, "who are going to live in this generation where climate change is real. The climate crisis is happening now. We see it with changing weather patterns and other things."
A series of bills are on the table in the state legislature right now. Here are the possible climate mitigation solutions for the State of Massachusetts. Most of the bills focus on transportation, buildings, and health. They're ambitious, but members of the Massachusetts State legislature and other experts say that it's possible and more cost-effective to begin dealing with the climate crisis now. 
"As we think about buildings, transportation, and electricity, we really need to recognize that this shift away from fossil fuels toward renewables is a fundamental change," said Jenny Stevens, a climate professor at Northeastern University. "Once we invest in harnessing renewables, that renewable energy is actually free perpetual… it changes the geopolitics." 
Housing and Buildings
Multiple bills are on the table in regard to housing and buildings in the commonwealth. According to experts that sat on panels at the Statehouse on July 11, many of the state's carbon emissions, which the state is trying to reduce by about 80 percent by 2050, comes from the energy used to warm or cool buildings. 
One of the bills, H.2865 introduced by state senator Joanne M. Comerford and state representative Tami Gouveia calls to establish a new energy stretch code. They hope the outcome of the new stretch code will result in building only net-zero housing by 2050. To do this, it calls for a board to create a new energy stretch code, which currently calls for (insert that here). In the bill, there are not criteria of the new energy stretch code. Advocates who helped draft the legislation and testified in support of the bill said there's a reason for that. 
"It simply provides a timeline that is more in line with the scope and scale of both the climate crisis and the current building boom," said Carol Oldham, a member of the Massachusetts Climate Network, who helped draft the legislation. In the bill, the timeline 
"Net-zero is happening," said Kai Palmer, an architect who testified in favor of the bills.  "There are buildings being built today and buildings that are already built that are net zero. It's inspiring to see those buildings." However, net-zero, energy-efficient buildings only represent a small portion of the building landscape in Massachusetts. In fact, most buildings that are being built are not energy efficient and still emit greenhouse gasses from heating and cooling. 
Transportation
Introduced by Christine Barber of Medford, H.2872 calls for the department of energy resources, the department of transportation, and the department of environmental protection, and department of public utilities to develop a transition to a zero-emission motor vehicle fleet program. 
"What this bill would do is to require a phase-in of zero-emission vehicles for both public and private fleets of vehicles by 2035," said Barber. "I really think this is a common-sense bill.
The legislature who introduced the bill is hoping to see a gradual change in vehicle fleets over the next 15 years. By 2025, the legislation says fifty percent of vehicle fleets should be zero or low emissions. By 2030, the vehicle fleets should be seventy-five percent zero or low emissions. By 2035, all vehicle fleets should be zero or low emissions. This includes the MBTA buses and trains. 
"So in Somerville in Medford, we are in ordinarily burdened by greenhouse gases emitted by transportation," said Barber. "Most of the cars that are on our streets are buses, or shuttles run by companies and cabs. So my constituents are breathing in dirty air and more likely to get asthma because of the number of fleets that are driving around my cities." 
The second bill introduced to the legislature is in regard to incentivizing people to buy zero-emissions vehicles. 
"The number one challenge to reaching net-zero is transportation emissions," said Representative Michael Baurbor, who introduced the legislation. He says this is the best way to avoid the most devastating effects of climate change. In Massachusetts, about half of emissions in the air come from vehicles, despite the many goals put in place to get to net-zero by 2050. 
The bill says that vehicle distribution companies can receive unnamed incentives for offering customers more zero-emissions vehicles. One main concern for car distributors is that electric cars are more expensive than those that run on natural gas. The legislation, according to Barbour, is meant to speed up zero-emissions adoption by offering distributors monetary incentivizes like rebates and time of use rates to make on-street charging cheaper as well. 
"The bill codifies the very successful, more EV program of consumer rebates, it promotes the time of use rates to make charging cheaper and less stressful for the grid. It promotes high priority locations for charging infrastructure, including more on-street charging," the representative said.
Air Quality and Health
Bill name: An Act Relative to Environmental Justice In the Commonwealth
Presented by: Sal N. DiDemenco
This proposed legislation which is still in debate is meant to give environmental justice communities more say so in projects that can potentially cause environmental harms via an "impact report." Perhaps inspired by fights like the Weymouth compressor station, where residents of Weymouth were not notified of the potential natural gas compressor until after it was proposed to the state, impact reports would give environmental justice communities "better education" on projects that can potentially cause harm in air pollution and other aspects of the environment.