By Dahlia Snaiderman
08/08/2018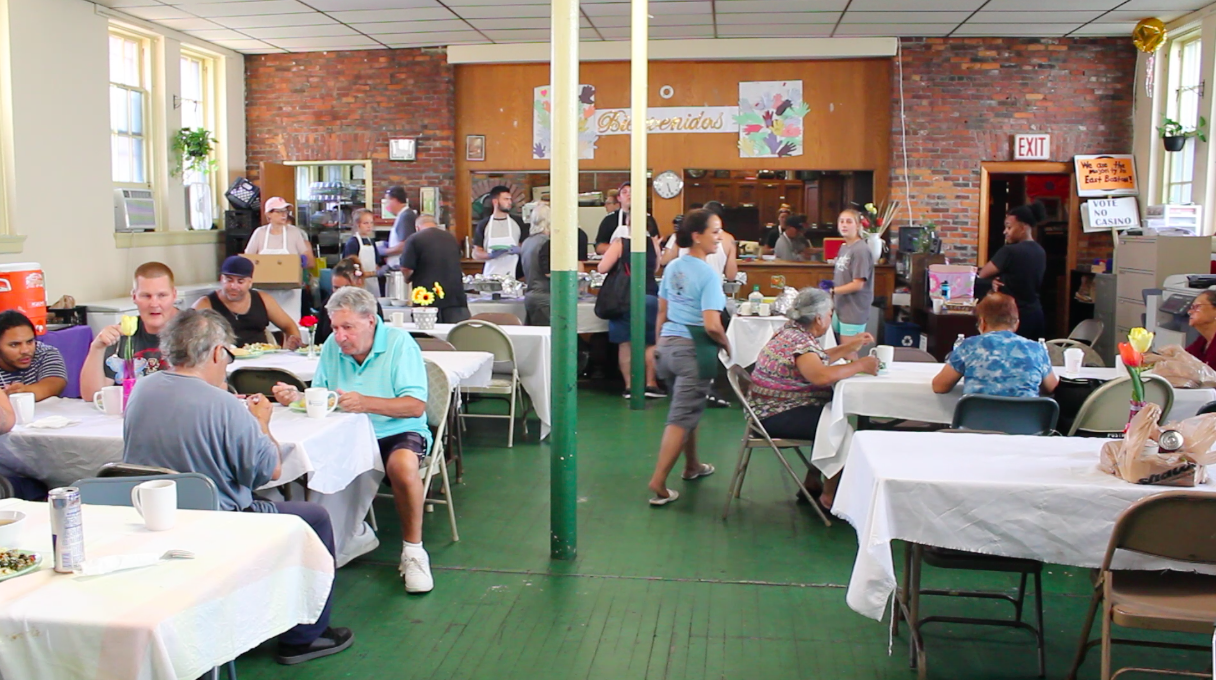 What is food insecurity? It means facing a near-empty pantry and not being sure that it can be refilled in the next few days. It's reaching the end of a food budget a week early. It's worrying about government food aid benefits being slashed. It's being unsure about how many hours of work you'll be allotted this week. It's going to bed hungry so your kids can stay full.  
"Hunger is the need for food- lack of calories. Focusing on getting quantity of food for their survival. Food insecurity is when people have to worry about where they're going to get their food. It's caused by so many upstream factors," said Megan Huang, who works with Fresh Truck to try and reduce food insecurity all over Boston.
Hunger is a product of food insecurity.
Food insecurity is also intertwined with all other forms of social inequity. If a person isn't sure if they can make rent this month, they're likely also food insecure. If they're food insecure, it's likely that their job doesn't pay a living wage, or it's not steady enough, so they may not be able to afford a car. Having a precarious job situation also means that it's likely that your benefits are mediocre, if existent, and any medical issues that arise will have to be dealt with by paying out of pocket, or getting sicker.
Communities of color, especially in cities, are disproportionately affected by all of these problems, and its seen in higher rates of heart disease, type 2 diabetes, and weight problems, as reported by Anna Brones in an interview with food activist Karen Washington.
"When you're living paycheck to paycheck focusing on survival, it affects your capacity for other things- long term savings, educational plans for kids, long term plans for diet and health," said Huang.  "When you're functioning in this tunnel-vision survival mode, it affects your ability to do other things."
This speaks to the inter-relatedness of all social issues. 
Low-income Americans are continuing to struggle to get healthy food on the table. In East Boston as all over the US, those who are food insecure deal with worse health outcomes across the board, says Gabrielle Witham, of the East Boston Neighborhood Health Center. They are also less likely to have good insurance to cover medical costs.
This creates a cycle of poverty that's extremely hard to break- and despite the efforts of non-profit organizations, government initiatives, and community efforts, levels of food insecurity in Massachusetts are still hovering around the same levels they were at ten years ago during the 2008 financial collapse, according to a report by Project Bread.  Across the US, one in six children and one in eight adults are food insecure, and in Massachusetts, one in ten households are food insecure.
According to a report in The Boston Globe, in Massachusetts, food insecurity leads to $2.4 billion in spending, $1.9 billion of which goes to treating preventable health problems like diabetes, heart disease, and breathing problems.
What is a food desert?
Food deserts are defined by the USDA as areas where more than 33 percent of the census tract's population live more than a mile away from a supermarket, and bodegas and convenience stores without produce sections don't count.
Convenience foods, like pasta, microwave meals, and canned goods, are generally what fills the shelves of convenience stores, and in many neighborhoods in Boston, like parts of East Boston and Dorchester, these stores are the only option. This is a major contributor to why food insecure people can go hungry and be overweight at the same time. The foods that are available are not nutritionally-dense, and can keep you full but not nourished.
What is SNAP?
SNAP, or Supplemental Nutrition Assistance Program, is a federal- and state-run program that provides funds for low-income people to use in grocery stores. Formerly known as food stamps, the money comes loaded onto an EBT (electronic benefits transfer) card, and can only be used in establishments that sell food.
There are some exceptions, but generally, SNAP is also not available to anyone who is not a naturalized U.S. citizen. Some refugees are able to claim SNAP benefits, as well as green card holders (permanent residents) with documented disabilities, but for most other types of immigrants, government assistance for food is out of reach.
Homeless people can also not receive SNAP benefits, because they don't have a reliable address to put on a form.
The amount of money given to those on SNAP is also dependent on several factors, including their income and number of dependents. If someone is $1 over the threshold, SNAP benefits are denied.
Contrary to popular belief, SNAP is never a huge windfall – the average cost of a meal in Massachusetts is approximately four dollars, but the average SNAP benefits given only allot for $1.50 per person, per meal.
This means that even if a person is eligible for SNAP benefits, they still struggle to afford healthy food.
Stigma
Being food insecure is massively stigmatized in American society.
Maria Infante, of Project Bread, a Massachusetts anti-hunger non-profit, said the organization works tirelessly to convince people that signing up for SNAP benefits is not shameful, but rather the responsible decision for their families. "We want people to know it's OK to ask for help," she said.
Despite the fact that the unemployment rate is back up to where it was before the recession, the jobs that are available don't necessarily pay a living wage, says Infante. Low-income jobs can also be unreliable, and schedules (and thus earnings) can fluctuate. Both these factors mean that people can work incredibly hard, with multiple jobs, and still not be able to buy food.
However, pervasive stigma around food insecurity remains common. The comments section on a CNN Money video about a single, unemployed woman with four children who feeds her family using SNAP benefits is one clear example of the judgments that are made about people who receive government assistance.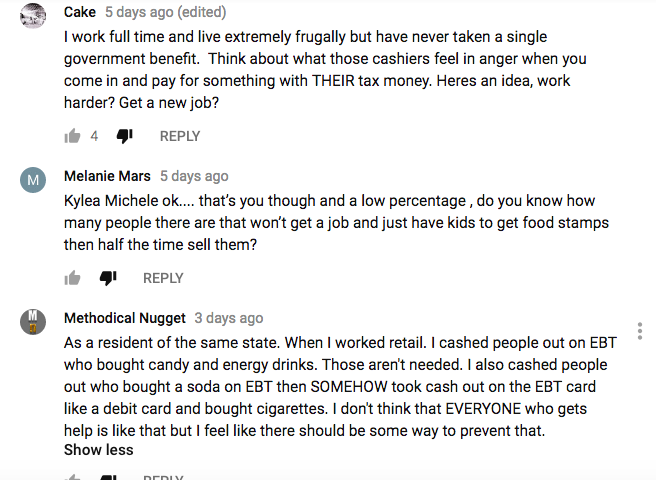 "I sometimes overlook the fact that people don't view things the way that I do," lamented Huang about the stigma around SNAP. "People see it, crudely, as government handouts that make people lazy, but people need to be educated about this… hopefully we can convince some people that everyone needs high-quality diets…"
Many also believe that low-income people don't want to eat healthy. Gabrielle Witham, programs coordinator of the East Boston Neighborhood Health Center, said that this couldn't be further from the truth. She says that people take advantage of the Healthy Incentives Program, which reimburses up to $80 per family when EBT cards are used at mobile markets or farmers markets. If they don't have SNAP, they line up down the block to buy $2 bags of produce once a week at the health center.
A big challenge faced by community centers, health centers, and non-profits is that getting the word out about these programs to those who need it can be very difficult.
Much of the conversation around food deserts and food insecurity used to center around the belief that adding grocery stores to low-income neighborhoods would fix the problem immediately. "But if people can't afford to eat healthy, they won't buy healthy things even if they're available," said Huang. Unless produce and other fresh foods are made to be affordable, and other social inequities addressed, things cannot change.
This sheds light on the other hard-to-swallow side of this problem- that the American food system is broken. When a McDonald's meal costs less than five tomatoes do at a grocery store, the poor are set up to fail.