By Jingmin Feng
04/29/2013
Ten years ago,  life was tough and sometimes dark for those Chinese who came to the US to pursue higher education,
Most of them knew little about this land .Some did not speak fluent English, although they could read and write it  well. Their family couldn't support their studying broad, so they washed plates at night to earn living expenses. They have no friends or relatives in this country they could rely on, so life was so lonely and hard.
However, things are so different now.
According to a report conducted by Institute of International Education, in 2011-2012 academic year,  194,029 Chinese students were studying in the U.S campuses, which has increased 206 percentcomparing to 10 years ago.
Among them, 88,429 are graduate students, leading all international graduate students in the U.S universities, including Indian and South Korean students.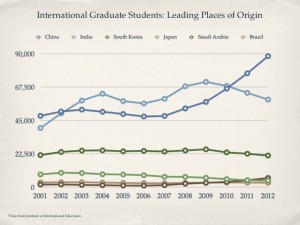 The increasing Chinese students have affected both  education and business.
First of all, since most students have their families pay their tuition and living expenses, it makes them become one of the most welcomed foreign students. And colleges in the U.S are adjusting themselves to work with this booming group.
Some businesses, such as tourism and real estate,  are acknowledging this new emerging market and trying to  benefit  from it.
Additionally, almost half of the 194,029 students, are studying science, technology, engineering or math (STEM)  students in their graduate school work.  But business degrees are also gaining interest among Chinese students, affecting how colleges with those programs are addressing the change.