By Luke Smith
Nothing can compare to the feeling of euphoria one gets after purchasing a new record.
The feeling of hearing one's favorite album on their record player for the first time. The feeling of accomplishment when adding a new record to an ever-growing collection. For some even the feeling of nostalgia of dusting off some vintage records and playing them years and years later.
The audience of record collectors has grown exponentially in the past 15 years. The British Phonographic Industry reported in 2021 that 5.3 million LPs were sold in 2021. The RIAA even reported that records made up $1 billion in sales for 2021.
The crucial element in these numbers is where the records are sold. Some purchase through Amazon, others through stores like Target or Newbury Comics. However hardcore collectors prefer the feeling of visiting their local record shop to purchase some new records.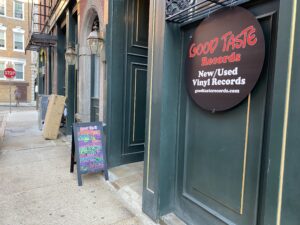 Good Taste Records in Boston's North End located on Thatcher Street (Photo by Luke Smith)
GOOD Taste Records is a newer record store that opened in April of 2022 in Boston's North End. The store's focus is quality-over-quantity. As the website says, all killer, no filler. Coty Smith is one of the owners of this shop and for the past 15+ years has been a big fan of records and has even DJ'd around the world.
"Something I've noticed from operating GOOD Taste is how many of our customers aren't used to going to a vintage record shop," Smith says. "Most people either got into it because of the pandemic, or they found some records in their grandparent's basement or other reasons. You know I think online record shopping is helping the fad become more popular but it's taking away from the experience of going into the record store and looking through record boxes."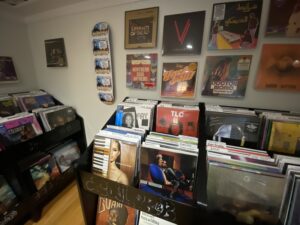 Smith points out that while finding exactly what you want might be nice, it takes away from what makes collecting special. Being able to discover new music or finding a hidden gem that you wouldn't have otherwise found is what makes record collecting so exciting.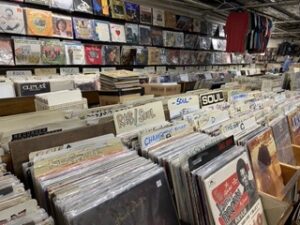 In Your Ear meanwhile has operated out of Allston on Commonwealth Ave for 30 years. After 30 years, the store is relocating from Allston to Warren, Rhode Island. "This store kind of fits in nicely in Warren, you know there's a lot of antique shops there so we won't have our familiar clientele, but it will be fun to see new faces."
With the store closing, Reed, one of the store's longest working clerks, reflects on how much the area around the store has changed and how the climate of record collecting has changed.
"There's so much idiocy online nowadays. Everyone has an opinion on something and when people don't agree with what someone else has to say it's a big issue." Reed relates this to how people feel about collecting. "Part of the reason for moving to Warren is because more people like shopping for new records, and there's nothing wrong with that, but it's not exactly as special as going to a vintage shop like ours."
This store has hosted a massive collection of records. However, they don't just carry records. The store offers a wide assortment of vintage formats from Cassette tapes to 8-tracks to VHS tapes. Long story short, this is a vintage collector's heaven. "I don't know if you've noticed but there are a lot of collectors who love to shop for vintage things other than vinyl. It's part of what makes this place so special."
As for the In Your Ear location in Allston, Reed shared that it will still be there however the focus is to move towards the new location in Warren and less on the 30-year-old store in Allston.
Each of the people at these stores doesn't have anything horrible to say about shopping for records online, however there are some collectors who are against the idea of purchasing a record through Amazon.
Hayley White, a collector for 5 years now began collecting when she was 16. She found a love for records through "vintage type things" her grandparents shared with her growing up.
"I grew up really around my grandparents and we love watching like vintage movies," says White.  "Audrey Hepburn was like one of my favorite people growing up. And so I would try to connect these old movies with like soundtracks and the only way that I was able to do that was by going back to the vinyls. I also am a huge Elvis Presley fan, like huge. And so when my grandparents revealed that they had a lot of Elvis Presley records, I wanted to go through them so bad. And so it started with me going through my grandparents vinyls and like picking out what I wanted."
White's love for all things vintage influenced her preference in how she collects new vinyl. While not entirely opposed to it, she does prefer going to more vintage stores over purchasing new records online or at a big chain store.
"I prefer more vintage looking ones and going to vintage vinyl stores and buying them but if I have to buy a newer vinyl, I like to keep it in like pristine condition," White says. "I'm on two total opposite sides of the spectrum. But I would definitely like to say the ones that have a little bit more wear and tear If I prefer probably,"
Record stores remain the lifeblood of many collectors. While many new collectors prefer to order online or though larger commercial brands, nothing compares to shopping for records at your local record store. White recalls finding one of her top three records in a record store. "Rhapsody in Blue is one of my favorite symphonies of all time and the fact that I found it on vinyl and a random record store blew my mind. And it's just one of my favorite things in the world."