By Haylee Carlyle
8/11/2018
CannaCon, a cannabis industry expo, brought entrepreneurs to Boston in July to talk about how to make money in the state's nascent recreational marijuana industry. Networking was at the core of the convention. The connection opportunities flourished most palpably when two seminar panels, Women in Cannabis and Diversity and Inclusion, came together for an unscheduled discussion about inclusion.
Panelists, ranging from industry involvement in tech and marketing to research and law, told stories of how they made their way into cannabis. Each story had the same trajectory of applying an existing skill to a passion for legalization. Scheril Murray Powell is an agricultural and cannabis attorney in Florida who consults across the country through her company, Green Sustainable Strong. She said, "Whatever your desires have been in other spaces, you can transition that into the cannabis space. Look at your core competencies and apply it."
The seminar presented women and minority speakers from nearly every sector of the legal cannabis market. Out of the nine speakers, only one owned a retail business. Others worked in activism, communications, advertising, health care. In fact, only a fraction of exhibitors at the convention were retail businesses.
"You're Going to Need Allies In Other Spaces"
Panelists repeated that a lot of ancillary businesses support the market. They noted any skill is transferable, but entrance is always the same process: educate, network, and figure out the right fit. Prospective minority industry workers also shouldn't be intimidated by the market, especially since it is so undersaturated with diversity.
While CannaCon was geared toward networking by bringing together cultivators, retailers, even inventors and engineers, the fused diversity panel focused on collaboration. Helping people in one's community is valuable and productive, but efficiency lies in creating allies.
Murray Powell stressed that diversity only happens through unity, and that the goal is to have the ownership base in the cannabis industry look like the user base. "Be aware that you're going to need allies in other spaces who may not look like you, but they're like-minded," she said. "For people who don't think like you, try to find those areas where you do align."
"I Went to Work and Bought a Ticket to Denver"
Margeaux Bruner used to work in the supply chain at Ford Automotives in Michigan, which she mentioned is not an affirmative-action state. Bruner said she was inspired by a "Weediquette" episode featuring Women Grow, an organization dedicated to connecting and supporting women in every facet of the cannabis industry. "It was the first time I conceptualized the industry outside of being a cultivator or dispensary," she said. "So that day I went to work and bought a ticket to Denver."
In Michigan, initial medicinal cannabis laws were based on a caregiver system that allowed for licensed individuals to have up to 72 plants, 12 for the cultivator and 12 for each of up to five patients. When dispensaries began to open in 2011, the law didn't accommodate them.
Bruner called the proceeding market, which saw businesses with up to 2,000 patients, a "cowboy market." California has seen similar issues in Los Angeles, where unlicensed, untaxed cannabis shops pop up and shut down every few months.
Bruner said that because of the grey area that becomes apparent when policy changes, black people can be hesitant about entering the industry. In the 142 miles that is Detroit proper, there are 142 dispensaries, none of which are licensed.
Even though Detroit is a minority majority city with African Americans making up 84 percent of the population, less than one percent of dispensaries there are black-owned. That ownership rate stays the same when every dispensary in the country is considered.
Massachusetts' social equity program aims to combat this issue seen in other states that have legalized, but barriers to entry for people of color trying to get into the market are still very present. Once business owners get through the lengthy application process, they have to negotiate an expensive host community agreement with the municipality their business is in. And that's only if the town hasn't issued a weed ban.
"The Community We Have Is What Keeps Me In"
Speakers urged attendees to get involved in the  cannabis industry, emphasizing the timeliness. "You can get in and be an expert in the next minute if you do your research, manage your relationships, and you're completely passionate," Murray Powell said.
Kebra Smith-Bolden has been a registered nurse in Connecticut since 2004. She grew an interest in marijuana after her grandmother suffered an aneurysm and lacked motivation to do her rehabilitation. "My grandmother told me that she used to smoke a joint and take a bath just to get her body going every day. I was like, 'that's what grandma's missing. She needs to be medicated,'" she said.
After using cannabis, her grandmother began moving her body and participating in rehab. "As a psychiatric home care nurse, I was just throwing pills at people and no one was getting better and I saw my grandmother consume cannabis and get better within a month," Smith-Bolden said. Now she owns Cannahealth, a business dedicated to helping disproportionately affected people in the medicinal cannabis space.
If education is the first step to entry, political involvement is the first part of the first step. Weed law is intricate, and with policy changes in the last few years, trying to digest it all right now can be overwhelming.
But panelist David Calman said it is the most important place to start. He said even if not involved in crafting legislation, he urged being aware the next steps. 'The economic contributions that this plant can give are for everyone," he said. "If we only paint this picture one color, we will continue to lock out everyone else that has been hurt and can benefit."
Heidi Arsenault is CEO of GrassHopper Hub, a b2b platform connecting buyers and sellers in the legal cannabis industry. She said "The community we have is what keeps me in and fuels me the most under the hardest of times." Women and minorities already depend on, foster and support their own communities by working together to address inequality issues. "We showed up and we participated and then it went from there," Arsenault said.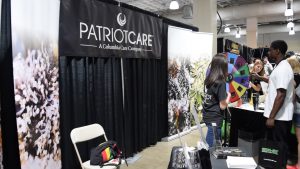 People of color and women business owners have an opportunity to enter the fastest-growing emerging industry in the country.  These historically marginalized groups are successfully managing, policy making, marketing and engineering, all while still helping each other.