By: Meaghan Kirby
8/10/2018
The professional sports world has always been predominantly a man's world, but today more women are trying to break that barrier.
For example, Jen Welter as an NFL linebackers coach and Becky Hammon as an NBA assistant coach, have made strides in male-dominated sports. The push to hire more women in the sports industry also has increased. Women like Hammon and Welter have been cited as giving young female student-athletes the desire to work in the sports industry after college. 
The NCAA hosts an annual Career in Sports forum where 200 student-athletes learn and explore potential careers in the sports sector. The four-day forum is set up to help the student-athletes network and learn from others what it takes to get where they are.
Former basketball player from Springfield College, Stephanie Tunnera, has been able to work her way up in the sports industry. Currently Tunnera is the Assistant Athletics Director-Athletics Communications at Boston College.
While at Springfield, Tunnera studied English with a minor in history. In the beginning, she said she knew that she wanted to work in the newspaper business. Then one year Tunnera got hurt and began working for the sports informations director. Once school was over Tunnera began working for the Middlesex News newspaper. From there, Tunnera began working at the Boston Herald.
While working at the Herald, Tunnera covered high school sports and then became the high school sports editor. Tunnera said she faced some obstacles when working at the Herald. The Herald's sports section was extremely male-dominated. At that time there were only four women working sports at  the Herald. 
"One thing you had to do when you worked at night was kind of ignore some of the comments which were not directed at you," said Tunnera. "You kind of had to let stuff go and not bother you."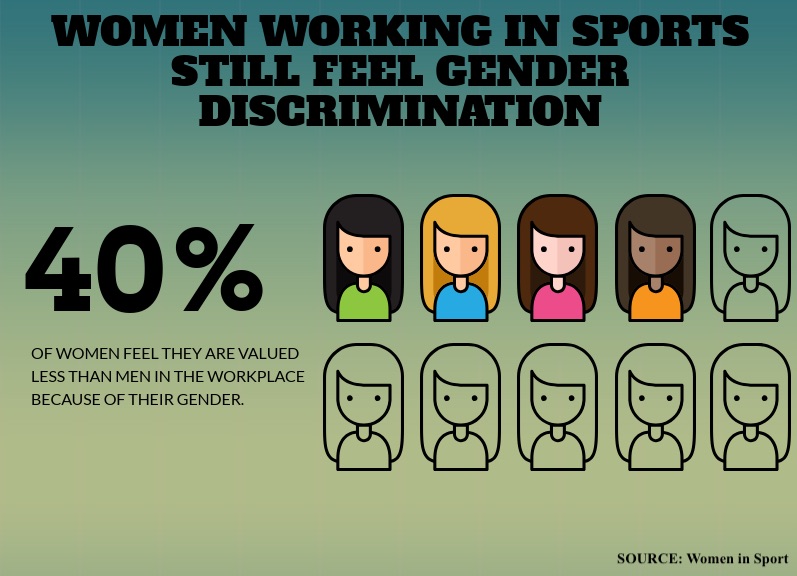 A new report, "Beyond 30%- Workplace Culture in Sport," shows that nearly 40 percent of women still face gender discrimination in the sportS industry. But, once Tunnera was able to get through the locker room talk in the newsroom, she said she was able to establish herself confidently in the newsroom with the guys. Tunnera added she was also grateful  to have a couple of the new male reporters who took her under their wing and helped shape who she is today. From the Herald she still wanted to go back to college athletics. 
"I started covering college basketball and other things and that kind. That's when I realized I wanted to go back into college athletics," said Tunnera.
Once Tunnera began working in college athletics, she began to see other women working in the field. At Boston College, she noticed more women are starting to work in high-power positions.
She hopes that the younger generation can break the mold and bring more women to higher-ranked positions in the professional level. Tunnera biggest suggestion for young female student-athletes looking to work in the sports industry is to get their foot in the door early.  "We reach out to you, the athletes' freshman, sophomore year and see who is interested in this field," Tunnera said. "We explain how important it is to get an internship whether it is paid or not."
Jill Gearin, a student-athlete who graduated from Emerson College in May, has capitalized on her internships to help put her foot in the door to the sports industry. Gearin, who played softball at Emerson studied journalism with a focus in broadcast. Ever since she was little girl, Gearin said she knew that she wanted to be reporter for the Boston Red Sox.
From her experiences with various internships, she has been able to get a better understanding of what it takes to be a female working in the sports industry and how connections are what it takes to move up.