By Gwendolyn Joyce Mintz
Border patrol agents are seeing an unexpected decline in people seeking asylum in the United States following a change in immigration policy.
Title 42, enacted during the Trump administration to stop border crossings during the pandemic, expired in May. At that time, Title 8 – and a requirement that people to apply for asylum from another country first—took precedence. Anticipating a surge of immigrants in response to the change, federal and state officials reinforced the border with additional agents as well as troops and the National Guard. The reality, according to border patrol agents, was that fewer people entered the U.S., possibly due to an app that makes it harder to gain access to the immigration process.
The app, CBP One, has slowed down the process because people seeking to immigrate are required to have a cell phone to start the process, which many asylum seekers may not have.
The app could make the job of the Border Patrol easier because it helps with immigrant processing, but people are still seeking to come to the U.S. even without an asylum appointment.
Victor Macias, a spokesperson for the U.S. Border Patrol's Public Affairs Office in the El Paso Sector, said. "The Border Patrol is responsible for apprehending migrants and placing them on different immigration pathways. We do not make determination on asylum claims."
Every migrant has a "unique" status, he said. For those who do not ask for asylum or are ineligible to enter the U.S., they are processed and possibly deported. But migrants expressing a credible fear get an appointment to meet with a judge to make their case for asylum, Macias said.
Under Title 42, everyone apprehended at the Mexican and Canadian borders was expelled. With that order no longer in effect, the U.S. Border Patrol prosecutes people found at the border without proper documentation using its Title 8 authority, according to Macias.
Violation of Title 8 "carries significant consequences, including barring people from re-entry who are removed, for a period of five years," he said.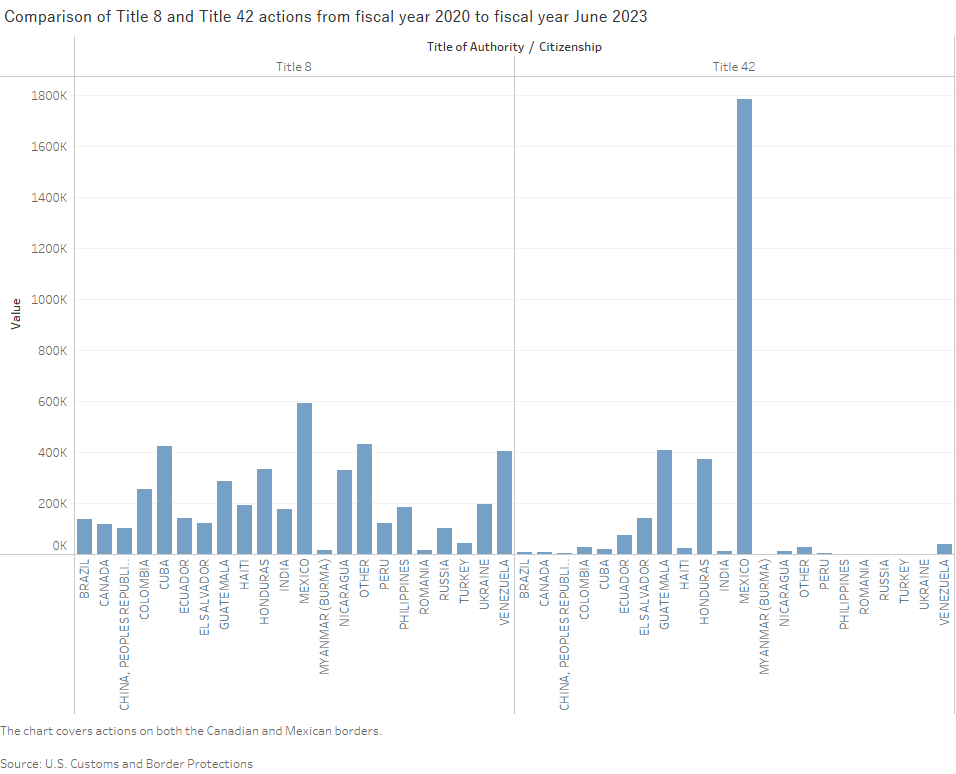 The border between the U.S. and Mexico spans about 2000 miles from California through Arizona and New Mexico to Texas. The area is divided into nine Border Patrol Southwest sectors: Big Ben, Del Rio, El Centro, E Paso, Laredo, Rio Grande Valley, San Diego, Tucson, and Yuma. According to Southern Border Communities Coalition, 85 percent of the Border Patrol workforce is "concentrated" on this area.
That would be because most migrant encounters occur there.
Macias said the demand for agents has always been in the southern border, The northern border has never been as busy as the southern; with "manpower" being allocated accordingly.
According to him, the El Paso Sector is currently leading the nation in migrant encounters for the fiscal year 2023 with 347, 629. That sector is averaging 493 migrant encounters daily.
"The maximum average we have recorded this fiscal year 2023, was more than 2,700 migrants per day during the first quarter. Since Title 42 ended. . . the El Paso Sector has seen a decrease in encounters with migrants," he said.
Macias said that what "immigration pathway" a migrant will be processed through, is identified following photographs and fingerprinting when apprehended.
"I don't think people realize the intense efforts that are made to protect and preserve the lives of all migrants coming across the border," he said.
Former Border Patrol agent Miguel Rivera said the organization is "humane."
As a member of the Tucson Sector, the majority of the migrants Rivera encountered, he said, were from Mexico. As a Hispanic, he was often called a traitor because of his position and his unwillingness to "help."
Rivera said, "It's not that we don't care or that we're heartless." It's not personal to him. Detaining people crossing the border illegally was his job and he was not risking his livelihood.
"I have a heart," he said, "but I have a family to support."
In Rivera's opinion, Mexican nationals can come to the U.S. to live, fly the Mexican flag, and not learn the language. "No other countries allow that. They have opportunity here, freedom here," he said.
He has no problem with people coming to America to live, but, he said, "they should do it legally," no matter the time frame they may endure.
Rivera was a Border Patrol agent for 21 years and retired in 2020. He often worked with Frank Dixon, who retired from the Tucson Sector in December 2022, after 19 years of service.
Dixon grew up in San Diego with the naval base and San Diego Border Patrol Sector in the background. His father was an Immigration officer, but Dixon doesn't believe his choice to be a Border Patrol agent was influenced by that. Rather because he, like Rivera, has a military background, and being an agent, for Dixon, is a bit patriotic.
Dixon understands that there is a bit of animosity toward agents, but he said that they are not accurately portrayed due to a misunderstanding of what the Border Patrol mission is, the "negative outshining the positive, and the actions of a few being misconstrued that everybody's like that."
The Border Patrol rescues migrants walking in the desert; they provide medical care or get people who need care to facilities; they reunite families, Dixon said. When children are separated from their parents by smugglers, he said, if agents are notified, they try to reunite them.
One of his hardest encounters was an infant girl left at the base of the fence. Smugglers had separated her from her parents, but they didn't want to keep the baby because she was crying, Dixon said. He believes she was eventually reunited with her parents.
"It's a lot of stuff that's never spoken of," he said.
Border patrol agents watch areas in the desert between points of entries. Dixon said agents approach people with an openness because people walking through the desert could be hikers or hunters. "You don't know why they're in the desert until you meet them," he said.
But along with that openness is precaution. "When it comes to law enforcement, there is no such thing as routine encounter — ever," he said.
"A lot of us treat everybody with precaution, especially adults. You don't know who these people are or where they come from," he said.
There is no picture agents could refer to, Dixon said, to know who is the bad guy.
"People don't see the big picture; they don't totally understand our duties or the different types of people we encounter, that we arrest," he said. "A lot have criminal pasts, past drug offenses, or have been deported more than once for their past crimes."
Dixon misses the camraderie that took place at his former job, but he does not miss the job.
He doesn't think a change in immigration law would make a difference. "People," he said, "would still keep coming because they would be driven by the economic conditions of their country."
Before he became a Border Patrol agent, Dixon worked in corrections. There, he said, he met a "gangbanger" who would be deported after his sentence. The inmate told Dixon he would rather live in a U.S. prison than Mexico.