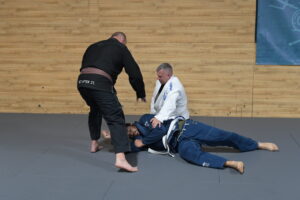 By David Bruce
For Kurt Vied, owner of 20,000 Leagues Brazilian Jiu Jitsu, the opportunity to open his own training facility represents more than just business; it represents a life-long quest for freedom.
Vied said it's called service for a reason and through that service, members of the military give up a lot of freedoms that many Americans take for granted. "Which is fine," Vied said.  "But I felt very boxed in and very trapped. I mean, there's a lot of rules that you have to follow. You're not really free," he said.
Vied began his life of service at the age of 18. After graduating high school in 1993, he enlisted in the U.S. Navy. The experience was life changing for Vied. He spent much of his enlistment aboard ships in the Far East. In 1997, with his enlistment complete, Vied left the service and joined the Massachusetts State Police. But like many veterans, after 9/11, Vied once again entered military service, this time as a reserve Navy Intelligence Officer. He deployed soon after.
After his deployment to Iraq in 2007 – 2008, Kurt continued to serve in the Naval Reserve until 2017. As a state trooper, Vied served as a road trooper, a SWAT team member, and as a task force officer on the FBI's Joint Terrorism Task Force. Throughout all of Vied's service he often found himself in instructor positions.
It was in those roles, that he truly shined. His fellow Naval Intelligence Officer, Cmdr. John Reilly, said he remembers Vied as someone who people instantly liked and looked up to.  As a mustang, someone that was enlisted before becoming an officer, he had the ability to relate to his audience on a common level.
"He kind of uses vernacular that I think everybody can understand," said Reilly. "Sometimes, especially in the Intel world, you deal with people who try to use big words to make themselves look smarter than they actually are. Kurt puts things into perspective, and kind of uses language and teaches in a way that makes it fun and just keeps people engaged," he said.
Throughout Vied's career he sought out positions that were outside the regimented lifestyle of the big navy and patrol. In his naval service, he accepted assignments with Naval Criminal Investigative Service (NCIS) and also with the Navy SEALs as an intelligence officer. On the state police, he opted for positions where tactical proficiency and competence was valued over rank.
Following Vied's retirement from the state police in 2020, he went to work for a private security and investigations firm. He enjoyed the work, but found himself fielding phone calls while on vacation in Las Vegas for his wife's 50th birthday party.
"So, I'm supposed to be retired from a demanding career and here I am walking away from my family repeatedly to deal with issues back home," said Vied. "This is not what I had in mind, it was just like a repeat of other vacations when I was on the job," he said.
It was at that moment he realized that he would never be free while working for someone else. Vied knew that to live the type of post-service life that he wanted to live would require a new approach, his own business, but he was at a loss as to what type of business he could start that would provide the lifestyle he longed for.
Over the last eight years there had always been one constant in Vied's life that he cherished and always made time for: Brazilian Jiu Jitsu (BJJ). Also called BJJ, it was made famous globally in the early 90s when a skinny young Brazilian man named Royce Gracie began cage fighting in the UFC. The grappling style he used quickly dominated other fighting styles and the martial arts world took notice. Vied said he fondly remembers watching Gracie dominate the cage, but it was years before he embarked on his own daily ritual of BJJ training. It wasn't long after leaving his job in corporate security before he decided to turn his grappling training into a business venture.
"I wish I could take credit for the idea but it was the black belt that I trained under that believed in me," said Vied. "He reached out and said, 'I think you should start your own school.' It was an opportunity. And, you know, I'm a big believer that when life hands you an opportunity you need to jump and take it. So that's exactly what I did," he said.
Vied now had a plan, but lacked a facility to start teaching classes. An opportunity presented itself when space became available for Vied at Treehouse School of Fitness in Danvers, Mass. Dave Picardy, Treehouse Fitness, owner and operator is a fitness trainer and martial artist who was also an army veteran who enjoyed great success as an entrepreneur and in the real estate space. One factor for success in entrepreneurship identified by Picardy is patience.
A successful entrepreneur with plenty of business experience, Picardy said he encouraged Vied to take it slow. He is great at Jiu Jitsu," he said. "He just needs to make sure he doesn't get discouraged if it doesn't move as quickly as he wants it to."
While patience is important in business a lot of the opportunity that is provided is based on relationships. Long before Vied ever thought of opening his own business he formed a relationship with Picardy based on a shared interest of Jiu Jitsu and fitness. When Picardy heard of Vied's business idea he immediately offered up space at his gym.
"Kurt's someone I consider a very close friend, someone I personally trust," said Picardy. "I trust him with everything. We aligned with a lot of things. All of my networks are built around making sure I'm surrounded by people like Kurt," he said.
With a space and a new mentor, Vied made the jump from enthusiast to business owner. His success now hinges on not only his ability to teach, but his ability to run a business. This decision was not without some trepidation, but throughout his life Vied has traded high risk for high rewards. As with other ventures, he isn't hesitating or hand wringing. It's the same leap first approach, that has brought him great success in other careers. Vied's wife, Lisa Vied, has always admired his ability to chase his dreams and make things happen through sheer determination.
"Kurt isn't overly risk averse," said Lisa Vied. "That's the number one thing. He is just missing that fear that most people have. Even to a fault sometimes he is willing to take risks that others probably wouldn't. The other trait that he has in spades is grit. I think you need to be able to work hard and just grind it out. Through the good times and the bad," she said.