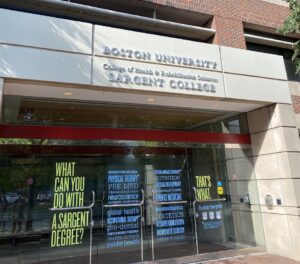 By Ching-Wei Lee
Boston is a popular destination for international students, but the COVID-19 pandemic made studying abroad a challenge, forcing study plans to be put on hold.
According to Open Doors 2022 Report on International Educational Exchange (IEE), international student's enrollment dropped 15% in the 2020-2021 school year due to pandemic. There main reason to cause the drop is COVID-19 around the world, students are not allowed to study abroad but stayed in their hometown to study remotely due to strict quarantine strategy.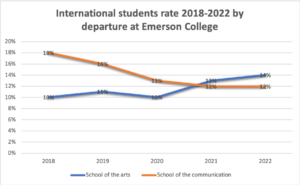 Data source: Emerson College FactBook
An illustrative instance of this phenomenon can be observed in Boston. As per the Emerson FactBook, the proportion of international students among the student body at Emerson College dropped to 12% during the fall of 2022. This stands in stark contrast to the situation in 2018 when international students comprised 18% of the enrollment at Emerson College school of communication, marking a significant decline in enrollment from that demographic.
"It has become increasingly challenging to secure success in the H1B visa lottery for a variety of factors," said Tao Lin, attorney at TLA Law.  Photo Credit:Ching-Wei Lee
"During the initial phases of the pandemic in 2020 and 2021, the United States experienced a comparatively severe outbreak, whereas China implemented rigorous quarantine measures, effectively managing the spread of the COVID-19 virus," said Tao Lin, attorney at TLA Law. Consequently, the entry of new Chinese students was restricted, and due to flight suspensions, there was a decrease in the count of Chinese international students aspiring to pursue education in the United States during COVID-19.
In addition to COVID-19, another factor contributing to the potential decline in the number of international students is related to visa problems and finding job time limited after graduation.
For international students, the best way to stay and work longer in the United states is to choose STEM(science, technology, engineering and math) major because there is a two-year extension for those who graduates from those majors. Conversely, those who pursue non-STEM majors are limited to a one-year post-graduation work period in the country according to the U.S. law.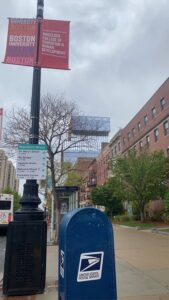 "At Emerson College, the only major considered part of STEM is media design," said Max Crumley-Effinger Assistant Director, International Student Affairs at Emerson College.
"There is no getting around the fact that it is challenging, and there's a time limit on the job search so that that makes it hard and that makes it stressful, I think for some students," Crumley-Effinger said. "Another issue for students with visas is that there's time limit on the amount of days that you can be unemployed," Crumley-Effinger said.
Moreover, international students are granted a mere 90-day window following their university graduation to secure a full-time job. Failing to do so results in the requirement to depart the United States, as their student visa status ceases to be valid. Students who are seeking to staying in the United States longer have to get H1B work visa to work in the United States legally. H1B is a type of visa that is a non-immigrant visa category in the United States that allows U.S. employers to temporarily employ foreign workers in specialty occupations.
Nevertheless, obtaining an H1B visa is becoming increasingly challenging due to the intricate procedure and associated financial requirements.
USCIS (United States Citizenship and Immigration Services) received 780,884 electronic registrations during the initial registration period to reach the FY 2024 H-1B numerical allocations (H-1B cap), and the selections are 188,400. In contrast, USCIS received 274,237 registrations on 2021 Cap Fiscal Year. There are 123,415 selections for H1B visa.
The percentage of eligible registrations selected has drop from 46.1% to only 14.6% from 2021 to 2024. It's more challenging for international students to get the H1B visa as some students search other ways to win the ticket. According to DHS(Department of Homeland Security), more than 52% of total submissions were for beneficiaries with multiple registrations and companies to raises the risk to win the lottery which leads questions of unlawful to gaming the H1B lottery system.
As the COVIS-19 situation subsides in the United States, there is a growing willingness among international students to resume their studies. The total number of international students in the US increased by 4% in the 2021-2022 school year. There are some possible reasons that cause international students increase reported by Boundless, the end of covid-19 that a lot students back to the US to continue their studies, friendlier legal immigration policies that Biden has been slammed for many Trump's restrictive immigration policies.
"According to the 2021 SEVIS by the Numbers Report by US Department of Homeland Security, the ranking of universities that are most popular with international students and enroll the largest number of international students in the United States, Northeastern University ranked first in the nation for two consecutive years with a total of 19,485 international students," said Jack Chen, manager of recruitment & marketing of international enrollment management office of the chief enrollment management officer at Northeastern University.
These instances serve as illustrations indicating the return of international students and the subsequent recovery in their numbers. Since COVID-19 is under control in most countries, international students are back to the United States to pursue higher education. While certain individuals are engaging in further education, others are focusing on post-graduation employment, driven by the prospect of higher earnings compared to their home countries.
"The average salary as an entry level Chemical Engineer in Taiwan is 60,000 TWD or around USD $1,881 per month, the average monthly salary in the United States is USD $6,250, which is significantly higher than in Taiwan," said Adam Chen, chemical engineer at AM Battery. Regarding Taiwanese individuals entering the American job market, Taiwan, known for its technological advancements, annually dispatches numerous engineers to the U.S.
Apart from the recent establishment of TSMC (Taiwan Semiconductor Manufacturing Company) within the United States, various large and small enterprises across the country seek skilled Taiwanese professionals. The comparatively elevated salaries in the U.S. serve as a magnet, drawing talents from worldwide locations to pursue employment opportunities in the nation.
"In the present employment landscape of the United States, the joblessness rate remains comparatively minimal, and there exists a scarcity of skilled individuals," Lin said.  "Numerous enterprises are grappling with recruitment challenges. It is advisable to capitalize on this opportune moment," Lin said. "During a period when the job market is favorable for skilled individuals, obtaining a position might be challenging for everyone, notwithstanding potential hesitance from certain employers regarding sponsorship. Nonetheless, the present time presents a favorable opportunity." Lin said.
It's very important to precisely strategizing and initiating preparations in advance for international students. Engaging in practical experience during your academic years is undeniably prudent. Utilizing some working sources when at school effectively enhances the likelihood of attracting an H-1B sponsorship opportunity and increases the prospects for obtaining a green card in the future. "This course of action remains viable, regardless of the external circumstances. The current situation is significantly more favorable than the initial stages of the pandemic," Lin said.