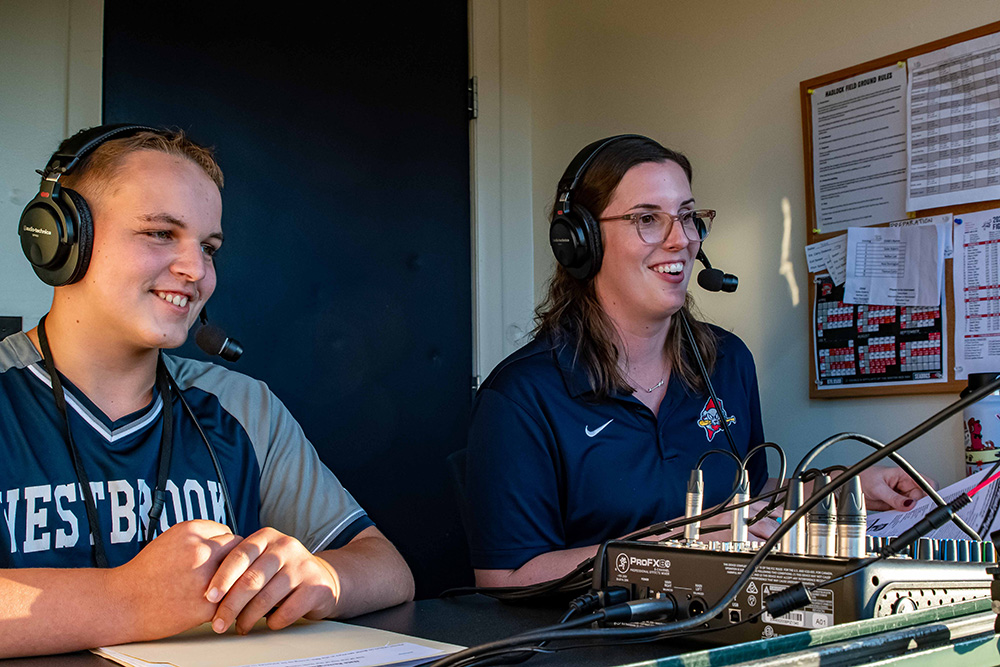 By Cullen McIntyre
While you hear her on the broadcast for every Portland Sea Dogs game, there is much more to Director of Broadcasting Emma Tiedemann's role than being the voice of the Boston Red Sox Double-A affiliate. 
The 30-year-old has been with the Sea Dogs since 2020, and in her nearly three and a half years with the team she has followed the team to each home and away game throughout the season. 
Outside of the booth she takes media requests to interview players, handles game notes, creates stat packs for each game and communicates with clubhouses to make sure the rosters are correct each game. 
But sitting behind the microphone is where she really shines. And no wonder – it's in her genes. She first got into broadcasting through her grandfather, Texas sports broadcaster Bill Mercer. 
"One day when I was 15-years-old I was going to a women's basketball game that he was broadcasting and his partner was unable to show," she said. "He had an extra headset and so I called the game with him and I fell in love with it."
Tiedemann has been broadcasting ever since, climbing the ranks through baseball organizations with her last role before the Sea Dogs as the director of broadcasting and media relations for the Lexington Legends, now known as the Counter Clocks. 
Her second season with the team that was the Kansas City Royals Single-A affiliate at the time had just finished when she heard about the opening at Hadlock Field. 
Then she heard Mike Antonellis, the former voice of the Sea Dogs who had called more than 2,000 games in his 15 seasons with the team, was moving up to Triple-A.
"I got a text from a friend one night asking if I was going for the Sea Dogs job," she said. 
Tiedemann applied for the role and, in February 2020, became the fifth broadcaster in the team's history, beating out 150 other candidates.
"Emma had the complete package," said Chris Cameron, vice president of communications and fan experience with the Sea Dogs. "Great broadcasting skills with a high ceiling, a team player and a terrific person who would fit well with our staff and help enhance the fan experience."
Cameron said he has witnessed her fully step into the role and make it her own. They work alongside each other in the press box handling many of the daily duties that go into the 138-game Double-A season.
"She is a pro, dedicated to her craft and always willing to lend a hand for the benefit of the organization," he said. "Emma and I work really well together, we always have each other's back and we like to create a fun, inclusive, welcoming environment for everyone."
One of the additional roles that Tiedemann has taken in stride is becoming a mentor. Each season she hires an assistant who she takes under her wing to give experience in broadcasting at a high level.
"Emma is passionate about mentoring and helping out students who want to pursue a career in broadcasting," said Cameron. "Last year's assistant, Riley Edwards, went on to land a full-time job as the lead broadcaster for the Bowling Green Hot Rods."
This year, Tiedemann is working alongside Rylee Pay who graduated from the University of Nevada, Las Vegas and is pursuing a career in sports broadcasting. 
Last summer Pay was a broadcaster with the Cape Cod Baseball League, a collegiate summer league in Cape Cod, Massachusetts that showcases some of the best college talent in the sport. 
As the broadcast and media relations assistant, Pay joins Tiedemann in the booth for the home games for color commentary and calling play-by-play during the middle innings. During road games she works behind the scenes to help operate the broadcast while Tiedemann is in the booth.
Being able to mentor Pay is something that is very meaningful to Tiedemann in her role with the Sea Dogs. The pair have garnered a lot of press, becoming the second all-female booth in professional baseball history.
"I feel super lucky that I get to work with her because she's great in all aspects of the job," she said. "I love learning from her and seeing the game through her eyes."
Pay said she's picked up a lot from being in the booth with Tiedemann, who she picks her brain about how she would call a certain ground ball or different in-game situation.
"It means the world to me to have an assistant like Riley who is up-and-coming in the business," she said. "Being able to give her a welcome environment because sometimes as a female you don't feel very welcome in this industry."
Both Tiedemann and Pay continue to get the work done with the limelight they have been placed in, and Tiedemann gives Pay every opportunity to grow and get experience in the booth that she can. 
"I've had to get a little used to the extra press because unfortunately it's not the norm," Tiedemann said. We'll always do every interview because you never know who's going to be watching and some little girl might see us talking one day and think 'hey, I wanna try play-by-play.'"
Tiedemann is the only member of the front office to actually travel with the team to each away game because she has to be there to broadcast it. That means she spends many of the team's off days on the team bus traveling to and from cities throughout the country.
"It's cool, but it's exhausting at times because you don't really have nights off except for one night a week," she said. "But even those nights you're sometimes traveling to a different city."
The Sea Dogs play the same team for a week for each home and away stand, meaning the travel is significantly less than at the major league level. Tiedemann sees every pitch throughout the season and gets to see an insight into how other Double-A teams operate.
"You get to update the front office staff with what's happening on the road," she said. "I keep a really close eye on what other teams are doing promotional wise and see if that might work at Hadlock or not."
One of the more unique promotions the Portland Sea Dogs put on is their alternate identity nights where the team embodies a local cultural phenomenon for a single night. Their first of the season was the Maine Whoopie Pies, which was introduced in 2019 and they brought the promotion into the broadcast booth this year.
Tiedemann and Pay each tried a different flavor of whoopie pie throughout the game, getting the idea from the hotdog challenges fans had been doing at baseball games. 
"We had a lot of positive feedback on social media and people were interacting with us," said Tiedemann. "It was really cool to see that we weren't just doing that to a black hole."
Promotions like the alternate identity games has given Tiedemann an appreciation for the Sea Dogs involvement in the local community. The organization's focus on being hyperlocal to Maine is something that they take outside of Hadlock Field.
"I've come to really appreciate my time here and how they really focus on the state of Maine," she said. "They go even deeper with the community connections as well as their partnership with the Maine Children's Cancer Program."
In her time with the Sea Dogs, Tiedemann has also gotten to broadcast some historic games and unique baseball moments. In a doubleheader on May 5, Sea Dogs starting pitcher CJ Liu threw a seven-inning no-hitter exactly a year after former Sea Dog Brayan Bello threw a seven-inning no-hitter.
"It's one of those weird things that baseball provides," she said. 
One of the more unique things that minor league baseball provides is covering roles and tasks that go far beyond a job title. The Sea Dogs as an organization look to take that to another level in making sure everyone is helping where they can. Tiedemann and Pay make sure they make the most of that experience.
Working in minor league baseball, one of the standout things to Pay was that everybody helps out with everything. 
"Everybody pulls the tarp, helps out restocking things and just jumps in," she said. "It's very team oriented."
Fans at Hadlock Field may be surprised pregame to see the broadcaster and most of the front office pulling the tarp for a game, but for Tiedemann it's just a part of the job.
"I think that's one of the best parts of minor league baseball is you never know what you're going to get day-to-day," said Tiedemann. "You never know how many times you're going to tarp the field or if you have to roll a hundred hotdogs for education day – it just adds to the stories of working in minor league baseball and it's content for the broadcast."